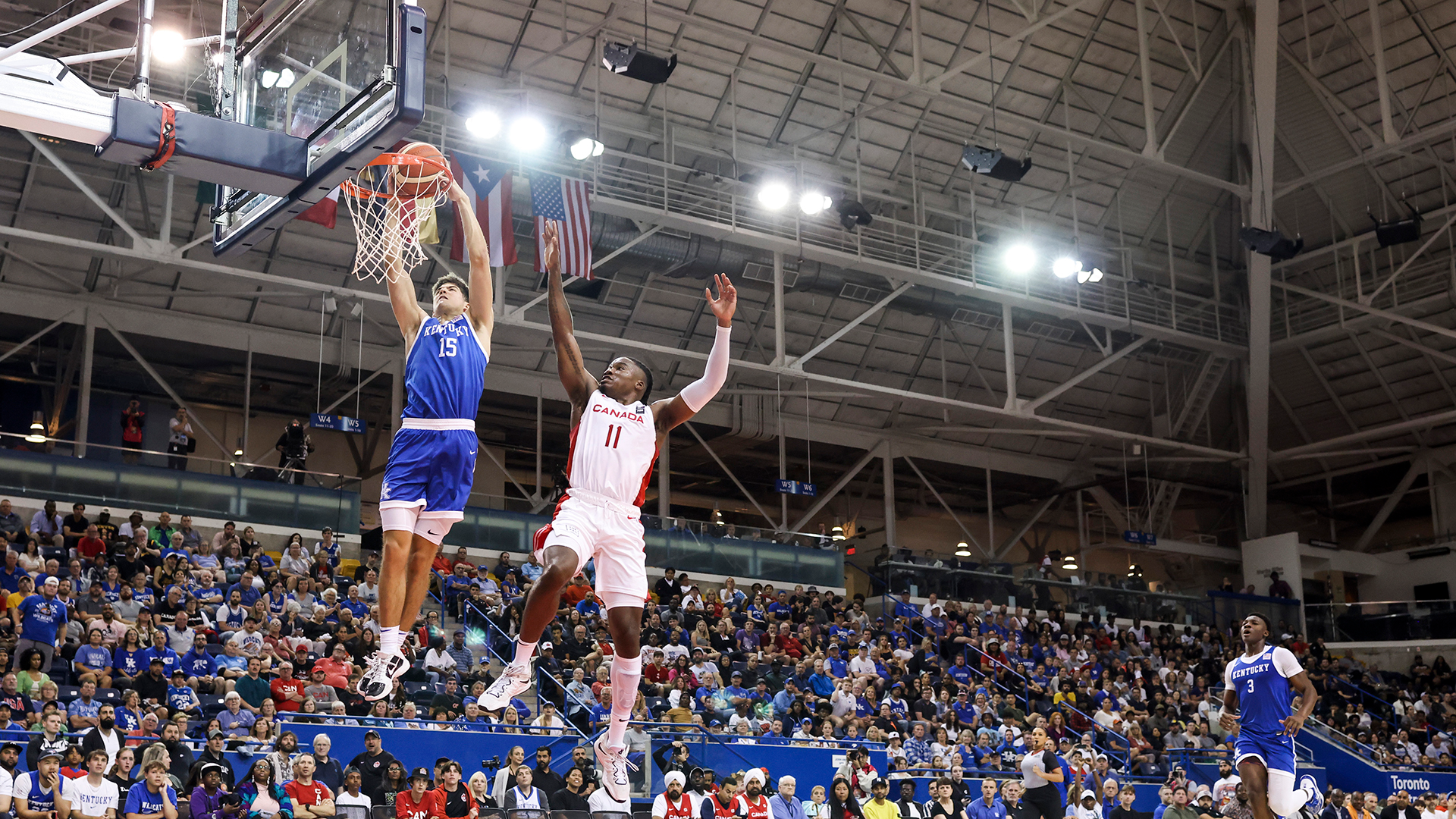 Balanced Scoring Attack Leads Kentucky Past Team Canada
On Wednesday, Kentucky leaned heavily on veterans Tre Mitchell and Antonio Reeves as the Cats opened the GLOBL Jam with a win over Team Germany.
Thursday night, the Cats showed a much more balanced offense as UK pounded Team Canada 93-69 in Toronto.
Reeves led Kentucky in scoring again, pouring in a game-high 23 points, but he had plenty of help from his teammates. Justin Edwards had 16 points and five rebounds for the Cats, while Reed Sheppard added 14 points, four assists, four steals and two blocked shots. Adou Theiro had 11 points, six rebounds and five assists for Kentucky.
D.J. Wagner had nine points while Rob Dillingham had six points and a game-high nine assists. UK had 27 assists on 35 made baskets in the game.
Kentucky is now 2-0 in the event, with one game to play before the medal round.
The Cats forced 21 turnovers and converted those miscues into 23 points. Meanwhile, UK had just nine turnovers and Team Canada had eight points of the UK turnovers.
Team Canada grabbed an early 4-2 lead before Kentucky scored six in a row, sparked by four points from Dillingham, to lead 8-4. The Canadians would tie the game at 8-8 before Kentucky went on a 13-4 run, sparked by a pair of threes from Sheppard and one from Antonio Reeves, to lead 21-12. The Cats hit eight of their first nine shots on their way to taking the nine-point lead.
Both teams would cool off from the field, with Kentucky missing its next six shots. Team Canada would get within five, 21-16, before Wagner hit a three to give the Cats a 24-16 advantage. That would be the score after one quarter.
Early in the second quarter, Kentucky extended its lead to 28-16 on baskets by Thiero and Edwards. The Cats would lead 30-18 before Team Canada went on an 8-1 run to get within five, 31-26. The Cats would answer with a three from Edwards, a Theiro basket and another Edwards three as UK grabbed a 39-26 lead with 4:46 left in the half.
The Cats would take a 15-point lead on a Sheppard dunk before the Canadians scored four in a row to cut the deficit to 11. But Kentucky scored the last four points of the half, capped by another Sheppard dunk, to lead 49-34 at the half. Sheppard led all scorers with 12 points in the first 20 minutes.
Kentucky continued its onslaught in the third quarter, as Reeves and Thiero led the way. Reeves had six points in the period and Thiero five as UK stretched its lead to 71-49 with 10 minutes of action remaining.
The final stanza began with a 7-2 Kentucky run to essentially put the game away. The run was highlighted by a Wagner three and an Edwards dunk as the Cats took a 78-51 lead with 6:52 left in the game. The Cats would lead by as many as 27 before settling for the 24-point victory.
Kentucky will have Friday off before facing Team Africa on Saturday. Tipoff is set for 1:30 p.m. ET and the game can be seen on CBS Sports Network.