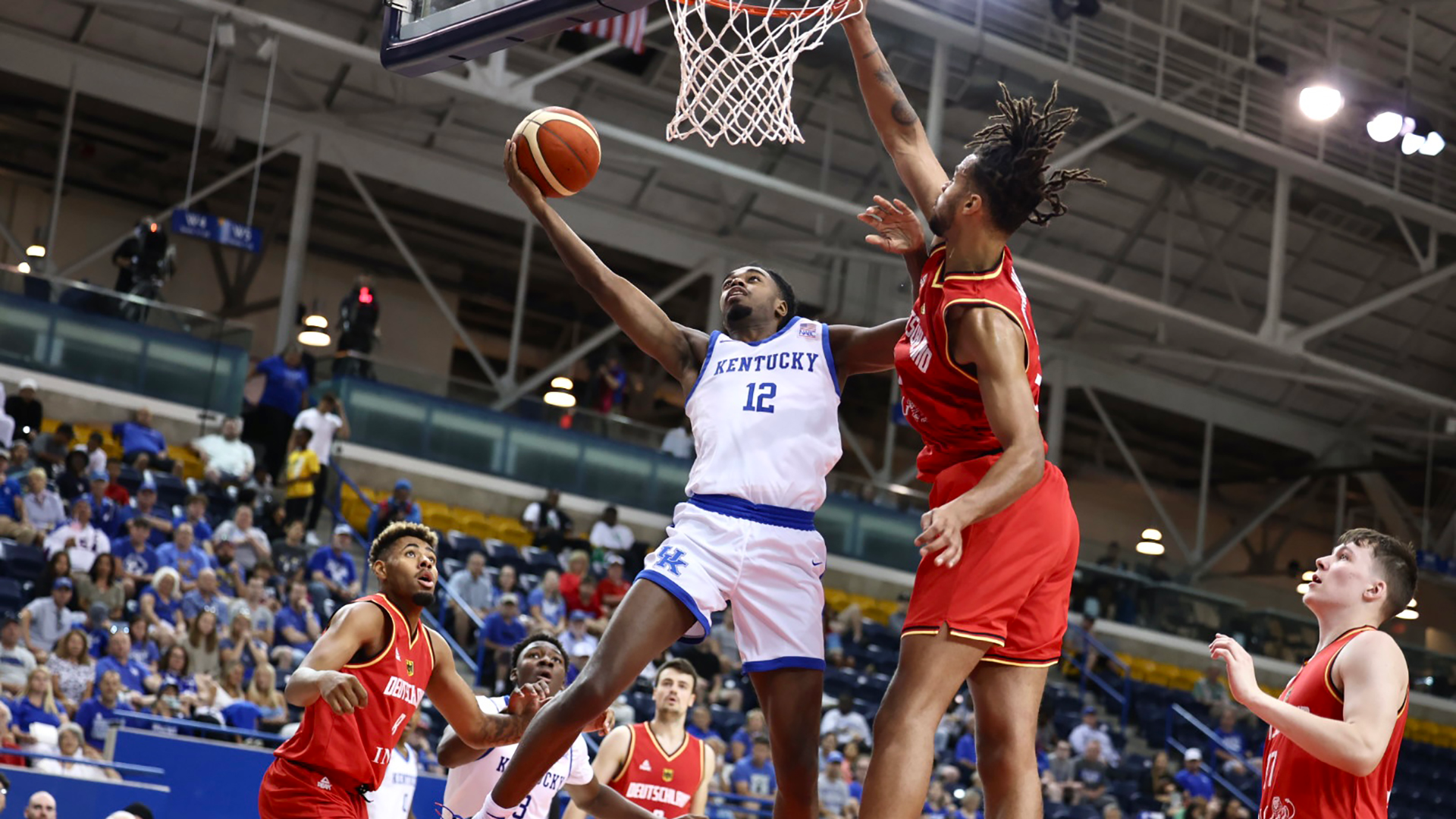 Kentucky Tops Team Germany in GLOBL Jam Opener
The 2023-24 Kentucky men's basketball team features the nation's number one recruiting class. These freshmen are expected to play a huge role in Kentucky's NCAA Tournament title aspirations this season.
But on Wednesday, as UK represented the United States in the 2023 GLOBL Jam in Toronto, it was a pair of experienced players on Kentucky's roster that stepped forward. Both returnee Antonio Reeves and transfer Tre Mitchell had big games as the Cats topped Team Germany 81-73 in the tournament opener for both teams.
Reeves had 24 points on 8 of 16 shooting, including 3 of 7 from behind the arc. Mitchell had 20 points and six rebounds while wearing a Kentucky uniform for the first time.
For Kentucky fans, it was no surprise to see Reeves scoring at a high clip. However, Mitchell was a pleasant surprise in the game after transferring from West Virginia earlier this summer.
As for that talented rookie class, they did make major contributions in Wednesday's victory. D.J. Wagner had 16 points, six assists, two steals, two blocks and two rebounds. Rob Dillingham came off the bench to score six points, while fellow freshman Justin Edwards had just four points and a team-high nine rebounds.
Kentucky also used pressure defense to disrupt Team Germany. The Cats forced 22 turnovers and converted those into 27 points on the offensive end.
The first period saw each team make significant runs. After the German team scored first, Kentucky ran off eight straight points, capped by a Wagner layup, to lead 8-2. Team Germany would score the next five to cut the deficit to one, 8-7.
Kentucky would answer by scoring the next seven points, including a three from Mitchell, to lead 15-7. But the German team would score nine in a row to take the lead 16-15. The teams would be tied 17-17 after one quarter. Kentucky used its quickness and some pressure defense to force seven turnovers in the first quarter.
Team Germany opened the second quarter with consecutive threes to lead 23-17. That lead would extend to 26-19 before Kentucky mounted a huge run. The Cats outscored Team Germany 16-2 to lead 35-28 with 2:15 to play in the first half. Reeves scored 10 of UK's points in the run.
However, Team Germany fought back, scoring the next nine points to lead 36-35 with 54 seconds left in the half. Kentucky would score the final four points of the half to lead 39-36 at the break. Reeves led all scorers with 13 points in the first half.
Mitchell came alive in the third quarter. He made three shots from behind the arc and tipped in his own miss on his way to 11 points in the quarter. Mitchell's spurt allowed the Cats to take a three-point halftime lead and stretch it into a double-digit advantage in quarter three. UK would outscore Team Germany 25-16 in the quarter and would lead 64-52 with one period remaining.
Kentucky would extend its lead to as many as 16 points in the fourth quarter but Team Germany would not go away. The Germans cut the UK lead to just six with under a minute to play, but Kentucky would allow them to get no closer.
The Cats return to action on Thursday, facing host Canada in their second game of the GLOBL Jam. Tipoff is set for 8 p.m. ET. The game will not be on live television but can be seen on a tape delayed basis at midnight ET. Fans can listen to the game live on the UK Sports Network.