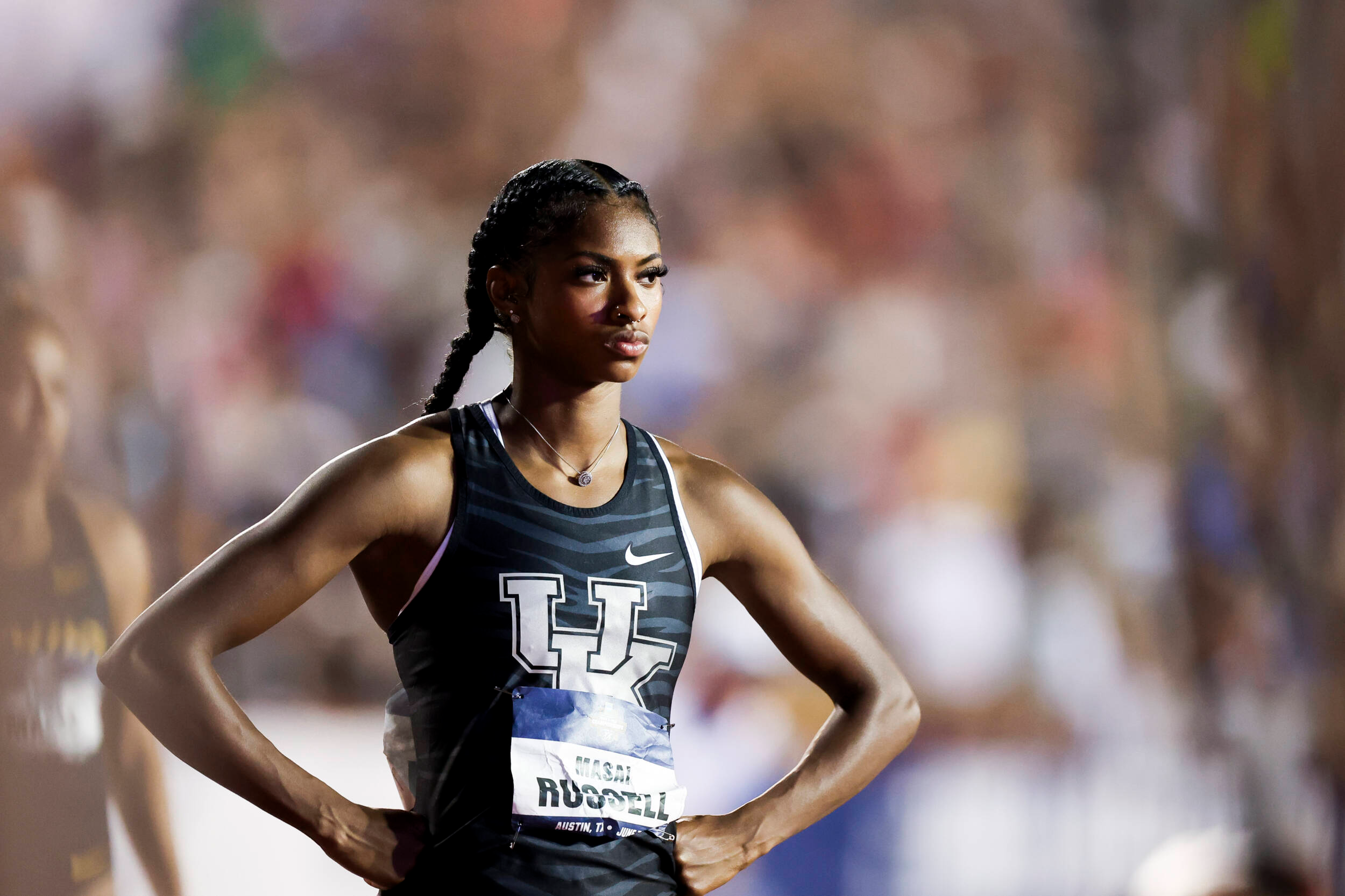 Masai Russell Qualifies For World Championships, Sydney McLaughlin-Levrone Wins 400m National Championship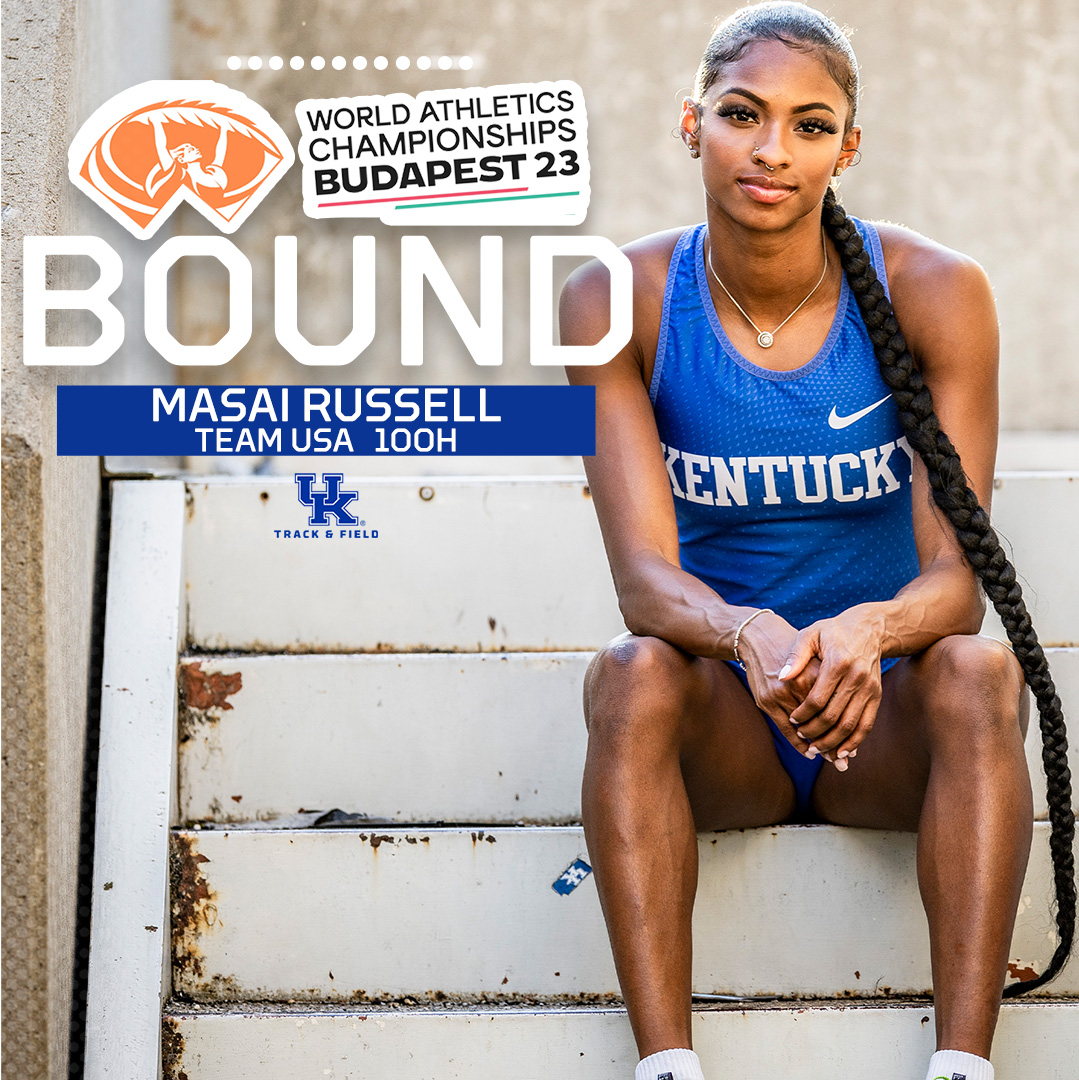 EUGENE, Ore. — Kentucky track & field graduate Masai Russell leaned her way, literally, into the final qualification spot for the upcoming World Athletics Championships and will represent Team USA in Budapest, Hungary this August.
The Bowerman semifinalist and 100H collegiate record holder added to a year full of incredible accomplishments this evening when she finished third in the women's 100H, leaning two thousands of a second (12.458) at the line ahead of Alaysha Johnson (12.460) in fourth. This will be the first time Russell will represent the United States in an international competition.
Slightly ahead of Russell was UKTF alumnus Keni Harrison who finished second overall with a time of 12.42 and will join Russell in Hungary this fall.
Earlier in the evening, Sydney McLaughlin-Levrone stole the show after winning the women's 400m national championship. The UK class of 2018 member stormed across the line at a spectacular 48.74 seconds for a new world lead, meet record, and personal best. Her time was only four thousands of a second off the national record and a second from the world record. McLaughlin-Levrone will represent the United States at the upcoming World Athletics Championships in Budapest, Hungary in August for the third time in her career.
Meanwhile, additional UKTF alumni members Abby Steiner & Daniel Roberts advanced to the next rounds of their respective events this evening. Steiner finished second in her heat and fourth overall in the women's 200m with a time of 22.31 (0.2)Q to advance to the semifinal tomorrow night.
Roberts won his heat and placed third overall in the men's 110H first round with a time of 13.12 for the automatic qualification while Harrison was second in her respective heat in the women's 100H earning the automatic qualification with a time of 12.45 (0.5) to place second overall.
It was a big day for incoming Wildcats at the U-20 USATF Championships. Women's long jumper Morgan Davis placed third with a jump of 19'4.25"/5.90m (-0.3) to punch a ticket to the U-20 Pan America Games in Puerto Rico in August. She joins incoming recruit Alexander Chukwukelu in representing the United States after he also solidified a third place finish in the men's 110H with a time of 13.45 Friday evening.
The USATF U-20 Outdoor Championships and USATF Outdoor Championships will conclude tomorrow for UKTF.
Below is a list of current UKTF student-athletes, incoming UKTF student-athletes, and UKTF alumni that are competing at the USATF Outdoor Championships and USATF U-20 Outdoor Championships this weekend.
Men
Christian Coleman (UK Volunteer Assistant Coach, UT alumnus) – 100m, 200m
Keaton Daniel – Pole Vault
Andrew Evans (Class of 2014) – Discus
Brian Faust – 400m
Miles Jones (U20) – 100m
Daniel Roberts (Class of 2019) – 110m hurdles
Ethan Shalaway (Class of 2018) – Javelin Throw
Josh Sobota – Shot Put
Women
Ava Alexander (U20) – Triple Jump
Karimah Davis – 200m
Morgan Davis (U20) – Long Jump
Charity Griffith – High Jump
Micaela Hazlewood (Class of 2019) – Discus
Keni Harrison (Class of 2015) – 100m hurdle
Alexis Holmes (UKTF Class of 2022) – 400m
Cynteria James (U20) – 100m, 200m, 400m
Sydney McLaughlin-Levrone (UKTF Class of 2018) – 400m
Javianne Oliver (UKTF Class of 2016) – 100m
Masai Russell – 100m Hurdles
Abby Steiner (UKTF Class of 2022) – 200m
Sha'Keela Saunders (Class of 2017) – Long Jump
Shelby Wingler (U20) – Shot Put
Live results can be found at results.usatf.org and results.usatf.org/2023U20Outdoors/.
Tickets are available via Ticketmaster for each day of the competition.
The meet will be streamed live on USATF.tv each day as well as CNBC from 9 p.m. to 11 p.m. ET on Sunday.
Follow Kentucky Track and Field and Cross Country on Facebook, Instagram, Twitter, and at UKathletics.com.
USATF Outdoor Championships: Thursday, July 6th: ALL TIMES IN EASTERN TIME
Xfinity Men's 100m
First Round
1. Christian Coleman: 9.95Q
Xfinity Women's 400m
First Round
1. Sydney McLaughlin-Levrone: 49.79Q

11. Alexis Holmes: 51.51Q

Toyota Men's 400m
First Round
7. Brian Faust: 45.41Q | PB
BAAAs Jr. & Sr. National Outdoor Championships: Thursday, July 6th: ALL TIMES IN EASTERN TIME
Women's 100H
7:30 p.m.
Semifinals
1. Devynne Charlton: 13.08 (2.0)Q
Women's 400m
7:56 p.m.
Final
2. Megan Moss: 55.10
USATF Outdoor Championships: Friday, July 7th: ALL TIMES IN EASTERN TIME
Women's 100H
First Round
1. Keni Harrison: 12.50 (0.4)Q

6. Masai Russell: 12.74 (0.0)Q

Women's High Jump
Final
4. Charity Griffith: 6'0.25"/1.86m
Xfinity Men's 100m
Semifinal
3. Christian Coleman: 9.98
Toyota Men's 400m
Semifinal
13. Brian Faust: 46.42
Xfinity Women's 400m
Semifinal
1. Sydney McLaughlin-Levrone: 49.60Q

9. Alexis Holmes: 51.68

Xfinity Men's 100m
Final
2. Christian Coleman: 9.96
USATF U-20 Outdoor Championships: Friday, July 7th: ALL TIMES IN EASTERN TIME
Women's Triple Jump
Final
8. Ava Alexander: 40'6"/12.34m
Men's 110H
First Round
3. Alexander Chukwukelu: 13.60Q
Men's 110H
Final
3. Alexander Chukwukelu: 13.45
BAAAs Jr. & Sr. National Outdoor Championships: Friday, July 6th: ALL TIMES IN EASTERN TIME
Women's 100H
Final
1. Devynne Charlton: 12.93 (-1.1)
USATF Outdoor Championships: Saturday, July 8th: ALL TIMES IN EASTERN TIME
Toyota Men's 200m
First Round
2. Christian Coleman: 20.06 (0.8)Q
Toyota Women's 200m
First Round
4. Abby Steiner: 22.31 (0.2)Q

18. Karimah Davis: 23.06 (0.2)

Men's 110H
First Round
3. Daniel Roberts: 13.12Q
Men's Javelin Throw
Final
5. Ethan Shalaway: 241'9"/73.69m
Women's 100H
Semifinal
2. Keni Harrison: 12.45 (0.5)Q

3. Masai Russell: 12.48 (0.5)Q

Xfinity Women's 400m
Final
1. Sydney McLaughlin-Levrone: 48.74 | WL | MR | PB
Women's 100H
Final
2. Keni Harrison: 12.42 (0.4)

3. Masai Russell: 12.46 (0.4)
USATF U-20 Outdoor Championships: Saturday, July 8th: ALL TIMES IN EASTERN TIME
Women's Long Jump
Final
3. Morgan Davis: 19'4.25"/5.90m (-0.3)
Men's 100m
First Round
4. Miles Jones: 10.52Q
Women's 400m
First Round
10. Cynteria James: 53.81
Women's Shot Put
Final
9. Shelby Wingler: 46'0.25"/14.03m
Men's 100m
Final
5. Miles Jones: 10.43
USATF Outdoor Championships: Sunday, July 9th: ALL TIMES IN EASTERN TIME
Women's Discus Throw
8:00 p.m.
Final
Micaela Hazlewood
Toyota Men's 200m
8:30 p.m.
Semifinal
Christian Coleman
Women's Long Jump
8:40 p.m.
Final
Sha'keela Saunders
Toyota Women's 200m
8:45 p.m.
Semifinal
Abby Steiner
Men's 110H
9:02 p.m.
Semifinal
Daniel Roberts
Men's Shot Put
9:15 p.m.
Final
Josh Sobota
Toyota Women's 200m
10:10 p.m.
Final
Abby Steiner
Toyota Men's 200m
10:20 p.m.
Final
Christian Coleman
USATF U-20 Outdoor Championships: Sunday, July 9th: ALL TIMES IN EASTERN TIME
Women's High Jump
4:30 p.m.
Final
Morgan Davis
Women's 200m
5:41 p.m.
First Round
Cynteria James
Women's 200m
7:46 p.m.
Final
Cynteria James