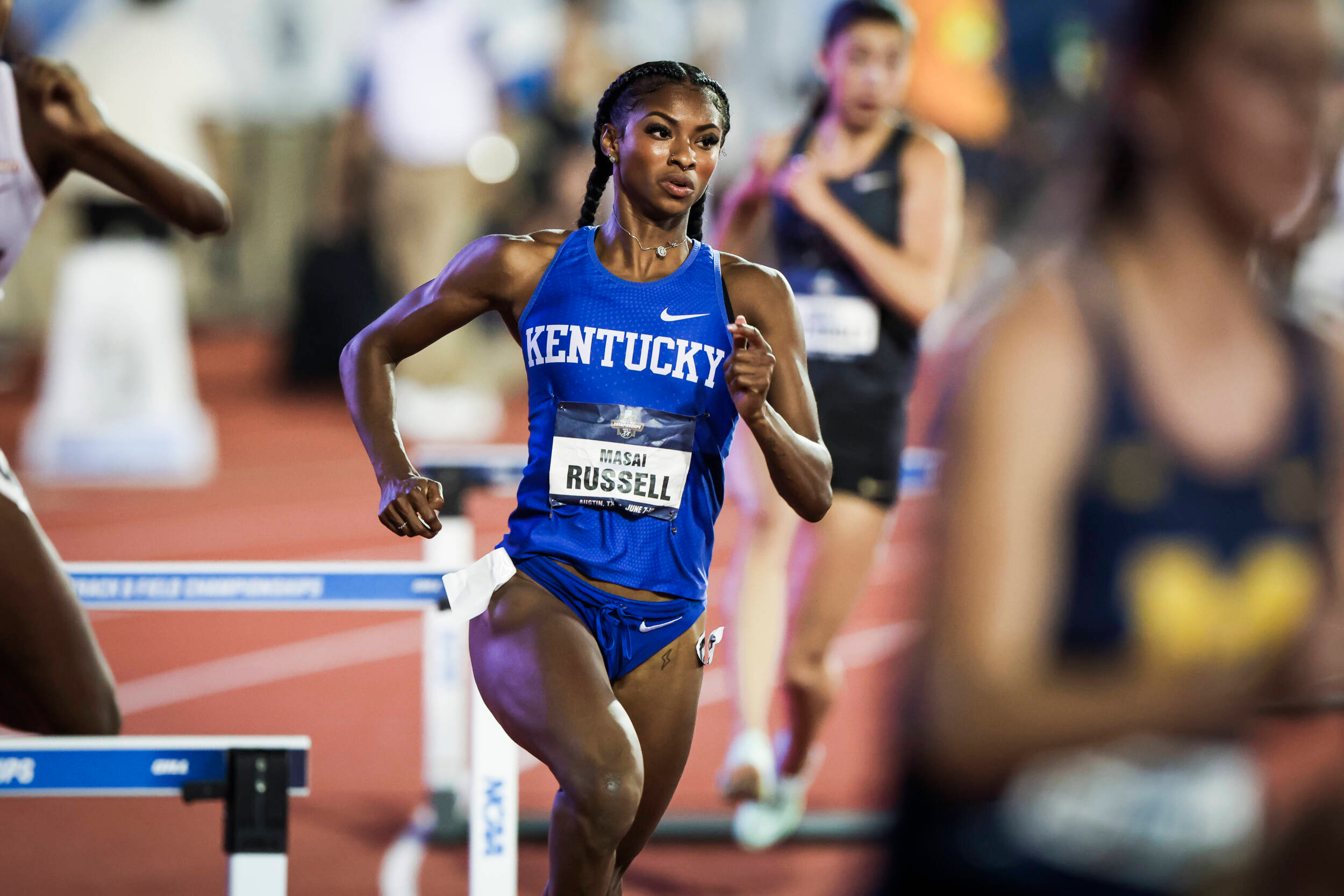 Masai Russell Advances To 100H Semifinals at USATF Championships
EUGENE, Ore. — Kentucky track & field graduate Masai Russell advanced to the semifinals of the women's 100-meter hurdles at the Toyota USA Track & Field Outdoor Championships at Hayward Field in Eugene, Oregon Friday evening.
Russell earned the automatic qualification after finishing second in her heat and sixth overall with a time of 12.74 (0.0). She will run again on Saturday in the semifinal at 9:02 p.m. ET.
Should Russell advance out of the semifinal, she will conclude the weekend a little over an hour later on Saturday in the 100H final at 10:55 p.m. ET. Both events will be televised on USATF.tv as well as CNBC.
In other events this evening, recent transfer Charity Griffith finished just outside the qualification requirement for the World Championships in fourth with a high jump of 6'0.25"/1.86 meters in her UKTF debut.
Both volunteer coaches Devynne Charlton and Christian Coleman punched their tickets to the World Championships this evening. Charlton earned her spot after winning the 100H at the Bahamas National Championships with a time of 12.93 (-1.1) while Coleman placed runner up by a tenth of a second in the 100m final crossing the line at 9.96 seconds at the USATF Outdoor Championships.
UKTF alumni members Keni Harrison and Sydney McLaughlin-Levrone had big nights on the track. Both Harrison and McLaughlin-Levrone were the fastest overall in their respective events with Harrison recording a speedy time of 12.50 (0.4) in the first round of the 100H and McLaughlin-Levrone clocking a 49.60 in the 400m semifinals.
The USATF Outdoor Championships will continue tomorrow with a busy schedule once again for UKTF in both tournaments.
Below is a list of current UKTF student-athletes, incoming UKTF student-athletes, and UKTF alumni that are competing at the USATF Outdoor Championships and USATF U-20 Outdoor Championships this weekend.
Men
Christian Coleman (UK Volunteer Assistant Coach, UT alumnus) – 100m, 200m
Keaton Daniel – Pole Vault
Andrew Evans (Class of 2014) – Discus
Brian Faust – 400m
Miles Jones (U20) – 100m
Daniel Roberts (Class of 2019) – 110m hurdles
Josh Sobota – Shot Put
Women
Ava Alexander (U20) – Triple Jump
Karimah Davis – 200m
Morgan Davis (U20) – Long Jump
Charity Griffith – High Jump
Micaela Hazlewood (Class of 2019) – Discus
Keni Harrison (Class of 2015) – 100m hurdle
Alexis Holmes (UKTF Class of 2022) – 400m
Cynteria James (U20) – 100m, 200m, 400m
Sydney McLaughlin-Levrone (UKTF Class of 2018) – 400m
Javianne Oliver (UKTF Class of 2016) – 100m
Masai Russell – 100m Hurdles
Abby Steiner (UKTF Class of 2022) – 200m
Sha'Keela Saunders (Class of 2017) – Long Jump
Shelby Wingler (U20) – Shot Put
Live results can be found at results.usatf.org and results.usatf.org/2023U20Outdoors/.
Tickets are available via Ticketmaster for each day of the competition.
The meet will be streamed live on USATF.tv each day as well as CNBC from 10 p.m. to midnight ET on Friday and from 9 p.m. to 11 p.m. ET on Saturday and Sunday.
Follow Kentucky Track and Field and Cross Country on Facebook, Instagram, Twitter, and at UKathletics.com.
USATF Outdoor Championships: Thursday, July 6th: ALL TIMES IN EASTERN TIME
Xfinity Men's 100m
First Round
1. Christian Coleman: 9.95Q
Xfinity Women's 400m
First Round
1. Sydney McLaughlin-Levrone: 49.79Q

11. Alexis Holmes: 51.51Q

Toyota Men's 400m
First Round
7. Brian Faust: 45.41Q | PB
BAAAs Jr. & Sr. National Outdoor Championships: Thursday, July 6th: ALL TIMES IN EASTERN TIME
Women's 100H
7:30 p.m.
Semifinals
1. Devynne Charlton: 13.08 (2.0)Q
Women's 400m
7:56 p.m.
Final
2. Megan Moss: 55.10
USATF Outdoor Championships: Friday, July 7th: ALL TIMES IN EASTERN TIME
Women's 100H
First Round
1. Keni Harrison: 12.50 (0.4)Q

6. Masai Russell: 12.74 (0.0)Q

Women's High Jump
Final
4. Charity Griffith: 6'0.25"/1.86m
Xfinity Men's 100m
Semifinal
3. Christian Coleman: 9.98
Toyota Men's 400m
Semifinal
13. Brian Faust: 46.42
Xfinity Women's 400m
Semifinal
1. Sydney McLaughlin-Levrone: 49.60Q

9. Alexis Holmes: 51.68

Xfinity Men's 100m
Final
2. Christian Coleman: 9.96
USATF U-20 Outdoor Championships: Friday, July 7th: ALL TIMES IN EASTERN TIME
Women's Triple Jump
Final
8. Ava Alexander: 40'6"/12.34m
BAAAs Jr. & Sr. National Outdoor Championships: Friday, July 6th: ALL TIMES IN EASTERN TIME
Women's 100H
Final
1. Devynne Charlton: 12.93 (-1.1)
USATF Outdoor Championships: Saturday, July 8th: ALL TIMES IN EASTERN TIME
Toyota Men's 200m
7:43 p.m.
First Round
Christian Coleman
Men's Pole Vault
8:00 p.m.
Final
Keaton Daniel
Toyota Women's 200m
8:09 p.m.
First Round
Karimah Davis

Abby Steiner

Men's 110H
8:37 p.m.
First Round
Daniel Roberts
Women's 100H
9:02 p.m.
Semifinal
Keni Harrison

Masai Russell

Xfinity Women's 400m
9:19 p.m.
Final
Sydney McLaughlin-Levrone
Women's 100H
10:55 p.m.
Final
Keni Harrison

Masai Russell
USATF U-20 Outdoor Championships: Saturday, July 8th: ALL TIMES IN EASTERN TIME
Women's Long Jump
3:05 p.m.
Final
Morgan Davis
Women's 100m
4:53 p.m.
First Round
Cynteria James
Men's 100m
5:14 p.m.
First Round
Miles Jones
Women's 400m
5:30 p.m.
First Round
Cynteria James
Women's Shot Put
6:00 p.m.
Final
Shelby Wingler
Women's 100m
7:16 p.m.
Final
Cynteria James
Men's 100m
7:24 p.m.
Final
Miles Jones
USATF Outdoor Championships: Sunday, July 9th: ALL TIMES IN EASTERN TIME
Women's Discus Throw
8:00 p.m.
Final
Micaela Hazlewood
Toyota Men's 200m
8:30 p.m.
Semifinal
Christian Coleman
Women's Long Jump
8:40 p.m.
Final
Sha'keela Saunders
Toyota Women's 200m
8:45 p.m.
Semifinal
Abby Steiner

Karimah Davis

Men's 110H
9:02 p.m.
Semifinal
Daniel Roberts
Men's Shot Put
9:15 p.m.
Final
Josh Sobota
Toyota Women's 200m
10:10 p.m.
Final
Abby Steiner

Karimah Davis

Toyota Men's 200m
10:20 p.m.
Final
Christian Coleman
USATF U-20 Outdoor Championships: Sunday, July 9th: ALL TIMES IN EASTERN TIME
Women's High Jump
4:30 p.m.
Final
Morgan Davis
Women's 200m
5:41 p.m.
First Round
Cynteria James
Women's 400m
6:22 p.m.
Final
Cynteria James
Women's 200m
7:46 p.m.
Final
Cynteria James