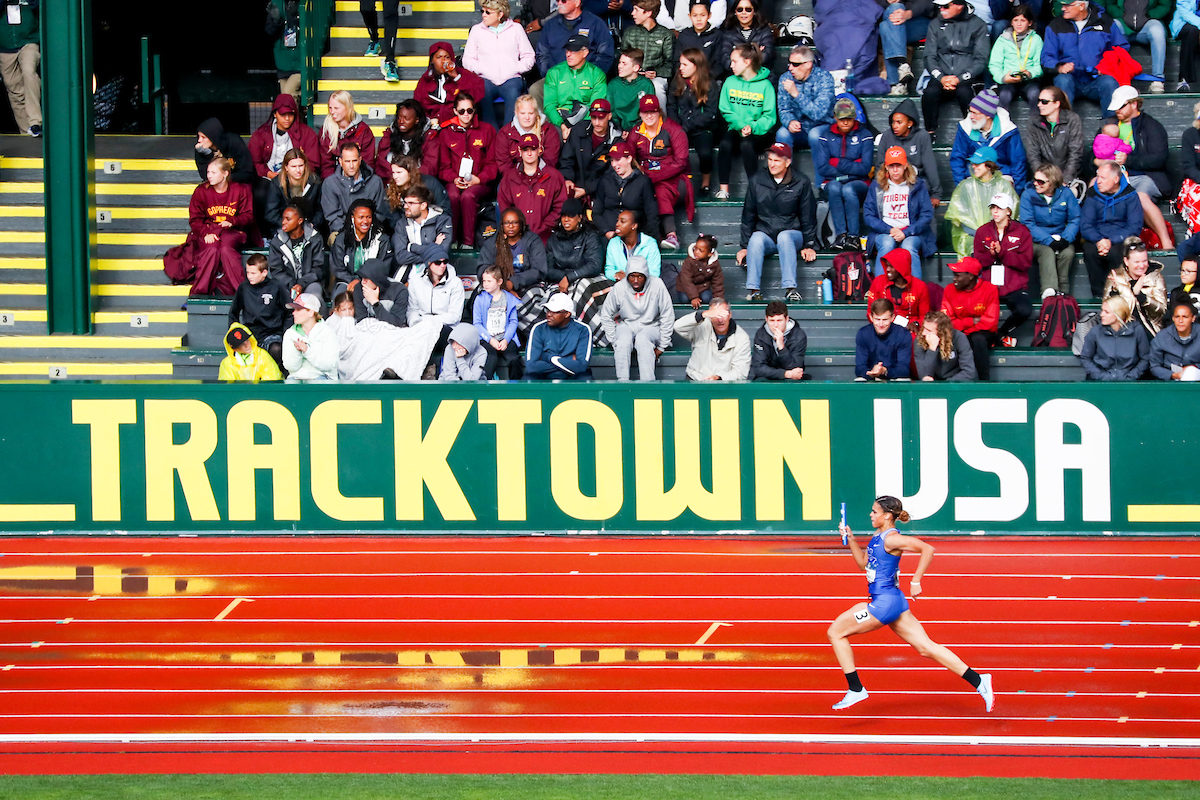 UKTF To Be Well Represented at 2023 USATF Championships
LEXINGTON, Ky. — A group of 16 current and former Kentucky track & field athletes are set to compete in the Toyota USA Track & Field Outdoor Championships from Thursday, July 6 to Sunday, July 9 at Hayward Field in Eugene, Oregon.
The meet will serve as the U.S. National Team selection competition for the 2023 World Athletics Championships and the 2023 Pan American Games. The top three in each event will qualify to compete for Team USA at the World Championships.
Additionally, Anthaya Charlton, UKTF alum Megan Moss and volunteer coach Devynne Charlton will participate at the Bahamas National Championships from July 5-7 for a chance to qualify for the World Athletics Championships. Other Wildcats will compete at various National Championships across the globe in the coming weeks and @KentuckyTrack social media will cover their results as available.
Below is a list of current UKTF student-athletes and UKTF alumni that are competing at the USATF Outdoor Championships.
Men
Christian Coleman (UK Volunteer Assistant Coach, UT alumnus) – 100m, 200m
Keaton Daniel – Pole Vault
Andrew Evans (Class of 2014) – Discus
Brian Faust – 400m
Daniel Roberts (Class of 2019) – 110m hurdles
Josh Sobota – Shot Put
Women
Karimah Davis – 200m
Charity Griffith – High Jump
Micaela Hazlewood (Class of 2019) – Discus
Keni Harrison (Class of 2015) – 100m hurdle
Alexis Holmes (UKTF Class of 2022) – 400m
Sydney McLaughlin-Levrone (UKTF Class of 2018) – 400m
Javianne Oliver (UKTF Class of 2016) – 100m
Masai Russell – 100m Hurdles
Abby Steiner (UKTF Class of 2022) – 200m
Sha'Keela Saunders (Class of 2017) – Long Jump
The meet begins on Thursday at 6:30 p.m. ET for the Wildcats with the men's discus throw and concludes Sunday with the men's 200m final at 10:20 p.m. should the Wildcats advance.
Live results can be found at results.usatf.org.
Tickets are available via Ticketmaster for each day of the competition.
The meet will be streamed live on USATF.tv each day as well as CNBC from 10 p.m. to midnight ET on Friday and from 9 p.m. to 11 p.m. ET on Saturday and Sunday.
Follow Kentucky Track and Field and Cross Country on Facebook, Instagram, Twitter, and at UKathletics.com.
USATF Outdoor Championships: Thursday, July 6th: ALL TIMES IN EASTERN TIME
Men's Discus Throw
6:30 p.m.
Final
Andrew Evans
Nike Women's 100m
7:04 p.m.
First Round
Javianne Oliver
Xfinity Men's 100m
7:30 p.m.
First Round
Christian Coleman
Xfinity Women's 400m
7:56 p.m.
First Round
Alexis Holmes

Sydney McLaughlin-Levrone

Toyota Men's 400m
8:23 p.m.
First Round
Brian Faust
USATF Outdoor Championships: Friday, July 7th: ALL TIMES IN EASTERN TIME
Women's 100H
7:27 p.m.
First Round
Keni Harrison

Masai Russell

Women's High Jump
8:40 p.m.
Final
Charity Griffith
Nike Women's 100m
10:14 p.m.
Semi-Final
Javianne Oliver
Xfinity Men's 100m
10:29 p.m.
Semifinal
Christian Coleman
Toyota Men's 400m
11:14 p.m.
Semifinal
Brian Faust
Xfinity Women's 400m
11:29 p.m.
Semifinal
Alexis Holmes

Sydney McLaughlin-Levrone

Nike Women's 100m
11:45 p.m.
Final
Javianne Oliver
Xfinity Men's 100m
11:54 p.m.
Final
Christian Coleman
USATF Outdoor Championships: Saturday, July 8th: ALL TIMES IN EASTERN TIME
Toyota Men's 200m
7:43 p.m.
First Round
Christian Coleman
Men's Pole Vault
8:00 p.m.
Final
Keaton Daniel
Toyota Women's 200m
8:09 p.m.
First Round
Karimah Davis

Abby Steiner

Men's 110H
8:37 p.m.
First Round
Daniel Roberts
Women's 100H
9:02 p.m.
Semifinal
Keni Harrison

Masai Russell

Xfinity Women's 400m
9:19 p.m.
Final
Alexis Holmes

Sydney McLaughlin-Levrone

Toyota Men's 400m
9:26 p.m.
Final
Brian Faust
Women's 100H
10:55 p.m.
Final
Keni Harrison

Masai Russell
USATF Outdoor Championships: Sunday, July 9th: ALL TIMES IN EASTERN TIME
Women's Discus Throw
8:00 p.m.
Final
Micaela Hazlewood
Toyota Men's 200m
8:30 p.m.
Semifinal
Christian Coleman
Women's Long Jump
8:40 p.m.
Final
Sha'keela Saunders
Toyota Women's 200m
8:45 p.m.
Semifinal
Abby Steiner

Karimah Davis

Men's 110H
9:02 p.m.
Semifinal
Daniel Roberts
Men's Shot Put
9:15 p.m.
Final
Josh Sobota
Toyota Women's 200m
10:10 p.m.
Final
Abby Steiner

Karimah Davis

Toyota Men's 200m
10:20 p.m.
Final
Christian Coleman