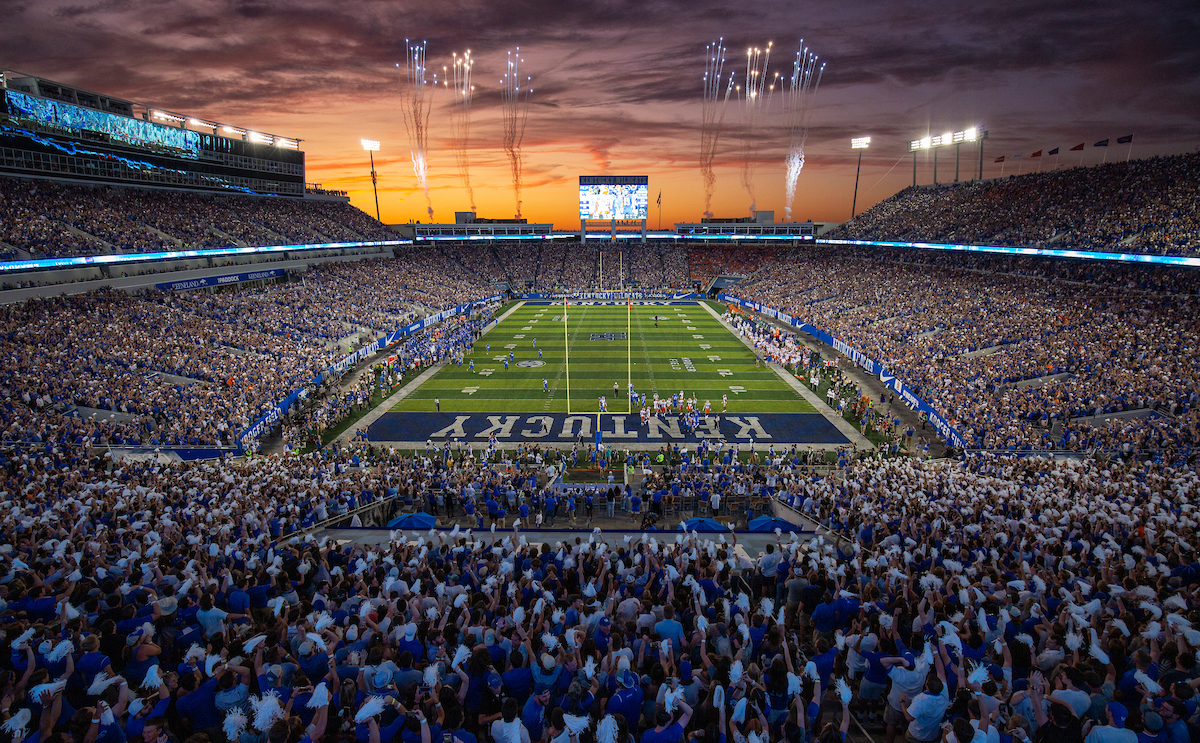 LEXINGTON, Ky. – Kentucky football's promotional schedule for the seven-game, 2023 home slate at Kroger Field has been announced. UK Athletics also announced dates for mini-packs and single-game ticket sales on Friday.
Mini-packs for the 2023 season will be available beginning on July 5 through UKFootballTix.com. Fans will be able to choose three games, with mini-packs starting at $104 per package. Fans can choose one SEC matchup (Florida or Missouri) and two non-conference games (Ball State, EKU and Akron).
Single-game ticket sales will begin on Friday, July 14 at 9 a.m. ET. Tickets for UK's games against Ball State, EKU and Akron will be available beginning that day. Tickets will be sold exclusively online at Ticketmaster.com.
Beginning on Tuesday, August 1 at 9 a.m. ET, fans can purchase tickets for Kentucky's contests against Florida, Missouri, Tennessee and Alabama, also at Ticketmaster.com, based on availability. With strong demand continuing for season tickets, inventory is expected to be extremely limited for the Tennessee and Alabama games. Fans are encouraged to consider season ticket options to guarantee tickets for those two games.
Football season ticket holders will have a presale opportunity for single-game tickets, pending availability. Season ticket holders will receive more information by email, with the presale beginning on July 7 for non-conference games and July 21 for Southeastern Conference games.
Group tickets will be available for UK's games against Ball State, EKU, Akron, Florida and Missouri. Groups of 15 or more can purchase tickets, starting at $25 each, beginning July 14 by calling the UK Sales Office at (800) 928-2287 (Option 1). To learn more about group sales opportunities, visit UKathletics.com/Groups.
Fans can also now request tickets for UK's five away games this season through UKFootballTix.com. Seat locations within the UK allotment will be assigned in late July, based on K Fund priority ranking. Football season ticket holders who order by July 14 will have priority in the assignment process.
UK is coming off a school record seventh straight bowl appearance, as the Cats finished the 2022 season with a 7-6 record. The Cats are 54-35 over the last seven seasons, including a 35-14 mark at Kroger Field
Ball State – Sept. 2 at Noon
UK will host Ball State in the season opener for both teams on Sept. 2. The contest against Ball State will also be Boy Scouts Day, with scouts from across the state having access to specially-priced $15 tickets. For more information, contact Alex Geisel at alex.geisel@uky.edu or 859-218-4977.
The season opener will also be Faith and Family Day as well as High School Band Day.
Eastern Kentucky – Sept. 9 at 3 p.m.
The Cats welcome Eastern Kentucky on Sept. 9. This contest will be Youth Sports and Activities Day, where youth teams from across the area will be eligible for specially-priced tickets starting at $15. For more information, contact Caleb Young at caleb.young@uky.edu or (859) 218-4978.
The game will be Heroes Day as well. UK Athletics is pleased to offer specially-priced tickets for members of Heroes Day groups (military, law enforcement, fire, emergency medical services, and government employees), with details coming soon.
The game against EKU will also be Kentucky Cheer Youth Day (pregame), with cheerleaders from across the area invited to attend. More information about Kentucky Cheer Youth Day will be announced at a later date.
The Sept. 9 game will also be Kentucky Dance Day (halftime), with dance teams from across the area invited to attend. More information about this event will be announced at a later date.
Akron – Sept. 16 at 7:30 p.m.
The game will mark Girl Scout Day, where scouts from across the area can get specially-priced tickets starting at $15 each. For more information, contact Makenna Miller at makenna.miller@uky.edu or 859-562-2058.
Alumni Band Day will take place at Kroger Field on Sept. 16. The University of Kentucky Alumni Band Association is one of the largest and most active alumni associations on campus. Each year, the UK Alumni Band organizes a reunion where they perform with the Wildcat Marching Band at a home football game. This year marks the 50th anniversary of the UK Alumni Band. Participants will receive information on specially-priced tickets later this summer.
As part of Extra Yard for Teachers at Kroger Field, UK will participate in the College Football Playoff Foundation's Extra Yard for Teachers Week. Extra Yard for Teachers elevates the teaching profession by inspiring and empowering teachers through the implementation of programs in four focus areas: resources, recognition, recruitment and professional development.
All teachers and school employees, in addition to University of Kentucky faculty & staff, will be able to purchase specially-priced tickets for the Akron game. More details, including the exclusive online ordering link, will be released soon. Purchases will be restricted to those with Kentucky public school email address domains ("@COUNTY.kyschools.us"). University of Kentucky faculty & staff purchases will be restricted to those with a UK email address ("@uky.edu"). For questions, or to add your school or school district's email domain to the list of eligible purchasers, contact Jordan Smith at jordanx.smith@uky.edu or (859) 257-5788.
Florida – Sept. 30 (Time TBA)
Kentucky and Florida get together on the gridiron on Sept. 30 during Ag Roundup weekend on the UK campus. Ag Roundup welcomes alumni and friends of the College of Agriculture, Food and Environment. The weekend will include an array of festivities to celebrate the 50th annual gathering of Roundup. For more information, visit https://alumni.ca.uky.edu/roundup.
UK Athletics will also formally induct its 2023 Hall of Fame class in September, and the newest inductees will be recognized on the field during the Florida game.
Missouri – Oct. 14 (Time TBA)
UK's 108th annual Homecoming will take place as the Wildcats play Missouri at Kroger Field. Fellow alumni and friends will gather in Lexington for fun and fellowship as UK will celebrate the 108th University of Kentucky Homecoming. Visit UKHomecoming.com for more information as well as a schedule of events.
Tennessee – Oct. 28 (Time TBA)
In a battle of border rivals that dates back to 1893, Kentucky welcomes Tennessee on Oct. 28. Fans can guarantee tickets for this highly anticipated matchup, as well as the Alabama contest, by purchasing a season ticket package.
Alabama – Nov. 11 (Time TBA)
The home slate comes to a close as the Cats host Alabama on Nov. 11. UK will celebrate the 2023 senior class during Senior Day festivities prior to the game.
UK Athletics will pay special tribute to veterans as part of Kentucky football's annual Salute to Veterans game. More details about this event will be available later this fall.
Fans are encouraged to visit the Chairs of Honor, dedicated during the 2018 season by Rolling Thunder, a non-profit organization dedicated to publicizing the POW/MIA issue. Chairs of Honor are empty black stadium chairs with a plaque dedicating each one to the soldiers who have made the ultimate sacrifice, have been held Prisoner of War, are listed as Missing in Action and those currently serving. These Chairs of Honor are located in each corner of the upper concourse of Kroger Field.
————————————————
Fans interested in season-ticket purchases for the highly-anticipated 2023 season can visit UKFootballTix.com for ticket prices and more information. Ticket packages start at just $225, offering a significant savings over single-game ticket prices. Fans may work together with a personal ticketing consultant to compare and purchase available seat locations by requesting a call or by contacting the UK Sales Office at (800) 928-2287 (Option 1). Additionally, information on student season tickets will be available later in July and will be posted online at UKStudentTix.com as it is finalized.
Mobile Ticketing
UK Athletics will continue with full mobile ticketing and parking for the 2023 season. Mobile delivery is the safest, most convenient and flexible way to receive and manage tickets, while increasing protection against fraud. Season ticket holders and single game buyers will be able to manage, send and sell tickets at any time from their mobile device using the UK Athletics app. New for football this fall, SafeTix will be implemented as an additional feature on mobile tickets, and barcodes will refresh every 15 seconds or convert to a tap-and-go ticket when stored in your phone's digital wallet. With SafeTix, screenshots of tickets will no longer work for entry, and this enhancement protects against digital tickets being copiedand resold by fraudulent resellers. Updated information will be posted online at UKathletics.com/MobileTickets in the coming weeks.