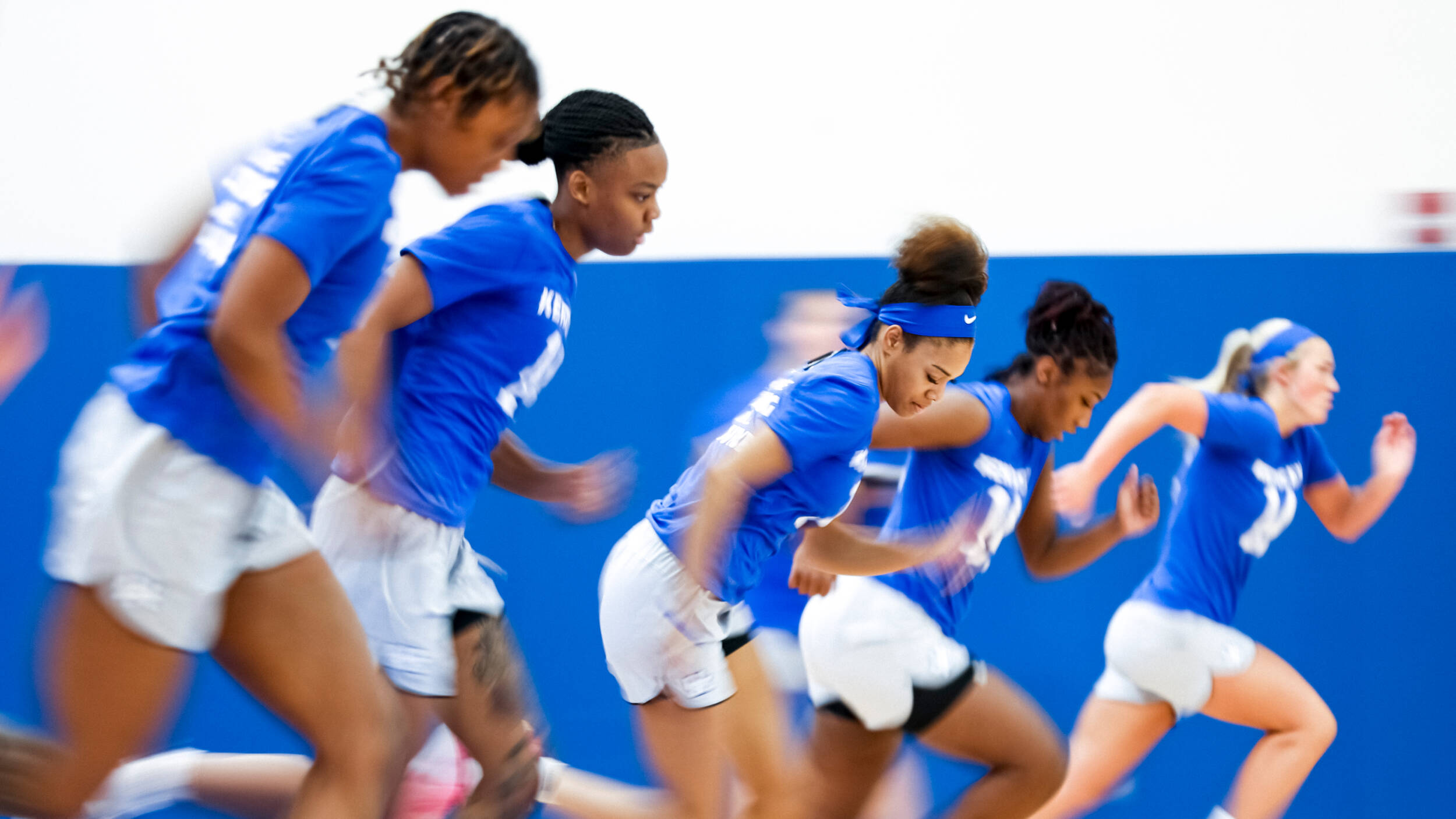 Kentucky Women's Basketball Unveils 2023-24 Nonconference Schedule
LEXINGTON, Ky. – The University of Kentucky women's basketball program has put the finishing touches on its nonconference schedule for its 50th anniversary season in 2023-24, it was announced by head coach Kyra Elzy on Thursday.
The nonconference schedule features 14 games in total, including nine games at home, which are highlighted by a pair of Power Five appointments. Also included in Kentucky's nonconference schedule is a trip to the U.S Virgin Islands to compete in its fourth Paradise Jam in program history, meeting NC State, Colorado and Cincinnati there.
Fans are invited to engage in the program's 50th anniversary in 2023-24, which will include in-game elements such as guest appearances and on-court recognitions, recap videos and feature story videos, trivia games, decade-themed giveaways and more. Don't miss a moment of the activities and events planned around the program's 50th anniversary by purchasing season tickets to all the program's home games.
UK women's basketball season tickets can be renewed or purchased as little as $60 per person here.
Big Blue Nation will get an early look at the roster, which includes three Miss Kentucky Basketball recipients and five Kentucky natives total, when UK hosts Kentucky State for a free admission exhibition game on Nov. 1.
The team will officially tip off its 50th season with a three-game homestand by playing host to ETSU on Nov. 7, followed by USC Upstate on Nov. 11 and Austin Peay on Nov. 14.
The Wildcats will then head south for four straight games away from home.
The Cats will first complete their home-and-home by playing at Florida Gulf Coast on Nov. 19. Then, the Cats will return to the U.S. Virgin Islands for the first time since 2018, meeting NC State on Nov. 23, Colorado on Nov. 24 and Cincinnati on Nov. 25 for the 2023 Paradise Jam Island Tournament. UK has won its last two Paradise Jam appearances, including in 2014 and in 2018.
UK will then return to the Bluegrass to host Boston College for the inaugural SEC/ACC Challenge on Nov. 30, which will mark the first-ever meeting between the two programs. That will kickstart a three-game homestand, as UK will also host Tennessee Tech on Dec. 3 and complete another home-and-home, this time with Minnesota on Nov. 6.
Last season, the Wildcats defeated the Gophers at Williams Arena in Minneapolis, 80-74. UK led UM, 72-64, before Minnesota went on an 8-2 run to cut the Kentucky advantage to 74-72 with 2:59 to play. Minnesota had a chance to tie the game with 50 seconds to play, but missed two free throws and Kentucky got the rebound to seal UK's fate.
Kentucky will then head west on I-64 to meet Louisville at the KFC Yum! Center on Dec. 10. It will mark the 59th meeting between the two programs, with the Cats holding a 34-24 all-time edge over the Cards.
The Wildcats will finalize their nonconference schedule with three straight home games, featuring Furman on Dec. 17, Lipscomb on Dec. 21 and Samford on New Year's Eve.
UK's 14-game nonconference season will lead right into the 16-game conference season. The current schedule can be found here, while the league schedule, TV designations and tip times will be added at a later date.
For the 50th edition of UK women's basketball in 2023-24, Kentucky will rotate between Rupp Arena at the Central Bank Center and the Clive M. Beck Center on the campus of Transylvania University as Memorial Coliseum undergoes renovations for the season. UK's home venues for each game will also be added at a later date.
For more information on the Kentucky women's basketball team, visit UKathletics.com or follow @KentuckyWBB on Twitter, Instagram and Facebook.