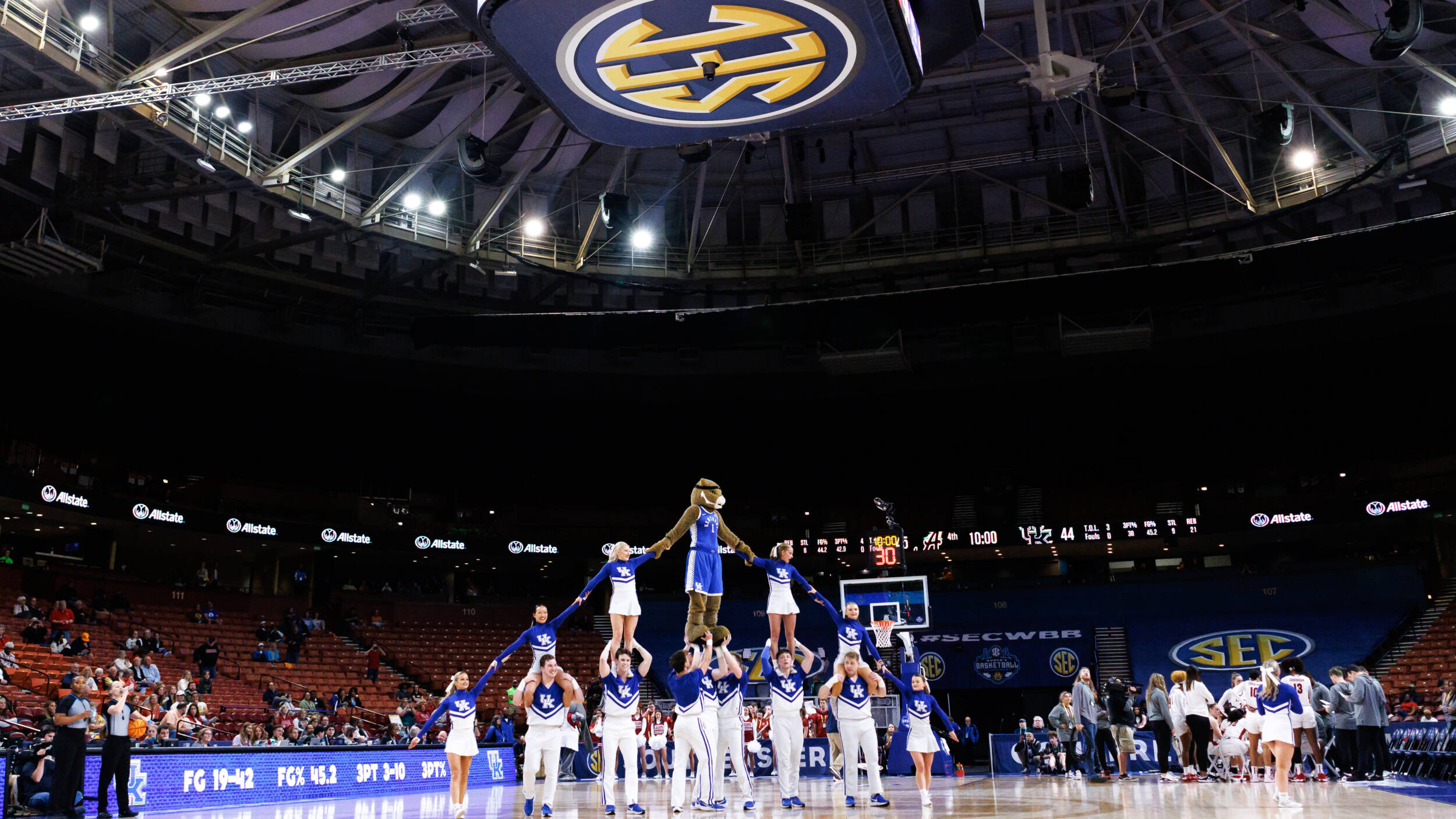 Kentucky Women's Basketball Releases 2023-24 SEC Home and Away Opponents
LEXINGTON, Ky. – The Southeastern Conference unveiled its home-and-away designations for the upcoming women's basketball season, it was announced Wednesday. The Wildcats will square off with conference foes 16 times during the regular season, which includes eight home games and eight away games.
For the 50th edition of UK women's basketball in 2023-24, Kentucky will rotate between Rupp Arena at the Central Bank Center and the Clive M. Beck Center on the campus of Transylvania University as Memorial Coliseum undergoes renovations for the season. UK's home venues for each game will be specified at a later date.
The Wildcats will take on Arkansas, Florida, Mississippi State, Missouri, Ole Miss, South Carolina, Texas A&M and Vanderbilt in Lexington and will travel to Alabama, Arkansas, Auburn, Georgia, LSU, Mississippi State, South Carolina and Tennessee in 2023-24.
Below is a list of all SEC home and away games for the Wildcats.
2023-24 SEC Home Games
Arkansas*
Florida
Mississippi State*
Missouri
Ole Miss
South Carolina*
Texas A&M
Vanderbilt
2023-24 SEC Away Games
Alabama
Arkansas*
Auburn
Georgia
LSU
Mississippi State*
South Carolina*
Tennessee
* Denotes Kentucky will play at home and away with those programs.
The league sent seven programs to the 2022-23 NCAA Women's Basketball Tournament, and four more to the Women's National Invitation Tournament, with more than half of the NCAA Tournament teams winning at least one game on the national stage. Since 2012, the SEC has had at least seven teams receive bids each year, while it leads all other conferences in all-time NCAA Tournament bids with 263.
Since 1995-96, Kentucky will play its permanent rival South Carolina twice this season, as well as its two other rotating opponents, Arkansas and Mississippi State.
The Wildcats, who upset two opponents on their way to a quarterfinal appearance in the 2022-23 SEC Tournament last March, will sport a familiar roster for the upcoming season, which features nine returners and three newcomers. Familiar faces such as former starters Nyah Leveretter and Maddie Scherr will return in 2023-24. The returners will be complemented by a sprinkle of incoming talent, including Tennessee transfer 2021 Miss Kentucky Basketball Brooklynn Miles and freshmen Jordy Griggs and Janae Walker.
Last week, the program announced it will return to St. Thomas for the first time since 2018 to compete at the 2023 U.S. Virgin Islands Paradise Jam Women's Basketball Tournament at the University of Virgin Islands Sports and Fitness Center from Nov. 23-25. The Wildcats will meet two 2023 NCAA Tournament teams in the "island tournament," including NC State, Colorado and Cincinnati.
The remainder of the 2023-24 Kentucky women's basketball schedule will be released at a later date.
For more information on the Kentucky women's basketball team, visit UKathletics.com or follow @KentuckyWBB on Twitter, Instagram, and Facebook.