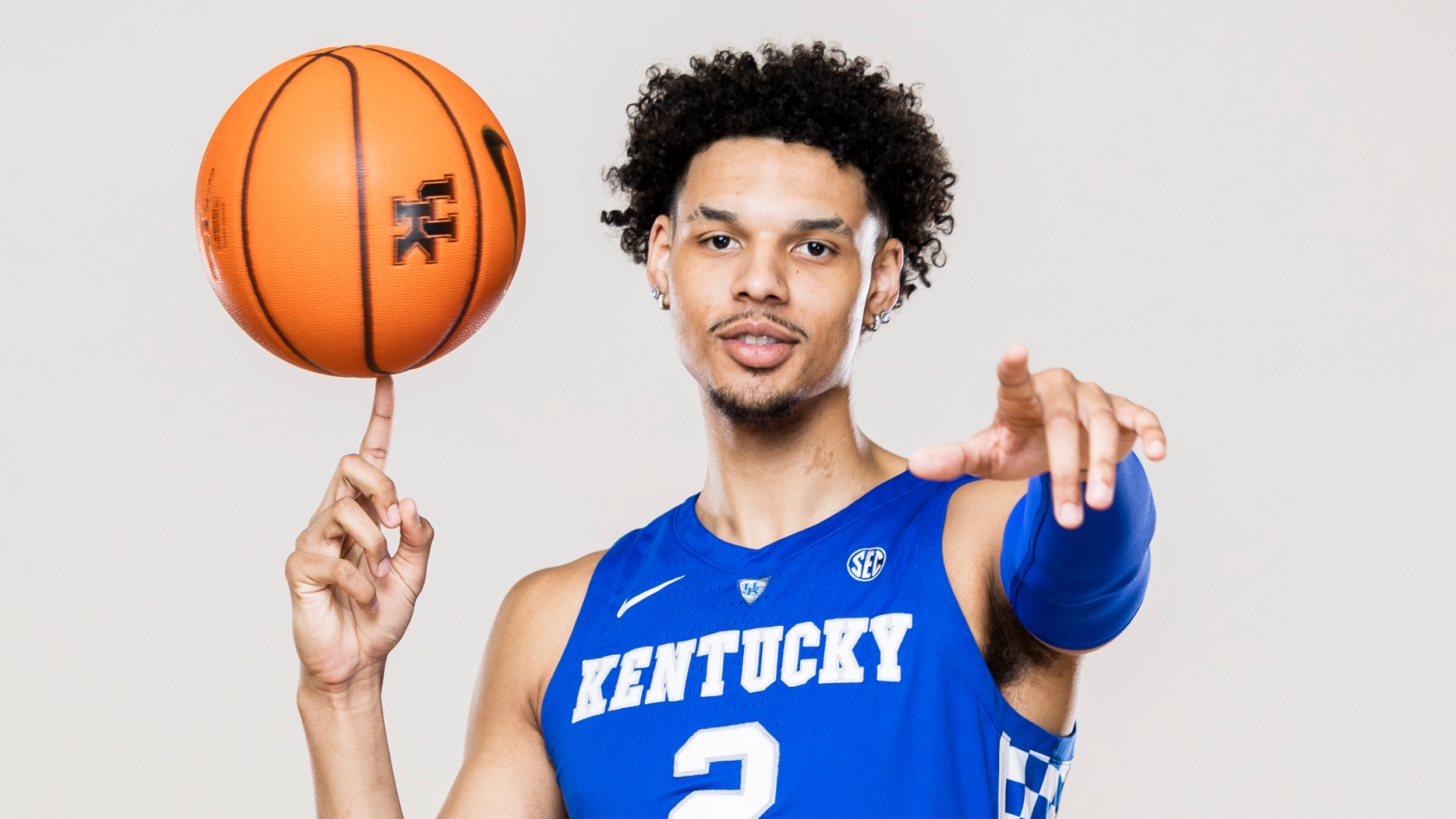 Cats Add Tre Mitchell to 2023-24 Roster
LEXINGTON, Ky. – Kentucky men's basketball head coach John Calipari announced Monday the addition of graduate transfer Tre Mitchell to the Wildcats' 2023-24 roster. Mitchell, a 6-foot-9, 225-pound forward from Pittsburgh, Pennsylvania, is the eighth newcomer to join the Wildcats, joining Aaron Bradshaw, Jordan Burks, Rob Dillingham, Justin Edwards, Joey Hart, Reed Sheppard and DJ Wagner.
Mitchell, who also attended Texas and Massachusetts earlier in his collegiate career, has played in 102 career games, including 92 starts, totaling 1,398 points and 597 rebounds.
"Kentucky basketball and its fan base speaks for itself," Mitchell said. "An opportunity to be a part of something like this doesn't come around very often. Coach Cal is a Hall of Fame coach who understands the game and the players he wants to play for him, but it's the lifelong relationships with his players that stood out to me the most. That only happens when you know someone cares about their players.
"My team and personal goals this year are one and the same, grow and win as much as possible," Mitchell said. "With a young core, growth is on the horizon and it won't hurt for these guys to have someone with experience in college basketball to lean on when they need it."
Mitchell, who is the Cats' first graduate transfer since Kellan Grady joined UK for the 2021-22 season, averaged 30.0 minutes per contest while starting 32 of 34 games for the Mountaineers this past season. He logged 11.7 points and 5.5 rebounds per game while shooting 47% from the field. Mitchell also totaled 61 assists, 28 steals and 21 blocks a season ago.
"Tre is from Pittsburgh and I've known him for years," Calipari said. "This was a unique situation but as soon as he put his name in the portal, he was a player I knew we needed to pursue. He brings leadership, experience, size and versatility and is a great fit for what we want to do. I know this is a win for us and I believe this will be a win for him, too. We are excited to have him as a part of our program."
Prior to West Virginia, Mitchell spent the 2021-22 season at Texas after playing his first two years at UMass. As a junior for the Longhorns, Mitchell played in 24 games, including 17 starts, averaging 8.7 points and 4.0 boards per game. He shot 47.8% from the field while scoring in double figures in nine contests.
Mitchell played in 44 games, starting all but one, over his two seasons with the Minutemen. A two-time All-Atlantic 10 selection, Mitchell averaged 18.0 points and 7.2 rebounds per game, adding 52 blocks and 47 steals over the 44 contests. Mitchell ranked second in the Atlantic 10 with 19.6 points per game as a freshman and followed that up with 18.8 points per game as a sophomore.
After attending Elizabeth Forward High School in Elizabeth, Pennsylvania, as a freshman and sophomore, Mitchell played his final two seasons at Woodstock Academy in Woodstock, Connecticut. Mitchell scored more than 1,000 points in his two seasons at Woodstock, earning Connecticut Gatorade Player of the Year honors in 2019.
For the latest on the Kentucky men's basketball team, follow @KentuckyMBB on Twitter, Facebook, Instagram and TikTok, and on the web at UKathletics.com.