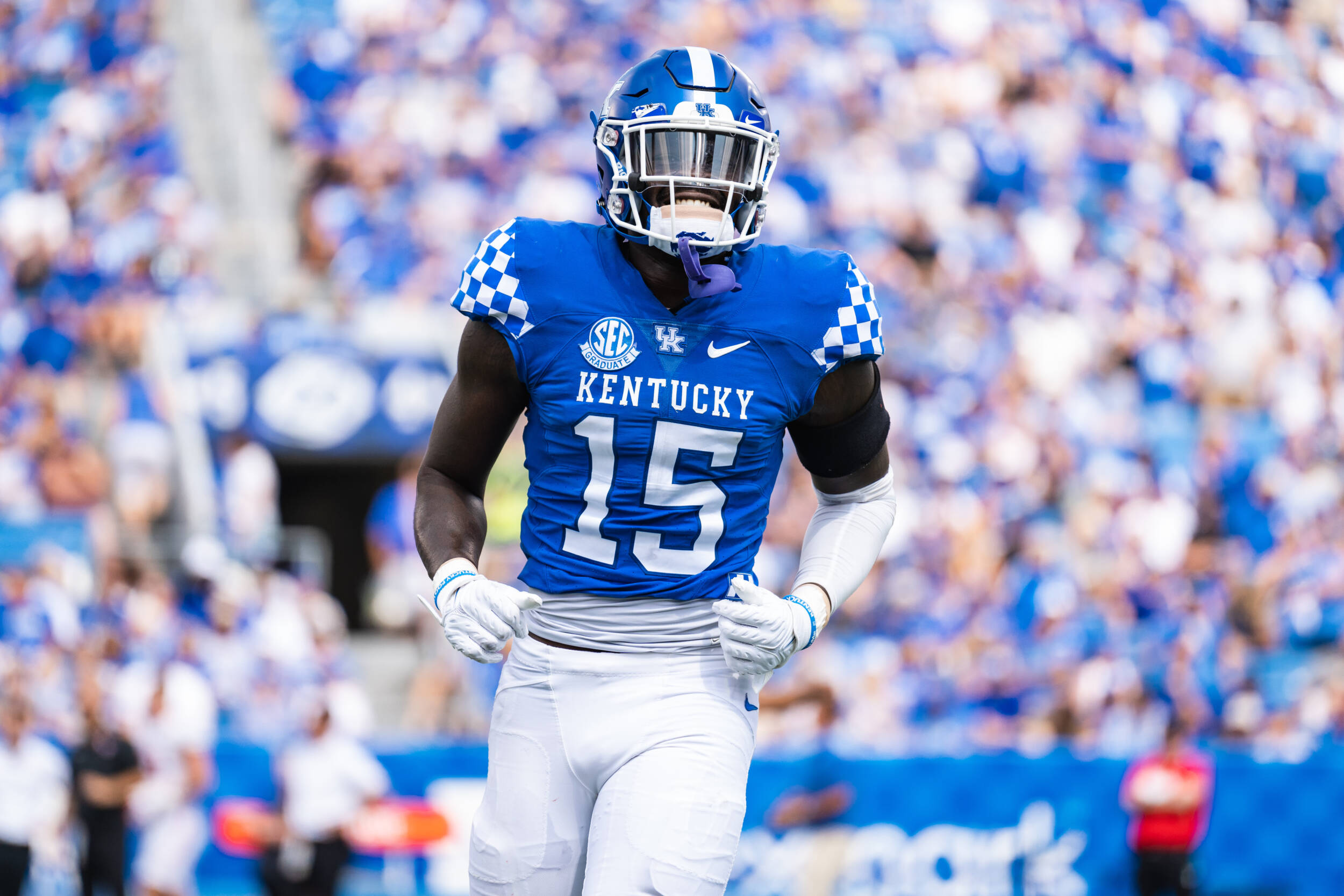 Two University of Kentucky football players, inside linebacker Jacquez Jones and outside linebacker Jordan Wright, were drafted in the 2023 XFL Rookie Draft, it was announced Friday. Jones will suit up for the Orlando Guardians, while Wright will play for the Arlington Renegades.
In order to be eligible for the draft, players must have been 1) eligible for the 2023 NFL Draft and 2) not under contract by a professional football team. Drafted players will be placed on XFL rosters with players who finished the 2023 season on active and reserve lists. XFL teams will hold exclusive rights with the players they selected.
Jones, a native of Tuscaloosa, Alabama, transferred to Kentucky after playing in 33 career games with 19 starts at Ole Miss. He finished his collegiate career playing in 52 career games played with 38 starting assignments and totaling 305 career tackles (182 at Ole Miss and 123 at UK) along with 17.5 tackles for loss, 4.0 sacks, six pass breakups, four forced fumbles, two interceptions and one fumble recovery. As a senior at Kentucky, he was elected one of seven team captains by his peers and went on to help the Wildcats advance to a school-record sixth straight bowl appearance. He graduated in December of 2022 with a degree in sociology and a minor in criminology.
Wright, of Fort Lauderdale, Florida, was a five-time letterwinner who saw action in 54 career games with 22 starting nods in his Wildcat career. He totaled 168 tackles, 25.0 tackles for loss, 9.5 sacks, 15 pass breakups, five fumble recoveries and two interceptions. Wright graduated in December of 2021 with a degree in community and leadership development and was a two-time member of the Southeastern Conference Academic Honor Roll.
As a senior team captain, Wright was a force on defense, totaling 62 tackles, including a team-high 9.5 tackles for loss, while adding a team-best eight quarterback hurries. He was named SEC co-Defensive Player of the Week after making a game-changing interception in Kentucky's 26-16 come-from-behind win at No. 12/19 Florida.
The Renegades are coached by former Oklahoma coach Bob Stoops, older brother of Kentucky head coach Mark Stoops, and were crowned champions of the XFL after defeating the D.C. Defenders in the XFL Championship Game on May 13 in San Antonio.
The XFL will return to action in 2024.