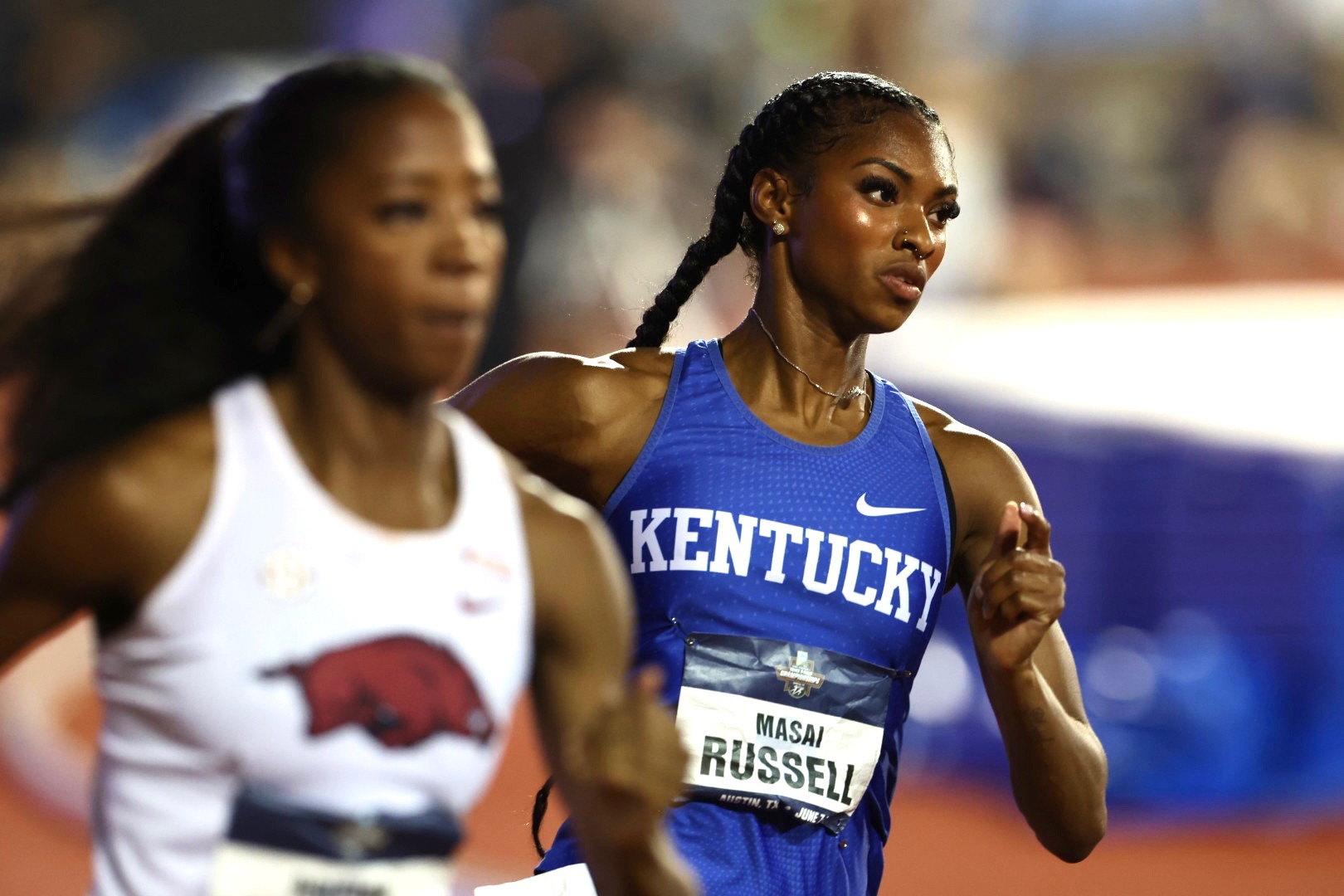 UKTF Women Finish Sixth At NCAA Championships
AUSTIN, Texas – The Kentucky track and field women's team concluded the NCAA Championships this evening placing sixth overall with 28 points from five events. Graduate Masai Russell claimed three medals on the day and scored in every event for the Wildcats.
Russell earned the 100-meter hurdles silver, after recovering from hitting the second hurdle to make up lots of ground in the second half of the race. She finished in 12.32w (+3.8), .04 seconds faster than the collegiate record she set at Mike A. Myers Stadium earlier this spring albeit this time with a tailwind above the +2.0 meters/second allowable limit for record-keeping purposes.
Russell added to an already incredible career after she earned bronze in the same event in 2022.
The UKTF women's 4x100m relay of Victoria Perrow, Anthaya Charlton, Russell, and Karimah Davis repeated as silver medalists running a 42.46 to earn eight points. Russell and Davis also ran the third and fourth (anchor) legs respectively last year.
Russell's third medal of the day came in the 400-meter hurdles where she ran a personal best time of 54.66. Her runners up performance earned the team eight points and ranks third fastest on the UK all-time performers list.
Davis collected a point for the Wildcats after placing eighth in the 200 meters. Her time of 22.48w (2.5) was a season best for the fifth-year student.
In the final event, the 4×400 relay team of Davis, Megan Moss, Russell, and Dajour Miles recorded a season best time of 3:27.47 to place sixth for three points.
The UK Women's team finished in the top-6 at the NCAA Outdoor Championships for the second year in a row after placing third last year. The Wildcats earned a top-seven finish in six of the last nine times the NCAA Outdoor Championships were contested excluding 2020.
Follow Kentucky Track and Field and Cross Country on Facebook, Instagram, Twitter, and at UKathletics.com.
NCAA CHAMPIONSHIPS: Saturday, June 10: ALL TIMES IN CENTRAL TIME
Women's 4×100 Meter Relay
8:02 p.m.
Final
2. UK (Victoria Perrow, Anthaya Charlton, Masai Russell, Karimah Davis): 42.46 | 8 points
Women's 100H
8:42 p.m.
Final
2. Masai Russell: 12.32w (3.8) | SB | 8 points
Women's 400H
9:27 p.m.
Final
2. Masai Russell: 54.66 | PB | No. 3 on UK all-time performers list | 8 points
Women's 200m
9:37 p.m.
Final
8. Karimah Davis: 22.48w (2.5) | SB | 1 point
Women's 4×400 Meter Relay
10:21 p.m.
Final
6. UK (Karimah Davis, Megan Moss, Masai Russell, Dajour Miles): 3:27.47 | SB | 3 points
NCAA CHAMPIONSHIPS: Wednesday, June 7: ALL TIMES IN CENTRAL TIME
Men's Pole Vault
6:30 p.m.
Final
T-8. Keaton Daniel: 17'10.25"/5.45m | 0.33 points
Men's Long Jump
8:00 p.m.
Final
3. Jordan Turner: 26'8.25"/8.13m (1.1) | School Record | UK Freshman Record | 6 points

16. Robbie Springfield: 24'11.25"/7.60m | PB | No. 8 on the UK all-time performers list

Men's 400m
8:00 p.m.
Semifinal
16. Brian Faust: 45.67 | PB | No. 2 on UK all-time performers list

20. Wayne Lawrence Jr.: 46.10

Men's Shot Put
8:30 p.m.
Final
12. Josh Sobota: 64'8"/19.71m
Men's 200m
8:44 p.m.
Semifinal
19. Kennedy Lightner: 20.55 (1.0)
Men's 4×400 Meter Relay
9:48 p.m.
Semifinal
16. Wayne Lawrence Jr., Brian Faust, Brandon Miller, Kennedy Lightner: 3:02.78
NCAA CHAMPIONSHIPS: Thursday, June 8: ALL TIMES IN CENTRAL TIME
Women's 4×100 Meter Relay
7:32 p.m.
Semifinal
2. Victoria Perrow, Anthaya Charlton, Masai Russell, Karimah Davis: 42.30Q | SB | Ties School Record
Women's 100H
8:32 p.m.
Semifinal
5. Masai Russell: 12.76Q (0.2)
Women's 100m
8:46 p.m.
Semifinal
11. Anthaya Charlton: 11.18 (0.1)
Women's 400H
9:30 p.m.
Semifinal
4. Masai Russell: 55.74Q
Women's 200m
9:44 p.m.
Semifinal
8. Karimah Davis: 22.62q(0.8) | PB | No. 5 on the UK all-time performers list
Women's 4×400 Meter Relay
10:48 p.m.
Semifinal
10. Karimah Davis, Megan Moss, Tamiia Fuller, Dajour Miles: 3:29.95Q