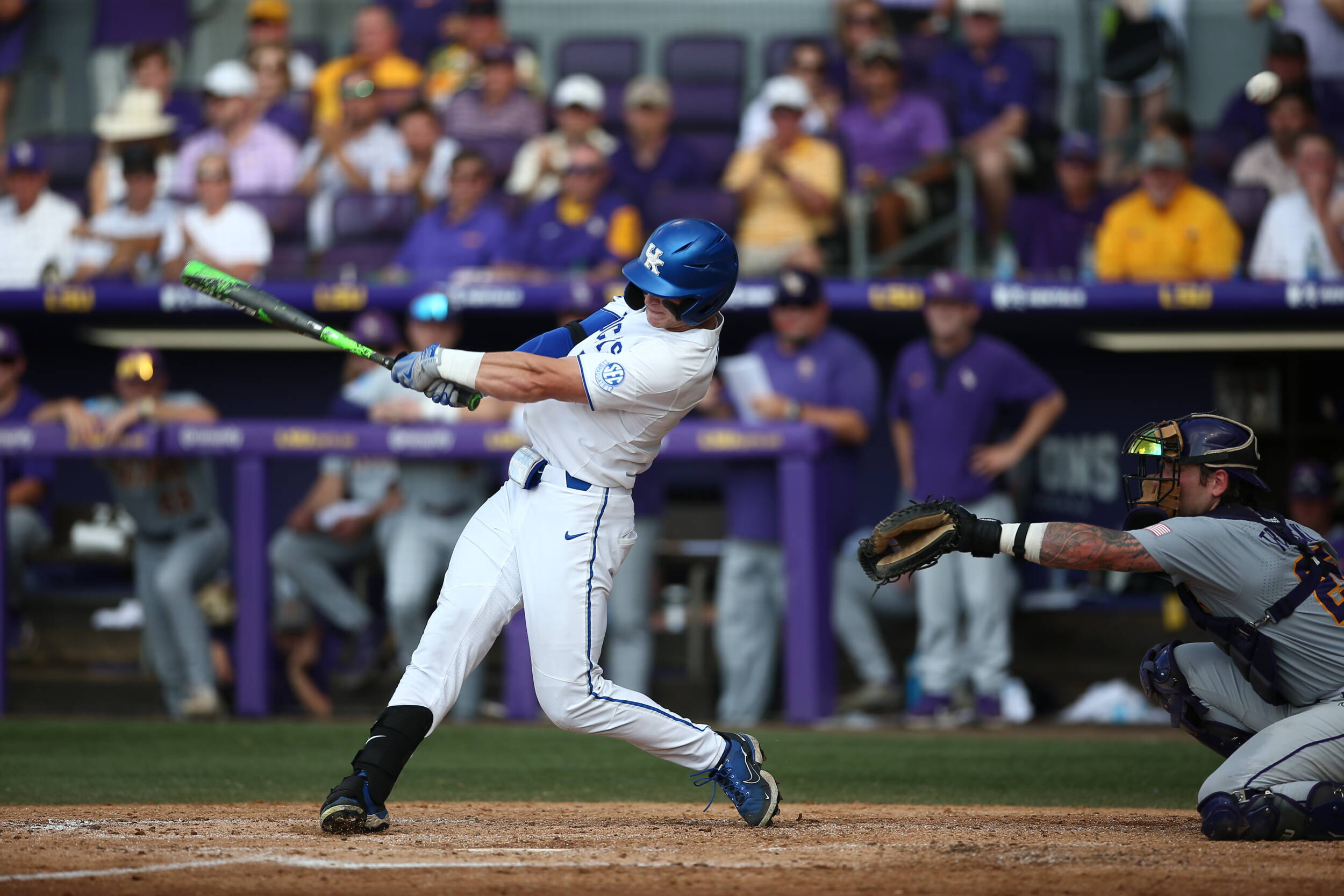 BATON ROUGE, La. – Kentucky defied the odds all season but couldn't do it one final time, seeing its remarkable 2023 season come to an end with an 8-3 defeat to LSU at Alex Box Stadium on Sunday night.
Picked to finish at the bottom of the Southeastern Conference and considered by most college baseball pundits an outside shot to even reach the conference tournament, Kentucky advanced to just its second-ever Super Regional and won 40 games for just the seventh time in program history, which spans more than 100 seasons.
Although the ride came to an end on the bayou, the Wildcats put up a valiant fight until the very end. Senior Jackson Gray, playing wat would be his final game of college baseball, bashed a leadoff home run to give the Cats a 1-0 lead but LSU's talent and depth proved too much to overcome. The Cats made the powerhouse Tigers sweat though and a hush fell over the crowd of nearly 15,000 when Reuben Church's potential game-tying double down the left field line in the seventh inning landed an inch foul down.
Still, it was one last hurrah for Devin Burkes and Nolan McCarthy, who each homered. Also, Kentucky native Mason Moore punctuated his meteoric postseason rise with another dominating effort on the mound. He tossed 14.1 scoreless innings in the NCAA Tournament.
NOTES
UK Coach Nick Mingione is in his seventh season at the helm and now owns a 216-150 career record.

UK is 8-6 in the month of June under Coach Mingione.
Mingione is 8-6 in the NCAA Tournament, 0-4 in the Super Regional round.
Mingione now is 4-12 vs. LSU.

UK finished 40-21 on the season, just the seventh time in school history it has won 40 or more games.
UK's 1-0 lead early in the game was the first lead ever for the program in a Super Regional.
Sophomore pitcher Mason Moore pitched 4.1 scoreless innings.

His NCAA Tournament line: 14.1 IP, 6 H, 0 R, 3 BB, 12 K

Sophomore catcher Devin Burkes hit a solo home run.
Senior outfielder Jackson Gray led off the game with a solo home run.
Sophomore Nolan McCarthy hit a solo home run.
ON DECK
Kentucky's season is complete.