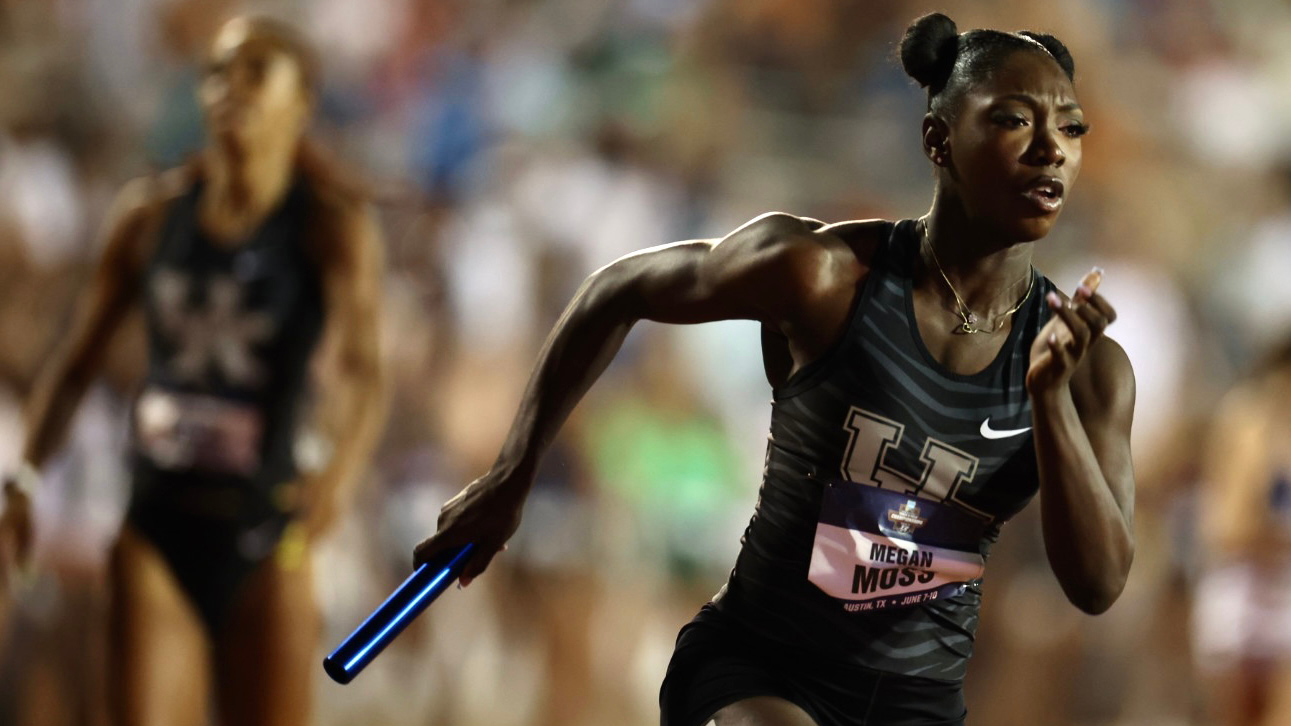 UKTF Women Qualify In Five Events For Saturday's Finals
AUSTIN, Texas – Kentucky track and field concluded day two of the NCAA Championships with the women making their debut this evening. The Wildcats moved on in five events, including both relays, and will compete for a title Saturday evening.
The day started with the 4×100 meter relay where the team of Victoria Perrow, Anthaya Charlton, Masai Russell, and Karimah Davis tied the school record with a tantalizing time of 42.30 to win the heat and earn the automatic qualification for Saturday. The time was a season best and tied the school record held by Celera Barnes, Jasmine Camacho-Quinn, Kayelle Clarke, and Kianna Gray set in 2018. It was also the second fastest time of the semifinals.
Russell kept her record breaking season going after she qualified in both the 100-meter hurdles and the 400-meter hurdles. She won both heats in each event to earn the automatic qualifiers for Saturday.
Davis set a personal best in the 200 meters to qualify for Saturday's final. Her time of 22.62 was the fifth fastest time in school history and the eighth fastest time this evening.
In the final event of the evening, the women's 4×400 team of Davis, Megan Moss, Tamiia Fuller, and Dajour Miles finished 10th overall and third in the heat with a time of 3:29.95. The Wildcats earned the automatic qualification after the hosts were disqualified for flagrantly impeding another team and will run on Saturday.
Follow Kentucky Track and Field and Cross Country on Facebook, Instagram, Twitter, and at UKathletics.com.
NCAA CHAMPIONSHIPS: Thursday, June 8: ALL TIMES IN CENTRAL TIME
Women's 4×100 Meter Relay
7:32 p.m.
Semifinal
2. Victoria Perrow, Anthaya Charlton, Masai Russell, Karimah Davis: 42.30Q | SB | Ties School Record
Women's 100H
8:32 p.m.
Semifinal
5. Masai Russell: 12.76Q (0.2)
Women's 100m
8:46 p.m.
Semifinal
11. Anthaya Charlton: 11.18 (0.1)
Women's 400H
9:30 p.m.
Semifinal
4. Masai Russell: 55.74Q
Women's 200m
9:44 p.m.
Semifinal
8. Karimah Davis: 22.62q(0.8) | PB | No. 5 on the UK all-time performers list
Women's 4×400 Meter Relay
10:48 p.m.
Semifinal
10. Karimah Davis, Megan Moss, Tamiia Fuller, Dajour Miles: 3:29.95Q
NCAA CHAMPIONSHIPS: Saturday, June 10: ALL TIMES IN CENTRAL TIME
Women's 4×100 Meter Relay
8:02 p.m.
Final
Victoria Perrow, Anthaya Charlton, Masai Russell, Karimah Davis, Shadajah Ballard, Tamiia Fuller
Women's 100H
8:42 p.m.
Final
Masai Russell
Women's 400H
9:27 p.m.
Final
Masai Russell
Women's 200m
9:37 p.m.
Final
Karimah Davis
Women's 4×400 Meter Relay
10:21 p.m.
Final
Karimah Davis, Megan Moss, Tamiia Fuller, Dajour Miles, Masai Russell
NCAA CHAMPIONSHIPS: Wednesday, June 7: ALL TIMES IN CENTRAL TIME
Men's Pole Vault
6:30 p.m.
Final
T-8. Keaton Daniel: 17'10.25"/5.45m | 0.33 points
Men's Long Jump
8:00 p.m.
Final
3. Jordan Turner: 26'8.25"/8.13m (1.1) | School Record | UK Freshman Record | 6 points

16. Robbie Springfield: 24'11.25"/7.60m | PB | No. 8 on the UK all-time performers list

Men's 400m
8:00 p.m.
Semifinal
16. Brian Faust: 45.67 | PB | No. 2 on UK all-time performers list

20. Wayne Lawrence Jr.: 46.10

Men's Shot Put
8:30 p.m.
Final
12. Josh Sobota: 64'8"/19.71m
Men's 200m
8:44 p.m.
Semifinal
19. Kennedy Lightner: 20.55 (1.0)
Men's 4×400 Meter Relay
9:48 p.m.
Semifinal
16. Wayne Lawrence Jr., Brian Faust, Brandon Miller, Kennedy Lightner: 3:02.78