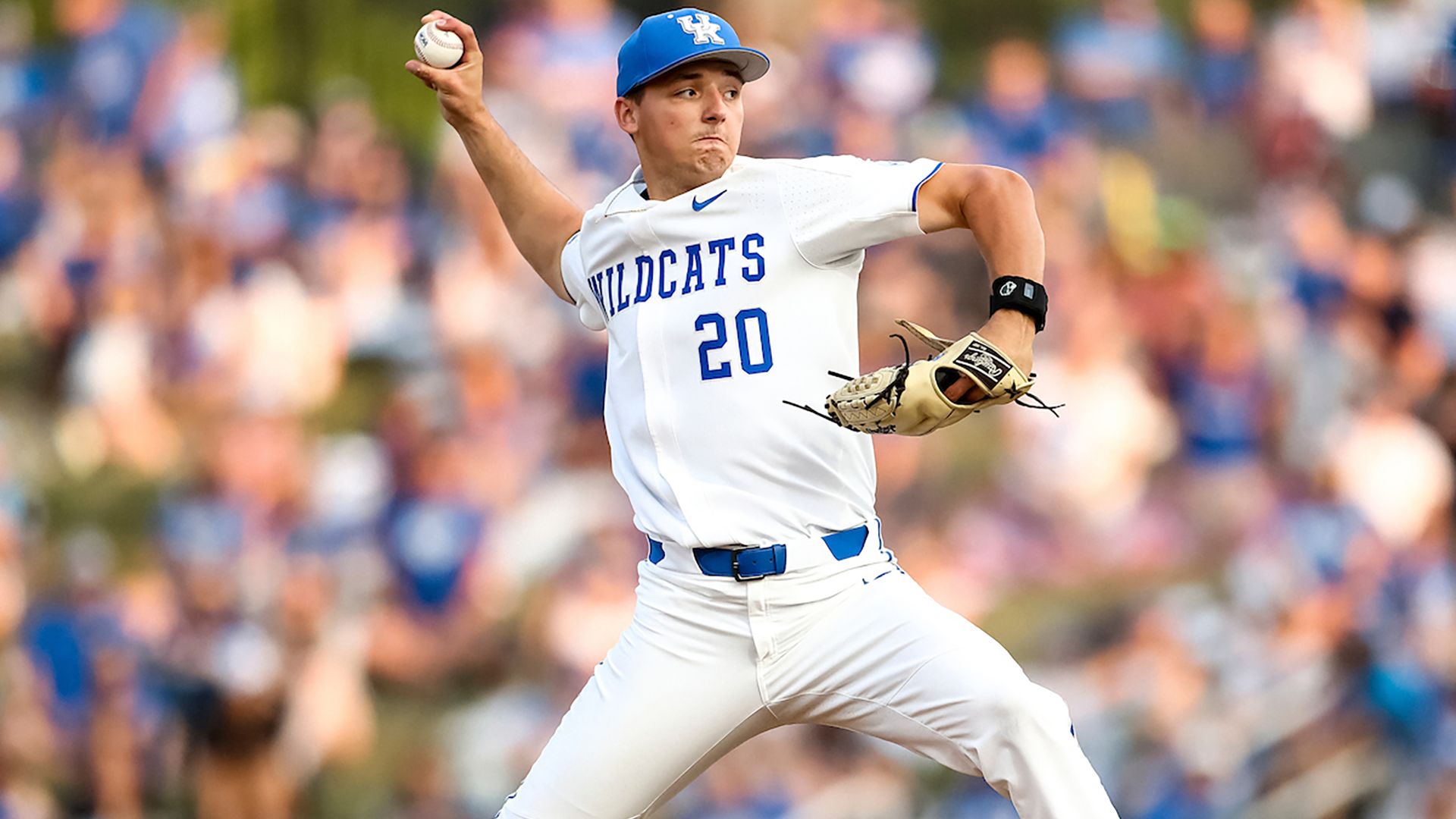 The Kentucky baseball team visits LSU this weekend in the NCAA Baseball Super Regional in Baton Rouge. The Cats will take on a Tigers team that spent much of the 2023 season ranked at the top of the national rankings.
The Cats and the Tigers met in a three-game SEC series at Alex Box Stadium on April 13-15. LSU won game one 16-6, but Kentucky battled back and claimed the second game 13-10. In the series finale, LSU overcame a late deficit to win 7-6.
Kentucky knows what it's facing in LSU. The Tigers have perhaps the best pitcher (Paul Skenes) and the best position player (Dylan Crews) in all of college baseball. Add to that prolific slugger Tommy White and several other weapons and it's easy to see why this is one of the nation's very best teams.
Skenes, a right-handed flamethrower, is 11-2 this season with a 1.90 ERA, which ranks fourth nationally. He has struck out 179 batters in 99.1 innings, which is by far the most in the country this season. He made 16 starts this season and pitched three shutouts. Kentucky head coach Nick Mingione knows just how good Skenes is.
"He's just super competitive," Mingione said. "We're going to have to match his competitiveness. The fastball is really good, (and) the slider."
The good news for the Cats is that the most runs Skenes has given up all season came against Kentucky. In the April 13 loss, UK scored five runs, four of them earned, against Skenes, despite the fact that he struck out 13 Cats.
LSU's offense is driven by Crews, who bats .432 on the season. He has 17 home runs, 14 doubles and has driven in 63 runs. White leads LSU in home runs with 20 and in RBIs with 93. Mingione knows how important Crews is to the LSU attack and that UK must have a plan to combat him.
"He's a special offensive player," Mingione said. "There's a lot that goes into (a plan). There will be times where we'll have to attack him and there will be times when it's the old unintentional intentional walk, or just a straight intentional walk. We'll manage that and see all of those factors play in and how we approach him. But he's definitely a guy that there needs to be multiple conversations about."
UK pitcher Austin Strickland respects LSU but also knows that his team is riding high.
"They're a really great team. They were number one in the country for a really long time," Strickland said. "I have nothing but respect for them. We're going to go in and just give it our best shot. These last couple of weeks, we've been playing pretty good baseball. So, we're pretty confident."
Kentucky does not have the eye-popping statistics that LSU has. But the Cats play their style, creating chaos on the basepaths and putting pressure on opposing defenses to make plays.
Kentucky has three players hitting .300 or higher, led by center fielder Jackson Gray, who has a .348 average. First baseman Hunter Gilliam is batting .324 with a team-high 12 home runs, while second baseman Emilien Pitre is hitting .322.
On the mound, the Cats have had several contributors this season. Zack Lee is 5-3 with a 3.74 ERA. Lee has made 14 starts, this most on the UK staff.
Darren Williams has done it all for the UK pitching staff this season. The seventh-year right-hander has appeared in 16 games, 10 in relief and six as a starter. He's 4-2 with two saves in 2023.
Sophomore Mason Moore emerged in the Lexington Regional. There, he pitched 10 innings without allowing a run as the Cats rallied from the loser's bracket to win and advance. Moore is 4-1 this season with a 1.95 ERA. He has also saved four games.
The teams begin the series on Saturday at 3 p.m. ET on ESPN. Game two will be Sunday and game three, if necessary, will be on Monday. The first team to win two out of the three games will advance to the College World Series in Omaha next week.