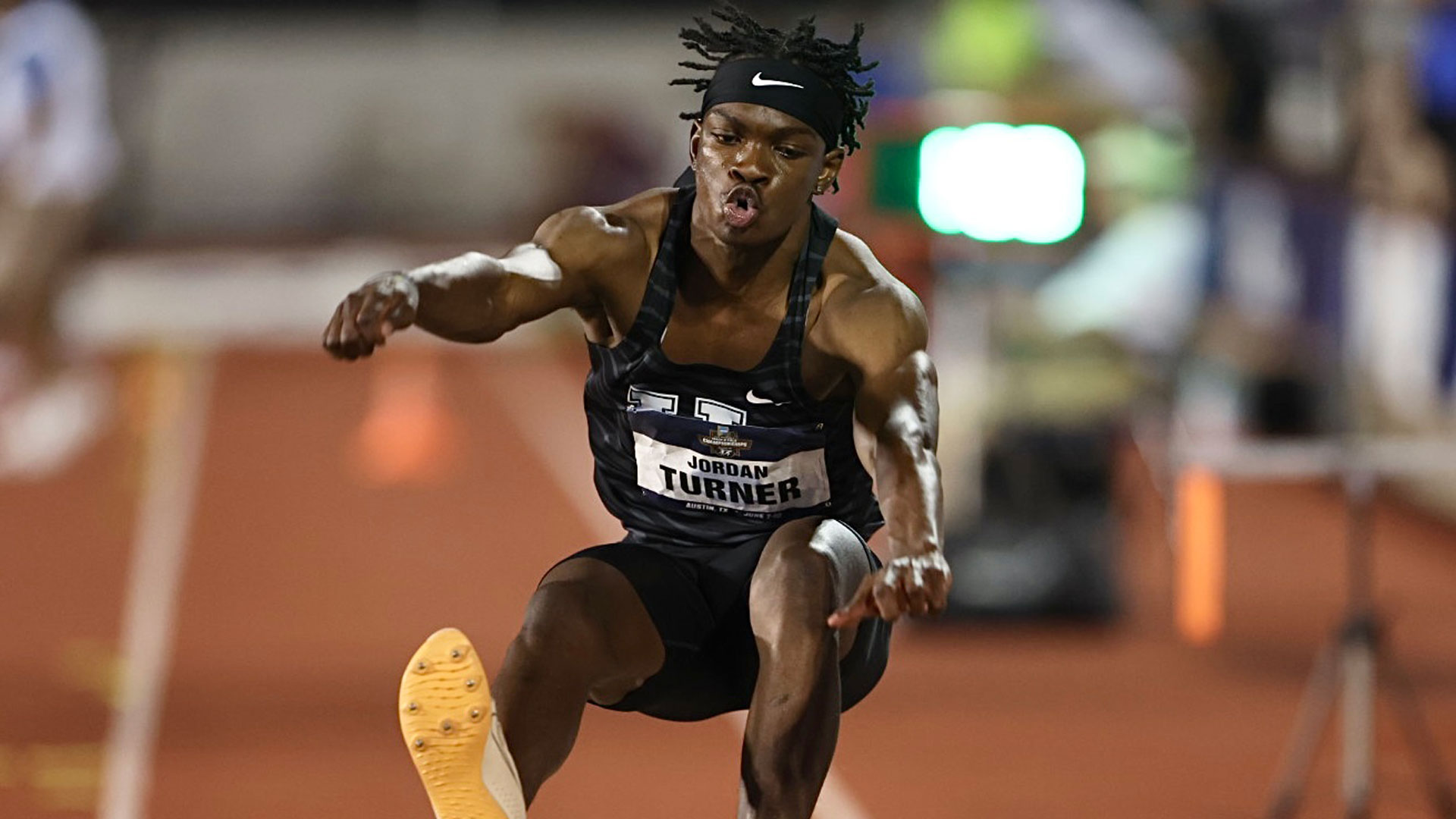 Jordan Turner Breaks School Record For First Career Medal
AUSTIN, Texas – Kentucky track and field freshman Jordan Turner earned his first career collegiate bronze medal in the men's long jump this evening. The Kingston, Jamaica native jumped to a wind legal school record length of 26'8.25"/8.13 meters in his NCAA Outdoor Championships debut.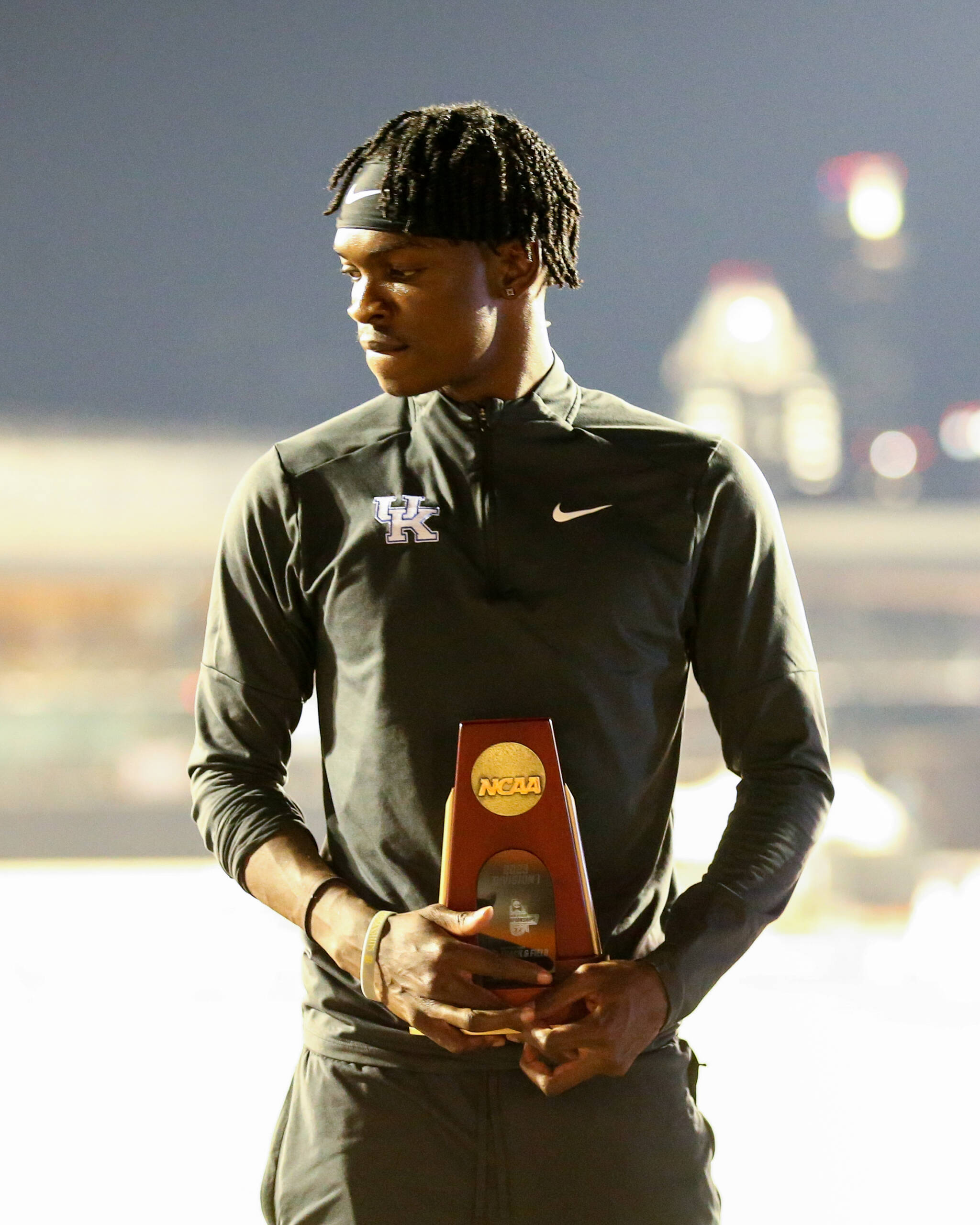 Turner hit the mark on his second attempt to replace Tim Duckworth's 26'4.25"/8.03 meters set in 2018 and secured the team six points.
Robbie Springfield also hit a personal best in the long jump leaping for 24'8.25"/7.60 meters moving to eighth on the UK all-time performers list.
In other field events, Keaton Daniel tied for eighth for 0.33 of a point clearing 17'10.25"/5.45 meters in the men's pole vault.
Brian Faust recorded the second fastest time in school history in the men's 400 meters semifinals at 45.67 for a personal best. Despite the accomplishment, Faust was unable to advance to the final.
Despite their best efforts, the UKTF men's outdoor season ended tonight with no sprinters advancing to Friday's finals. The men end with 6.33 points on the weekend and one medal earned.
Follow Kentucky Track and Field and Cross Country on Facebook, Instagram, Twitter, and at UKathletics.com.
NCAA CHAMPIONSHIPS: Wednesday, June 7: ALL TIMES IN CENTRAL TIME
Men's Pole Vault
6:30 p.m.
Final
T-8. Keaton Daniel: 17'10.25"/5.45m | 0.33 points
Men's Long Jump
8:00 p.m.
Final
3. Jordan Turner: 26'8.25"/8.13m (1.1) | School Record | UK Freshman Record | 6 points

16. Robbie Springfield: 24'11.25"/7.60m | PB | No. 8 on the UK all-time performers list

Men's 400m
8:00 p.m.
Semifinal
16. Brian Faust: 45.67 | PB | No. 2 on UK all-time performers list

20. Wayne Lawrence Jr.: 46.10

Men's Shot Put
8:30 p.m.
Final
12. Josh Sobota: 64'8"/19.71m
Men's 200m
8:44 p.m.
Semifinal
19. Kennedy Lightner: 20.55 (1.0)
Men's 4×400 Meter Relay
9:48 p.m.
Semifinal
16. Wayne Lawrence Jr., Brian Faust, Brandon Miller, Kennedy Lightner: 3:02.78
NCAA CHAMPIONSHIPS: Thursday, June 8: ALL TIMES IN CENTRAL TIME
Women's 4×100 Meter Relay
7:32 p.m.
Semifinal
Victoria Perrow, Anthaya Charlton, Masai Russell, Karimah Davis, Shadajah Ballard, Tamiia Fuller
Women's 100H
8:32 p.m.
Semifinal
Masai Russell
Women's 100m
8:46 p.m.
Semifinal
Anthaya Charlton
Women's 400H
9:30 p.m.
Semifinal
Masai Russell
Women's 200m
9:44 p.m.
Semifinal
Karimah Davis
Women's 4×400 Meter Relay
10:48 p.m.
Semifinal
Karimah Davis, Megan Moss, Tamiia Fuller, Dajour Miles, Masai Russell, Yasmin Brooks
NCAA CHAMPIONSHIPS: Saturday, June 10: ALL TIMES IN CENTRAL TIME
Women's 4×100 Meter Relay
8:02 p.m.
Final
Victoria Perrow, Anthaya Charlton, Masai Russell, Karimah Davis, Shadajah Ballard, Tamiia Fuller
Women's 100H
8:42 p.m.
Final
Masai Russell
Women's 100m
8:52 p.m.
Final
Anthaya Charlton
Women's 400H
9:27 p.m.
Final
Masai Russell
Women's 200m
9:37 p.m.
Final
Karimah Davis
Women's 4×400 Meter Relay
10:21 p.m.
Final
Karimah Davis, Megan Moss, Tamiia Fuller, Dajour Miles, Masai Russell, Yasmin Brooks