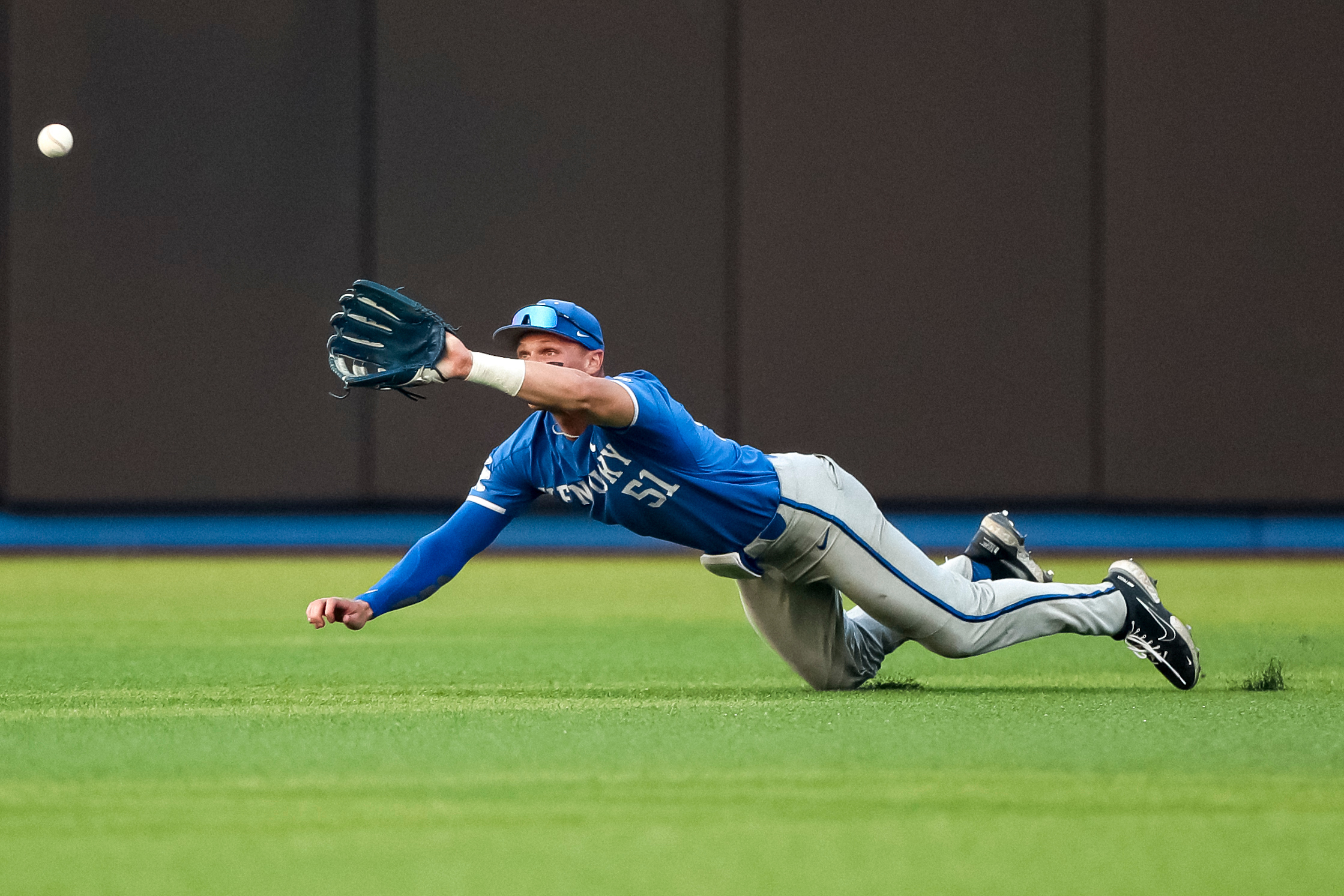 The Kentucky baseball team won an NCAA Regional for just the second time in program history on Monday. Now, the Cats now find themselves in virtually unchartered territory.
That's the bad news. The good news is, Kentucky will be playing in the Super Regionals at a site where they have already played this season – Alex Box Stadium in Baton Rouge, Louisiana, home of the LSU Tigers.
Kentucky played at LSU this season on April 13, 14 and 15 in a hard-fought series that the Tigers won two games to one.
How much comfort can the Cats get from having already played at LSU in 2023?
"Knowing the environment and knowing that we've been there before can help us be really calm and confident," UK pitcher Austin Strickland said. "Definitely when you're going into a Super Regional environment, it's a little bit different than a regular one in April. But we've been to the Box, we know what it looks like. We know what our dugout is going to be, what our bullpen is going to be. There's definitely some confidence there when you're familiar with your surroundings to an extent."
Head coach Nick Mingione believes that having been there already this season will give his team some peace.
"I think any time you can bring student-athletes and give them an experience they've had before can always be a good thing," Mingione said. "The fact that everybody on this team has been down there before, that's definitely a good thing and an experience that we can definitely draw from."
UK's first appearance in Baton Rouge did not go exactly as planned in the beginning.
The Bayou Bengals took game one, 16-6, behind six innings and 13 strikeouts from All-American pitcher Paul Skenes.
The Cats fought back to win the second game of the series, 13-10. After trailing 6-2, Kentucky got five runs in the fifth and five more in the seventh, then held off a late LSU rally for the win. Chase Stanke had three hits, including a home run, and four runs batted in for UK in the game. Darren Williams got the win in relief of Logan Martin, while Ryder Giles notched the save.
In the rubber game of the series, Kentucky led 6-4 after scoring three runs in the top of the seventh. But the Tigers got two runs in the bottom of the seventh, then another run in the eighth to win 7-6. Hunter Gilliam knocked in a pair of runs for UK, while Jackson Gray had a hit and scored twice.
Mingione liked how his team settled in as the weekend progressed.
"We didn't start off really good that Thursday game. But you could see that the guys got more and more comfortable as the game went on," Mingione said. "And I think that carried over to the Friday game and the Saturday game. It was a one-run game and we had our chances."
The Cats are hoping that their familiarity with Alex Box Stadium, the community of Baton Rouge and the LSU fans can help them as they head into virtually unchartered territory for the UK program.