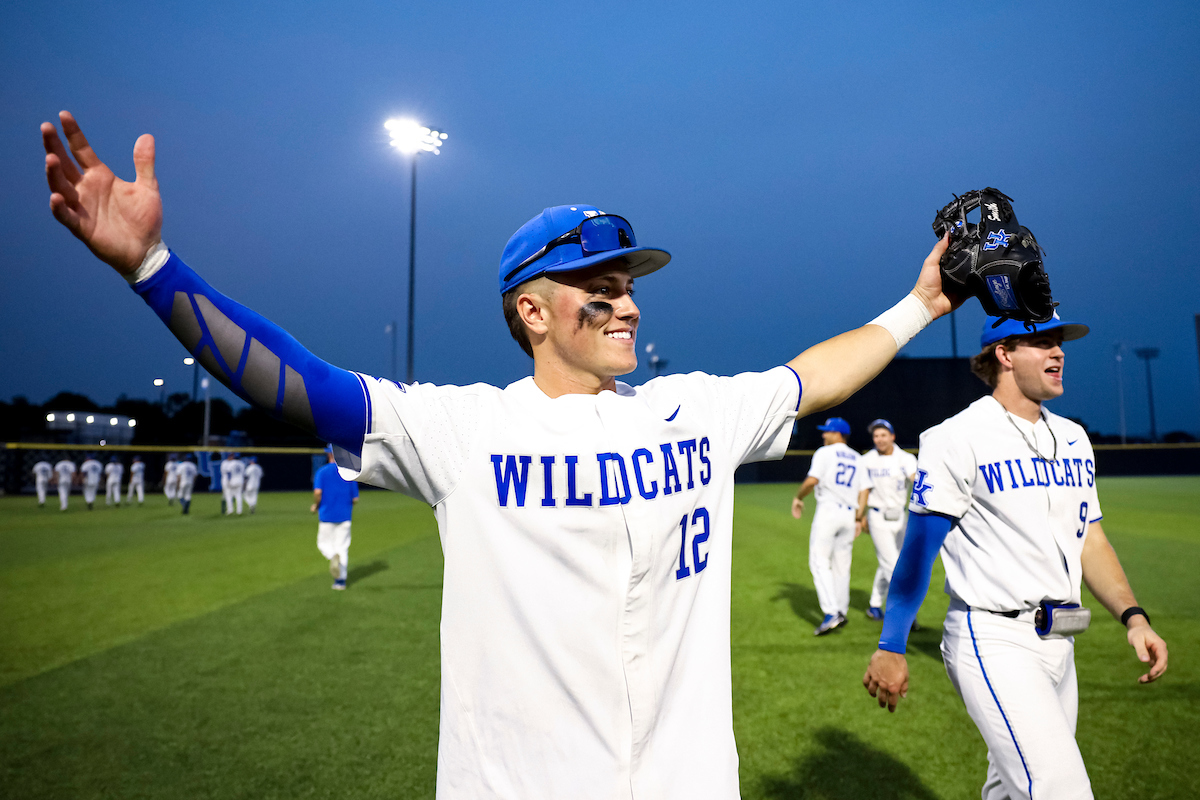 Kentucky baseball head coach Nick Mingione admits that he's not much of a cook. But he does know how important a good recipe can be.
"To create a team, it's a lot like a good recipe," Mingione said. "You've got to have good ingredients. They all go together and that's what makes a good meal."
When Nick Mingione was assembling his 2023 team, he was looking for a particular group of characteristics, or ingredients, in that perfect recipe. Mingione wanted players with a team-first mentality, preferably with experience.
And there was one other thing he hoped to find – a "dog" mentality. Those are the players who are competitive and confident in themselves and their teammates. It's a contagious condition that seems to have caught on in the UK locker room.
Mingione loves that these Cats are, well, dogs.
"This is a special team. A bunch of competitive people," Mingione said. "Their term is 'dogs' and I would agree. They're a bunch of dogs and I love being their coach."
Shortstop Grant Smith agrees with the evaluation from his head coach. He first noticed it during the team's fall practices.
"I felt like it was just a bunch of really competitive people," Smith said. "Everybody was really driven and really focused to improve their own abilities. At the same time, the team aspect was really prevalent since we stepped on the field. I think that competitive drive, as a collective effort, has really helped us get to this point."
This group of Cats has ridden that "dog" mentality to a 40-19 record and a regional championship, just the second in school history. Now, UK heads to Baton Rouge to face LSU.
In addition to the mentality, Smith believes that there is another factor that has driven Kentucky's success this season.
"I think we're all really hungry to win," Smith said. "Really hungry to get after it. Not a lot of us have had this opportunity before so we're trying to make the most of it. Most importantly just put our heads down and really get after it."
For Mingione, having such a special bunch of players makes him want success for them even more.
"You want that for them because they deserve it," Mingione said. "They've done everything we've asked them to do. Very unselfish group. Special dudes."
The UK head coach also knows this is the last shot, and/or the only shot, that some of these players will ever have in college baseball.
"God willing, I'll be able to coach for however long. But for some of these guys, they will never play college baseball again," Mingione said. "It gets to a spot where you want it for them. You want them to have experiences that they've never had."
But Mingione also knows that it's up to the players to take advantage of the opportunity that they have earned.
"For those guys who will never have that opportunity again, that's all you could ever ask. Now, it's up to them to go do it."
The "dog" mentality that the UK team has this season is one of the main ingredients in what has turned out to be a special recipe.