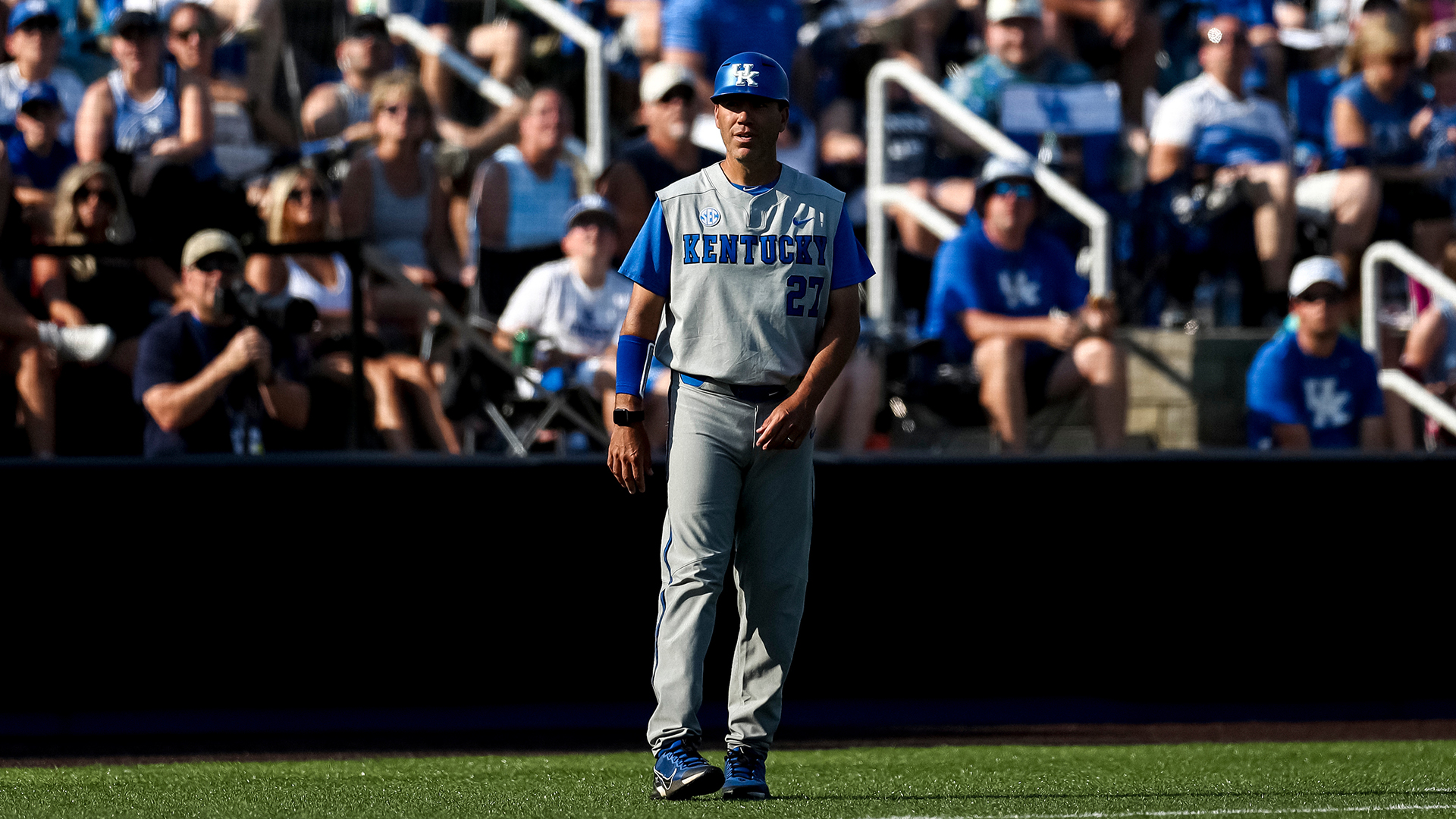 Kentucky has been playing college baseball since 1896. With breaks for World War II and for six years when UK did not field a team, the Cats have played about 114 seasons.
Nick Mingione is the 26th coach in Kentucky baseball history. And upon his arrival, Mingione challenged his players and those around the program to accomplish things that had never been done before at Kentucky.
In his seven years in Lexington, Mingione has done just that, setting new standards for the UK program. In fact, Mingione has accomplished something that none of the previous 25 ever could.
Before Mingione's arrival in Lexington, Kentucky had played in eight NCAA Baseball Regionals. But the Cats had never been able to win a regional and advance to the Super Regionals.
Mingione took over the UK program in 2017 and he immediately did something that had never been done before – he won a regional. Hosting the NCAA Tournament for just the second time in school history, the Cats rallied past N.C. State 10-5 in a memorable championship game at the old Cliff Hagan Stadium.
Kentucky would fall to Louisville in the Super Regional but the Cats took that step under Mingione's direction.
Mingione made even more history on Monday night, winning the Lexington Regional by beating Indiana 4-2 at Kentucky Proud Park. The only coach in school history to win a pair of regionals now leads his team into the Super Regional in Baton Rouge this weekend.
Kentucky has now won 22 NCAA Tournament games in school history. Despite coaching in just two NCAA Tournaments, Mingione is responsible for eight of those wins.
He's just the third UK coach to ever win at least 200 games in Lexington. Keith Madison, who Mingione brought on stage in the postgame press conference on Monday, won 732. Gary Henderson won 258 games in eight seasons.
Mingione won his 200th game this season and is now up to 216 career wins in seven seasons, one of which was shortened by COVID-19.
How about more numbers. Kentucky has won 40 games in a season just seven times in program history. Mingione is now responsible for two of those (43 wins in 2017 and 40 wins this season).
In SEC play, the Cats have won 16 games or more just seven times. Mingione is responsible for two of those (19 SEC wins in 2017 and 16 this season).
Mingione has also seen the Cats move from "the Cliff" to the sparkling Kentucky Proud Park. The UK head coach hoped to see his team win a championship in its new venue. And on Monday night, he saw the Cats do just that. And, it happened in front of 6,796 fans, something else that had never been accomplished before.
The common thread is Mingione, who has brought a new mentality to the UK program. That mentality, along with stellar recruiting and coaching, has led the Cats to places they had literally never been before Mingione's arrival.