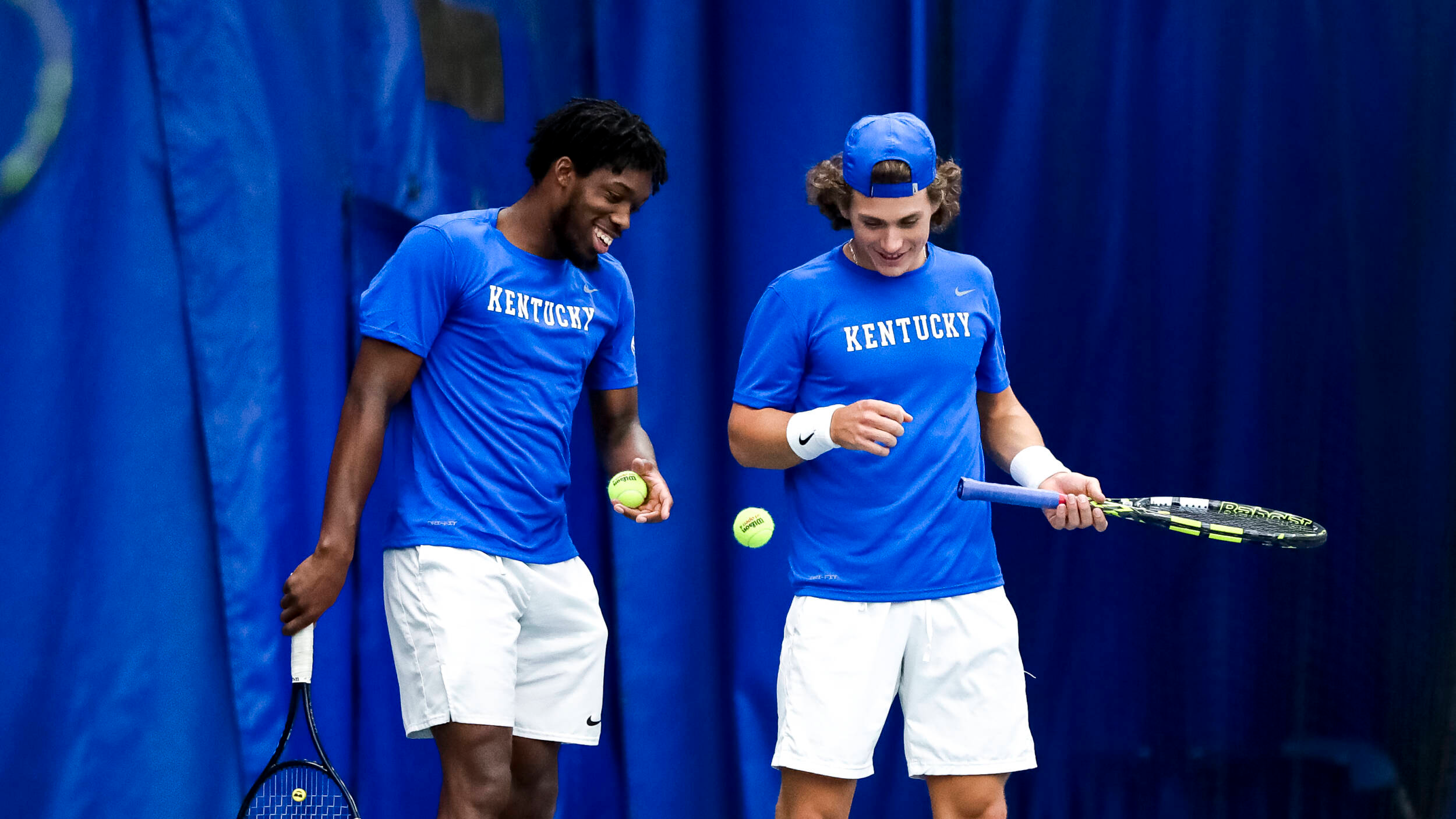 Men's Tennis' Ayeni, Draxl Named ITA All-Americans
LEXINGTON, Ky. – After standout seasons helping lead the Wildcats to the national quarterfinals, Kentucky men's tennis' Liam Draxl and Alafia Ayeni were each named 2023 All-Americans in singles by the Intercollegiate Tennis Association (ITA) on Monday afternoon.
All-American status is given to student-athletes that earn a Top 16 seed at the NCAA Singles Championship, advance to the Round of 16 at the NCAA Singles Championship or finish in the Top 20 of the final ITA Singles Rankings.
For Draxl, 2023 marks the third-consecutive season in which he has been named an ITA All-American. The 2021 ITA National Player of the Year posted a 19-8 singles record this season, playing primarily on the top court for the Wildcats. Draxl finished the year as the No. 11 player in the ITA Singles Rankings and reached the Round of 16 at the NCAA Singles Championship as a No. 9-16 seed. The Ontario, Canada native was a combined 9-8 against nationally ranked opponents and had two wins against players inside the ITA top 10. Draxl is the first Wildcat since Eric Quigley (2010-2012), to be named an All-American in three straight seasons, and just the fourth from Kentucky men's tennis to earn three All-American singles selections all-time (Quigley, Jesse Witten, Cedric Kauffmann).
Ayeni, a grad-transfer from Cornell, was dubbed an All-American by virtue of finishing the season at No. 20 in the ITA Singles rankings. The native of San Diego, Calif. went 18-9 in singles during the dual season and led the team with 11 wins over nationally ranked opponents. Ayeni was a first-team All-SEC honoree and an NCAA Singles Tournament qualifier. He was a perfect 3-0 in singles at the 2023 SEC Tournament, helping lift the Cats to the program's second-ever title.
With this year's honorees, Kentucky now has 52 All-American selections all-time. UK was one of just seven schools in the nation to feature multiple All-Americans in singles this season.
For the latest on UK Men's Tennis, follow the Wildcats on Twitter and Instagram at @UKMensTennis.