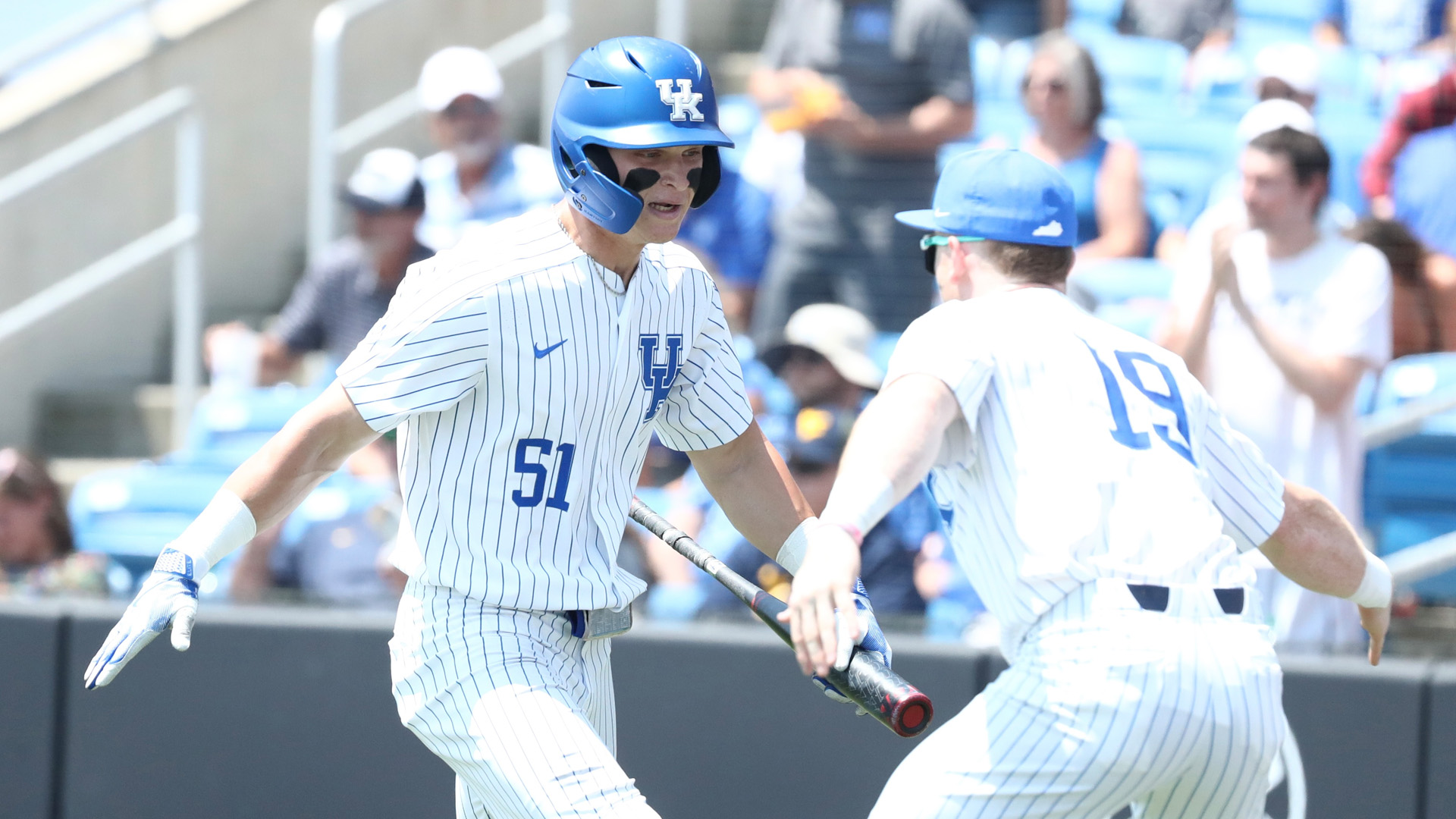 Kentucky 10, West Virginia 0
LEXINGTON, Ky. – Austin Strickland, Magdiel Cotto and James McCoy combined on a seven-hit shutout as Kentucky defeated West Virginia, 10-0, Sunday afternoon in the Lexington Regional of the NCAA Division I Baseball Tournament played at Kentucky Proud Park.
With the win, Kentucky (38-19) advances to a Sunday evening game against Indiana. West Virginia, the regular-season Big 12 tri-champion, was eliminated from the regional.  The Mountaineers end the season with a 40-20 record, tying the school record for wins in a season.
Strickland tossed the first six innings, allowing four hits with six strikeouts and one walk, improving his record to 4-1 on the season. Cotto threw two innings, striking out three, and McCoy handled the ninth with one strikeout.  The Wildcats pitched well against a WVU lineup that had totaled 19 runs in the first two games of the regional.
Kentucky got all the runs they needed in the first inning.  Centerfielder Jackson Gray was hit by pitch, followed by a run-scoring double by third baseman Jase Felker.  Later in the inning, a groundout by second baseman Emilien Pitre plated Felker and the Wildcats had a 2-0 lead.
UK had one home run in the game, a two-run blast by rightfielder Nolan McCarthy in the fourth inning, extending the lead to 5-0.  McCarthy and designated hitter Reuben Church led the offense with two hits each.  Catcher Devin Burkes finished the scoring with a three-run double in the eighth inning.
WVU starting pitcher Grant Siegel gave up the first three runs, taking the loss to move his record to 4-3.  As usual, the Mountaineer offense was led by second baseman J.J. Wetherholt, who had three hits, improving his total to 101 hits on the season.  Wetherholt finished the year with a .449 batting average, highest for a Mountaineer in one season since 1935.
Kentucky takes on Indiana Sunday at 6 p.m.  The Hoosiers defeated the Wildcats 5-3 on Saturday.  An IU win on Sunday wins the regional.  A UK victory Sunday night would send the teams to a winner-take-all matchup Monday.