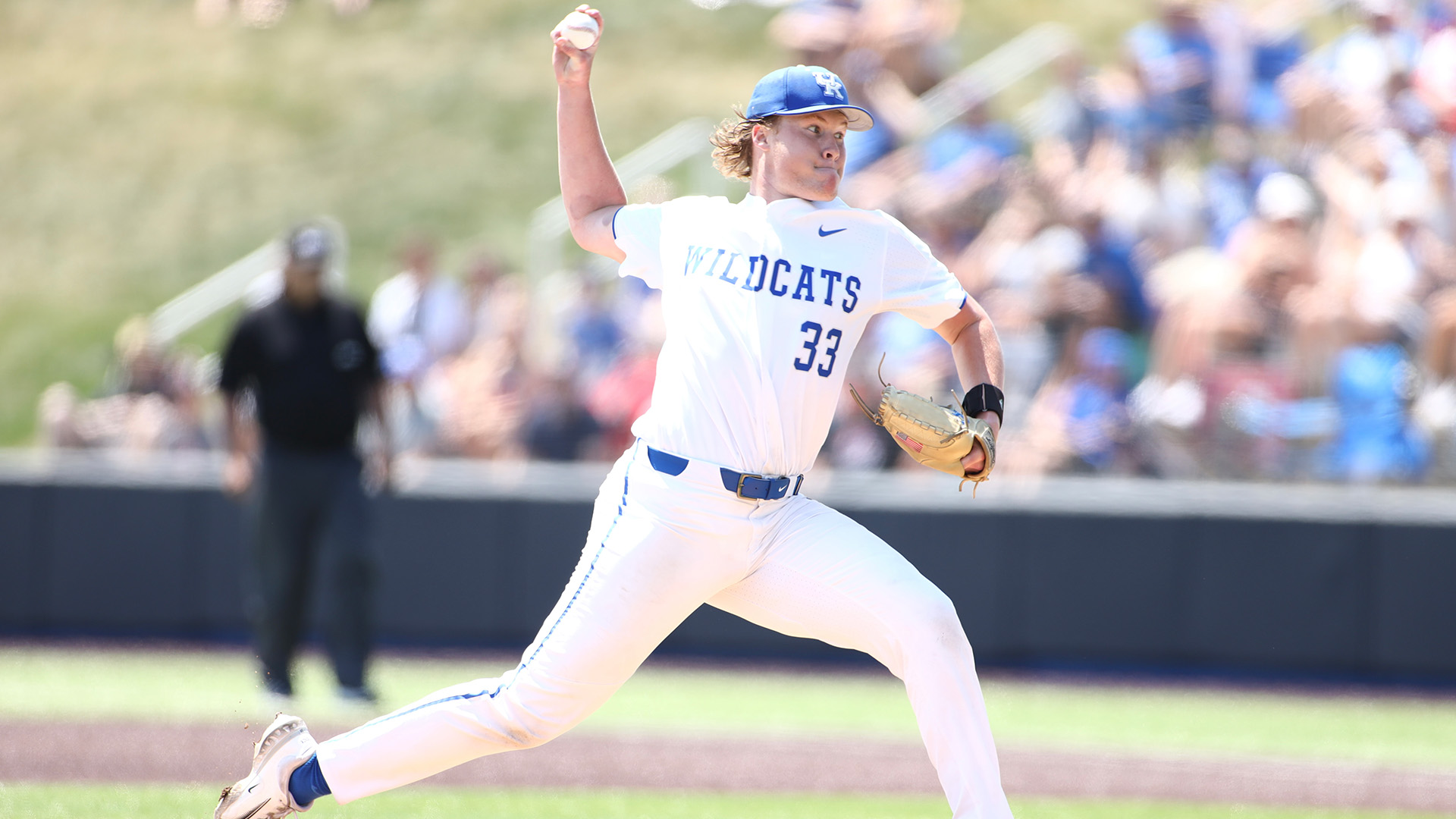 The Kentucky baseball team knew that it would be making history on Friday. After all, the Cats were hosting an NCAA Baseball Regional for just the third time in school history and for the first time at Kentucky Proud Park.
Little did they know that they would make more history along the way. Behind redshirt freshman Travis Smith and sophomore reliever Mason Moore, Kentucky shut out Ball State 4-0. It was Kentucky's first shutout of an opponent in an NCAA Tournament game since a 2-0 win over Mississippi State in the 1949 NCAA District III Tournament.
The day started with Smith, who was UK's mid-week starter for much of the season, getting into a jam in the first inning. Ball State had runners on second and third with just one out. But Smith induced a line out and finished the frame with a strikeout to get out of trouble. Mingione thought that was huge for the Cats.
"Travis Smith, what an outing for him," Mingione said. "They had some traffic in the first and his ability to work through that I thought was big moving forward."
Smith was able to get into the fifth inning, allowing no runs and just three hits before giving way to Moore. The Morehead native went the final five innings to earn the win. He immediately induced a double play upon entering the game, then retired every other batter he saw over the course of the final five innings. Moore knew that throwing strikes was key.
"Throwing both pitches for strikes, curveball and fastball," Moore said. "We knew they were going to be up there swinging. I knew coming in that I would have to attack the strike zone. I trust my defense a lot to make plays."
Moore didn't know how long he would be in the game when he entered.
"From the beginning of the bullpen, I expected maybe two or three (innings)," Moore said. "But I had my stuff today. I had confidence in the guys behind me making plays."
Moore kept shutting the Cardinals down, and doing so efficiently, so Mingione and pitching coach Dan Roszel kept sending him back out for more work. And Moore fed off the crowd of 4,935, the third largest in UK baseball history.
"Going out there in the eighth inning, I knew I had one job, one inning at a time," Moore said. "Having the crowd behind me, I was getting a little tired, but having that crowd kind of got me through those last couple of innings."
When it came time for the ninth, there was no doubt who was taking the mound, according to Mingione.
"There was no way I was taking him out of the game," Mingione said. "Some of those sinkers he was throwing were dive bombing. It was incredible."
Ball State head coach Rich Maloney was very impressed with Moore.
"When they brought in their relief pitcher, I thought he was really outstanding," Maloney said. "Really stymied us."
BSU shortstop Adam Tellier knew what made Moore effective in Friday's game.
"I think he was really working down in the zone," Tellier said. "He was throwing sinkers that were right at the bottom of the zone and getting us to roll over some pitches we thought we were hitting well. He was definitely doing a good job of staying down in the zone and not letting us get good barrels."
The Cats now face the winner of the West Virginia-Indiana game, which is Friday night. Kentucky and the WVU-IU winner play Saturday at 6 p.m. ET.
Moore's effectiveness, following Smith's strong start, gave Kentucky an historic performance on Friday.