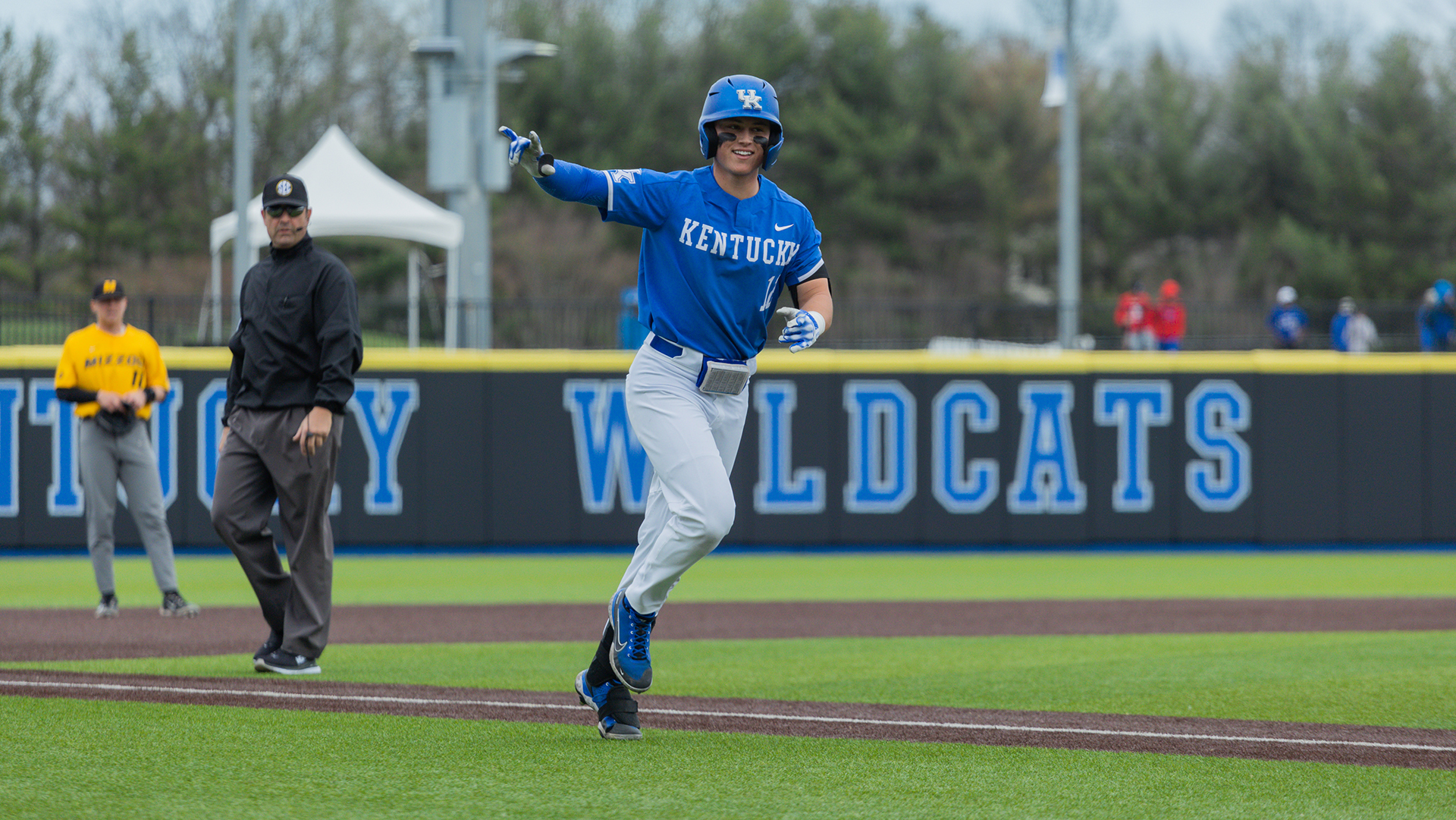 The Lexington Regional of the 2023 NCAA Baseball Tournament gets underway on Friday. Kentucky will host Ball State in the first game (noon ET), followed by West Virginia taking on Indiana in the nightcap (7 p.m. ET.)
Action continues on both Saturday and Sunday. If necessary, the two remaining teams would play a winner-take-all championship game on Monday.
Here's a closer look at each team in this year's Lexington Regional.
Kentucky
The Wildcats are 36-18 overall and finished eighth in the Southeastern Conference. Kentucky is not a team that hits for a lot of power. In fact, the Cats finished a distant last in the SEC in home runs this season.
However, that does not mean that UK does not have a good offense. Kentucky was second in the SEC and 11th in the country in on-base percentage. The Cats have stolen 89 bases, second in the league and 50th in the country. UK is second in tied for second in the league in triples and tied for sixth in the SEC in doubles.
What Kentucky does well is get guys on base, then move them along. UK has 53 sacrifice bunts this season, with is sixth in the country. Whether it's a stolen base, a sacrifice or a nice piece of hitting, the Cats seem to find a way to get runners over.
UK's pitching staff has been carried by senior Zack Lee. The righty has made 13 starts and has a 5-2 record with a 3.58 ERA. Lee has pitched well down the stretch and will be a key figure for the Cats this weekend.
West Virginia
The Mountaineers are 39-18 this season under head coach Randy Mazey. WVU has lost its last five games, two of which came in the Big 12 Tournament last week in Arlington, Texas.
WVU has a well-balanced offensive attack. The Mountaineers have five players with at least 14 stolen bases this season. They also have four players with double-digit home runs.
Sophomore second baseman JJ Wetherholt has been a star offensively for WVU this season. His .443 batting average is second in the country and he leads the Mountaineers with 15 home runs and 35 stolen bases.
WVU has leaned on two pitchers to carry the starting load this season. Right-hander Blaine Traxel is 7-5 with a 3.79 ERA. He has struck out 71 batters in 99.2 innings of work. Lefty Ben Hampton is 5-3 with a 4.17 ERA. Carlson Reed has been an effective closer for WVU this season with seven saves and a 1.50 ERA.
Indiana
The Hoosiers have a 41-18 record this season but they have lost four of their last six games coming into the NCAA Tournament.
Catcher Brock Tibbits leads the Hoosiers in hitting. The sophomore is batting .372 with 10 home runs and 66 runs batted in. Devin Taylor leads IU in homers with 16 and has driven in 57.
Sophomore righty Luke Sinnard has been the leader of the Hoosiers' pitching staff in 2023. Standing 6-8, Sinnard is an imposing figure on the mound and his numbers show that. He is 6-3 with a 4.15 ERA in 15 starts. Sinnard has struck out 109 batters in 84.1 innings. He is tied for 17th in the country in strikeouts this season.
Out of the bullpen, Ryan Kraft has been a valuable weapon for IU this season. In 19 appearances, the lefty has six wins against just one loss and has five saves.
Ball State
The Cardinals stunned homestanding Kent State with an Adam Tellier grand slam in the top of the ninth inning of Saturday's MAC Championship game. Now, they find themselves in the NCAA Tournament field at 36-21.
Ball State has won six of its past nine games, including three in a row to win the MAC Tournament last week. Two of those wins came over Kent State, the regular season league champion.
Head coach Rich Maloney and his team won 16 games on the road this season, so being in the visiting dugout is nothing new to Ball State. Junior Decker Scheffler leads Ball State with a .388 batting average. Graduate student Ryan Peltier is hitting .351 with a team-high 15 home runs.
Ball State's top pitcher this season has been senior Trennor O'Donnell. The 6-7 senior is 5-3 with a 2.98 ERA. He has struck out 92 hitters in 84.2 innings of work. Junior Ty Johnson has done a little bit of everything for the Cardinals in 2023. He has made 15 appearances, including nine starts. He has a 4-2 record with a 3.81 ERA but has also added three saves.
Friday's Kentucky-Ball State game can be seen on the SEC Network. The West Virginia-Indiana game can be seen on ESPN Plus.