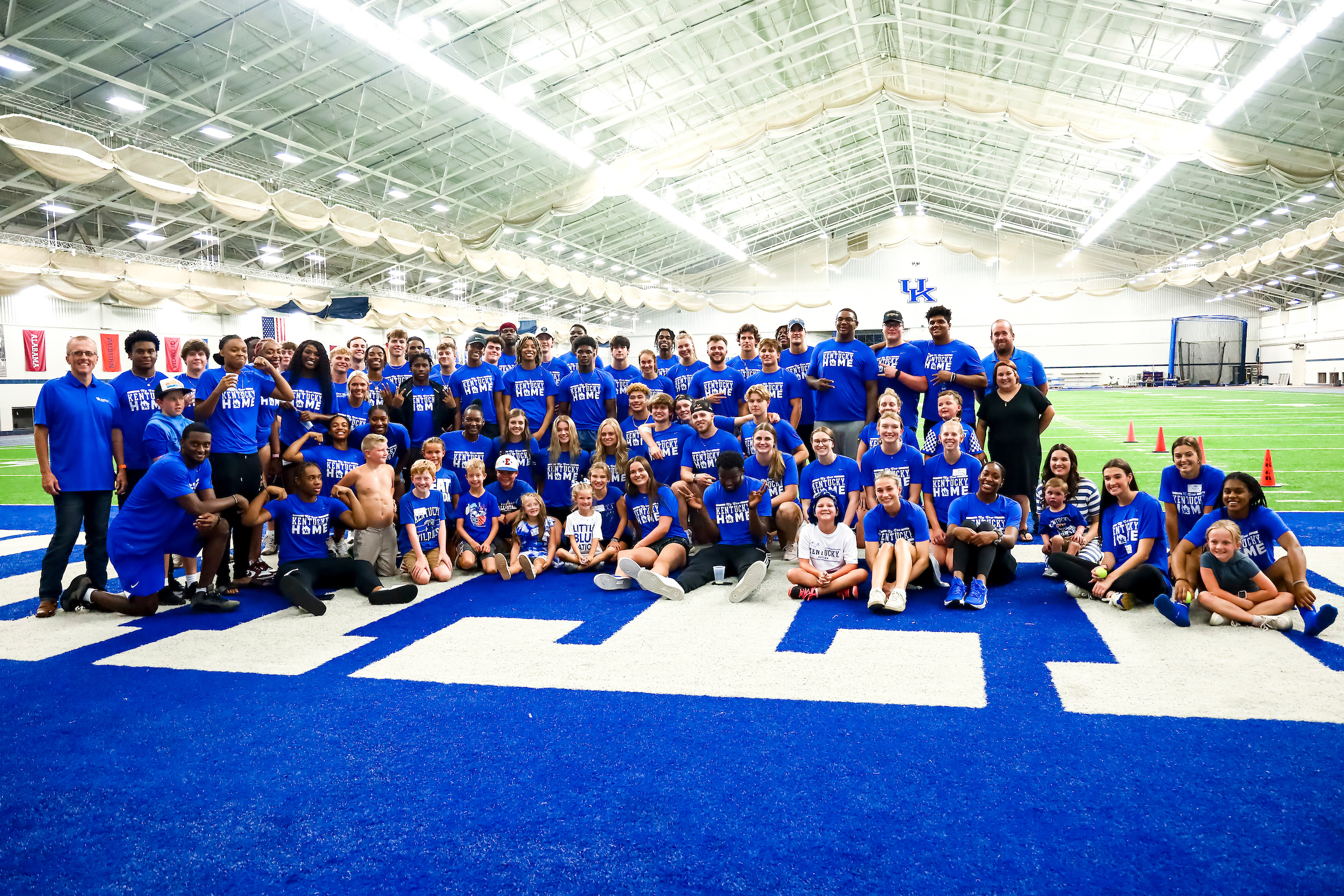 LEXINGTON, Ky. – The University of Kentucky Student-Athlete Advisory Committee (SAAC) has selected Fayette County Public Schools as the "Community Partner of Choice" for student-athlete service outreach for the upcoming 2023-24 academic year.
The Community Partner of Choice programs allows student-athletes to create deeper connections and prioritize events and opportunities with the chosen organization.
"We are so excited as an organization to partner with Fayette County Public Schools, "men's soccer player and UK Athletics SAAC president Ben Damge said. "We are constantly surrounded with support from our community, and we can't wait to have an opportunity to give back. We hope to develop meaningful relationships and continue to build the Big Blue Nation!"
The SAAC has selected a Community Partner of Choice each of the past six years, working with UK Healthcare Kentucky Children's Hospital for the last three years, an extended partnership due to the COVID-19 pandemic, and Special Olympics of Kentucky from December 2018 through April 2020.
From 2020-2023, UK Student-Athletes made KCH hospital visits in groups of four for two hours each visit. Wildcats also created cards for various holidays and delivered them to the hospital for the patients over the course of the last year.
"Volunteering with KCH was such a blessing," UK gymnast Aslyn LaClair said. "Though it may look like I'm the one giving back, it feels like I'm the one gaining. The courage and strength of those kids, in the midst of whatever they may be going through, inspires me to give my best in all I do. I love getting to connect with them and just enjoy conversations. Seeing them light up while they talk never fails to leave a smile on my face."
At the end of the "My New Kentucky Home" new student-athlete orientation program last summer, 60 newcomer Wildcats held a two-hour community-service event with eight patients and families. Also, last summer, Wildcats participated in the "Tees and Touchdowns" event where Wildcats joined PGA Tour professional golfers to host a putt-putt event with KCH patients in Kroger Field.
"We are beyond grateful for the amazing opportunities the UK SAAC has provided to Kentucky Children's Hospital and our patients," Christina Briggs, Senior Market Development Manager for UK HealthCare said. "So much joy has filled the hearts of our patients and their families over the past couple of years because of the countless zoom calls, in person visits, notes of encouragement, special events, and gameday participation opportunities that the SAAC provided. UK Athletes are celebrities around the state and it meant so much to everyone that they would take time away from their hectic schedules to brighten the day of our patients. Thank you to every single person who made a difference in the lives of our patients; these are memories that the kids and their families will NEVER forget."
UK student-athletes work with numerous other charitable organizations, but the "Community Partner of Choice" initiatives enable Wildcat student-athletes to cultivate even deeper relationships in a focused manner.
SAAC is the student-athlete organization that represents the student-athletes at the University of Kentucky. SAAC seeks to ensure that UK Athletics provides each sport and every student-athlete with a quality environment and the essentials to be competitive as a student-athlete and a team. Each UK team is represented by at least one SAAC member. SAAC is supported by UK Athletics' Student-Athlete Experience division.