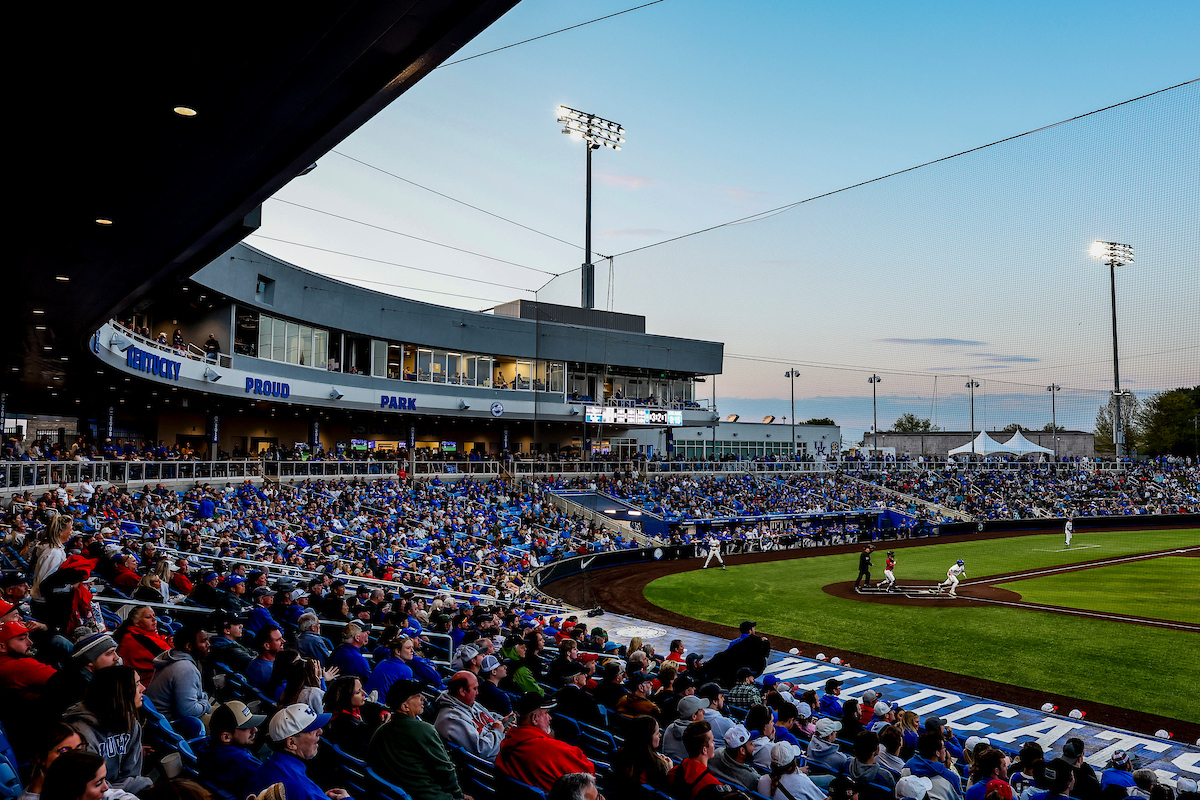 The Kentucky baseball team earned the right to host one of the 16 regionals in the 2023 NCAA Baseball Tournament. With that comes the right to stay home, the right to play on your home field and, perhaps most of all, the right to play in front of your home fans.
The Cats are counting on the Big Blue Nation to pack Kentucky Proud Park this weekend as UK attempts to win a regional for just the second time in school history. UK players and coaches know that the fans can be a huge part of that home field advantage.
"I'm so thankful for our fans who come out," said UK head coach Nick Mingione. "Our fans have rallied behind our guys. They make a huge difference. We have the opportunity to create a home field advantage."
The UK crowds have been growing over the last six weeks. A record crowd of 5,292 attended the Kentucky-Louisville game on April 25. A crowd of 4,286 lifted Kentucky past No. 3 Florida on May 19. And several other big crowds have been instrumental in the Cats' home success this season. UK posted a 25-6 record at KPP this season, including a 14-2 mark against non-conference opponents.
Sophomore catcher Devin Burkes hopes that UK fans will continue to come out and support the team at the regional this weekend.
"Big Blue Nation, y'all have showed us the biggest crowds. We need y'all to keep coming out," Burkes said. "You've been so supportive of us. We need you. Like you always do, come out."
Senior pitcher Darren Williams felt the crowd as he slammed the door on Florida in the ninth inning of the May 19 win. He's hoping the entire squad can feel the crowd's presence this weekend.
"It's exciting. We've played in front of big crowds. It's fun to see," Williams said. "I fed off that energy on Senior Night for sure and they're going to bring that for the rest of the guys this week."
So far, the Big Blue Nation has answered the call. Reserved seating for the regional sold out on Tuesday morning. General admission tickets remain but will be going fast.
"Pack it out, Big Blue Nation. (The crowd) was really good this year. Just keep it going," Burkes said. "Fans make a huge difference."
The Cats are hoping that the home crowd, as well as the familiarity of the ballpark and being able to sleep in their own beds, will pay dividends this weekend.