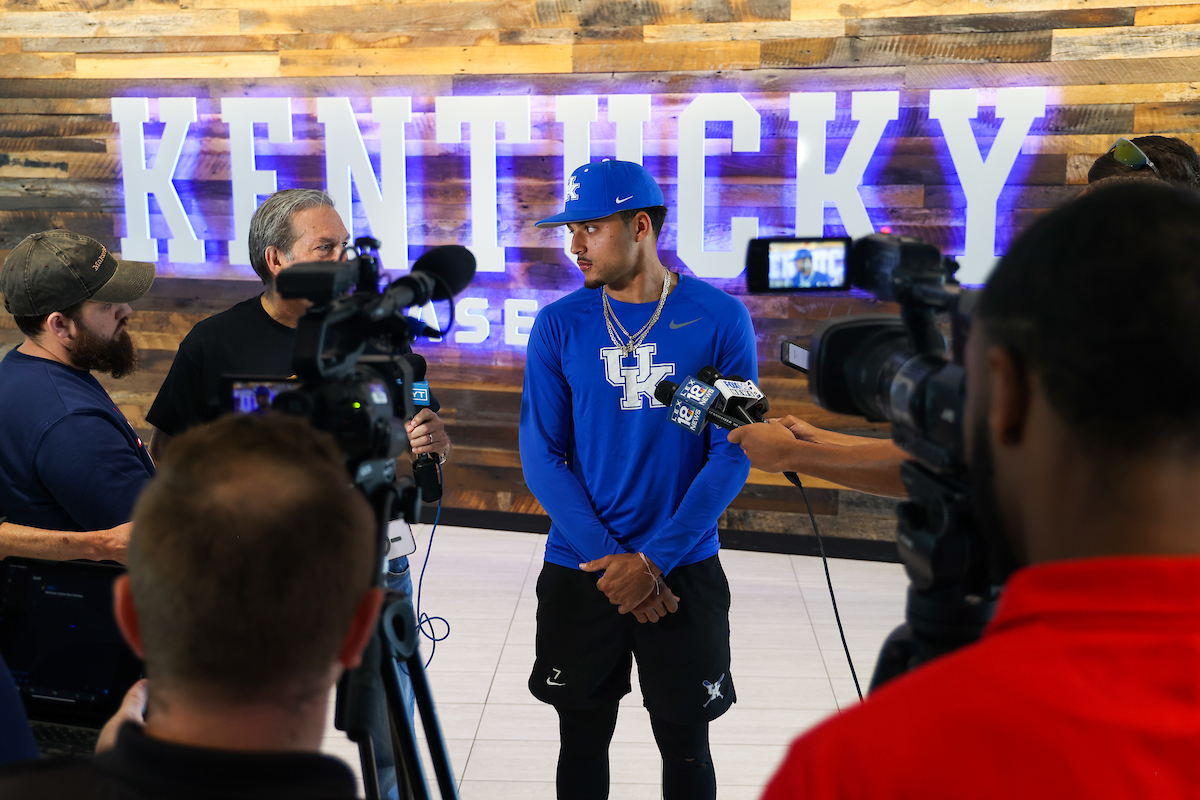 The Kentucky baseball team has been fighting all season long. Fighting against tough competition, fighting their way into national prominence and fighting to earn the right to host an NCAA Regional. The Cats fought their way through a daunting non-conference schedule and through a 30-game Southeastern Conference gauntlet.
On Sunday night, UK found out that, for the first time, Kentucky Proud Park will be hosting postseason college baseball for the first time. On Monday, the Cats found out that they will be joined by Indiana, West Virginia and Ball State in the Lexington Regional.
For Kentucky, it's a goal that has been reached. In fact, it's just the third time in school history that UK has hosted a baseball regional. It's certainly something to be proud of, but for the Cats, it's definitely not the end of the fight, according to senior pitcher Darren Williams.
"We don't want to just be here, we want to win this thing," Williams said. "And that takes winning this weekend and that takes beating Ball State in game one."
Catcher Devin Burkes agrees with Williams.
"The goal is to go to Omaha," Burkes said. "This is a step before that. We knew we were good since the fall. We just had to put the pieces together. Everything is clicking, we've just got to keep it going."
The Cats will begin regional play early, hosting Ball State at noon on Friday in the regional's first game. Indiana and West Virginia play the nightcap on Friday. The winners and the losers will meet on Saturday in the double-elimination format, with regional action wrapping up either Sunday or Monday.
The Kentucky players know that they are prepared for anything that the postseason can send their way. The Cats faced the nation's number one schedule and have faced six of the 16 regional hosts this season. Half of those games were on the road.
One of the things that has helped the Cats through the 2023 campaign is experience. UK head coach Nick Mingione built his roster through the transfer portal, gathering a group of unselfish players who just wanted to win. Burkes thinks that fact has helped this team all season.
"We're experienced. We've got a lot of older guys," Burkes said. "This year, we've faced a lot of good teams, a lot of good pitchers, a lot of good hitters."
That experience also means that this postseason will be the first, and the last, chance for some of these Cats to play in the postseason. Mingione thinks that can be a plus.
"I think we have maybe one guy who has played in the postseason before," Mingione said. "And that doesn't bother me one bit. They have been really good at focusing on what's in front of them at that moment. It's a very selfless team. They don't have personal agendas, it's all about Kentucky."
The Cats are taking great pride in making the postseason and being able to host. But they are, by no means, satisfied with where they are at this point. The fight will continue in this week's Lexington Regional.