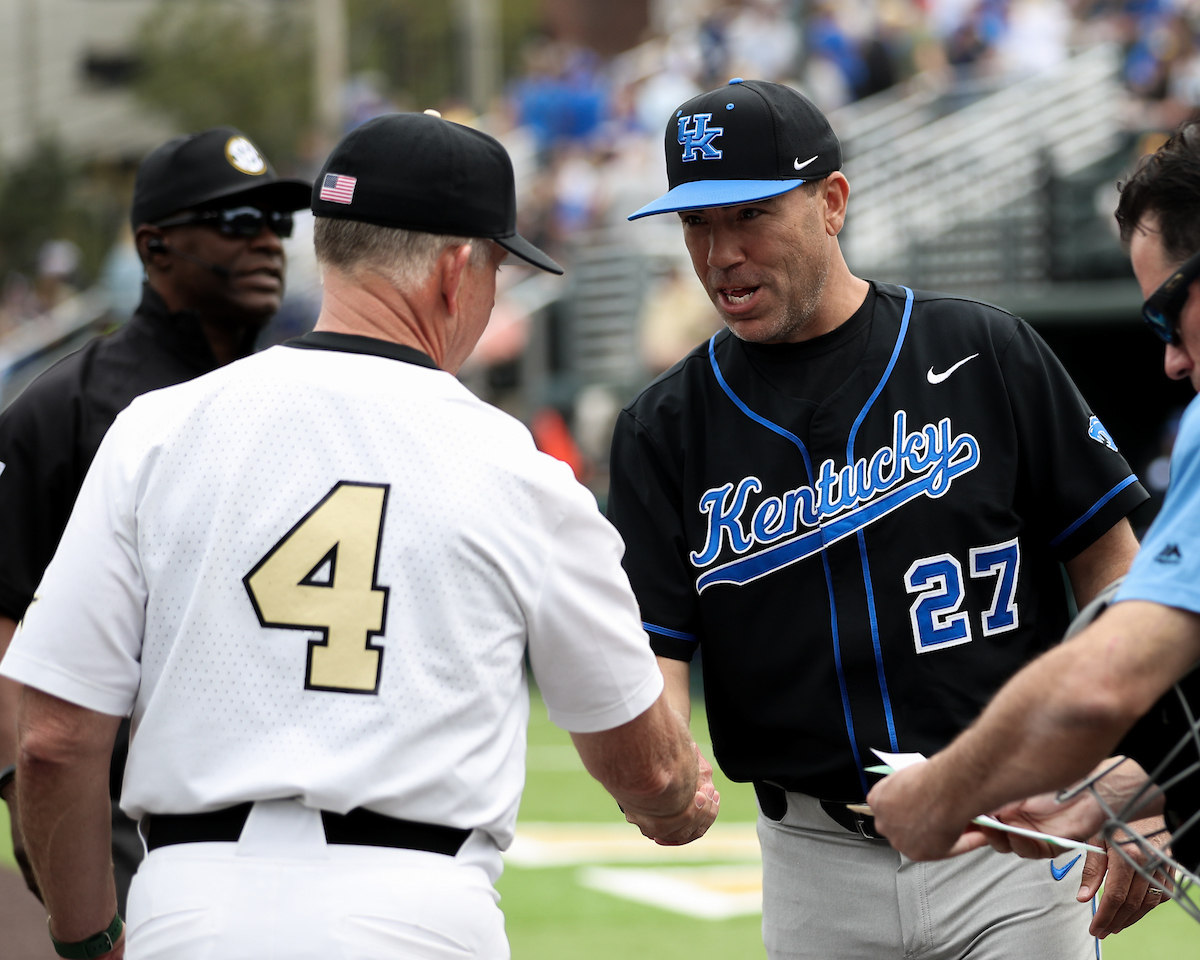 There's an old phrase in the working world that businesses should work smarter, not harder. In 2023, the Kentucky baseball was actually able to do both – work smarter and harder.
It all started at the end of the 2022 season. Last year's Cats won seven of their last 10 games, including making a run in the Southeastern Conference Tournament, but found itself on the outside looking in as the NCAA Tournament field was announced.
Despite beating a number of the best teams in the SEC late in the season, UK's RPI last season was not good enough to get into the field of 64. So, head coach Nick Mingione made it his mission to make that metric an asset instead of a liability in 2023.
Mingione spoke to the "RPI gurus" in the offseason to figure out how his 2023 Kentucky team could improve its RPI. After those discussions, Mingione built the 2023 Kentucky schedule. However, the UK head coach admitted there were still some unknowns.
"What's interesting about the schedule is you never know how a team's going to be every year," Mingione said. "It's just so difficult to put a quality team on the field each year. So even when you schedule teams, you're just hoping that they're going to be good this year. You can go by track record."
Mingione built a non-conference slate that included several teams who turned out to be really good. In fact, the Cats boasted the nation's toughest overall schedule. That's one of the reasons that UK earned the right to host an NCAA Baseball Regional at Kentucky Proud Park this week.
"It's worked out well," the UK head man said. "Obviously, our strength of schedule is one of the reason why we're in this position."
That non-conference schedule included three-game series against Indiana State and Wright State as well as single games against Indiana and Xavier. All four of those teams are in the field of 64. By the way, Kentucky went 7-1 in the eight games against those teams.
"Our conference schedule is our conference schedule but if you look at our nonconference schedule, I think it's Top 10," Mingione said. "It's one thing to put it together but it's another thing to go out an execute your schedule. That's why I'm so thankful for our team and what they've been able to do."
Kentucky's RPI was naturally boosted by its 30-game schedule against SEC opponents. Of the 10 teams Kentucky faced in conference play, seven of them will be in the NCAA Tournament. Six of them will be regional hosts. Kentucky was 16-14 in conference play this season.
"That's one of the things about our league is that our guys are battle tested," Mingione said. "It's why they've done so well in the postseason. Every weekend (in the SEC) feels like a super regional."
The Cats have been forced to play hard in every game this season, according to senior pitcher Darren Williams.
"I think one of the good things about our early schedule was that we didn't get a break," Williams said. "We didn't have that one off weekend where we could just relax. Everybody had to be focused to play. We're going to be ready for every postseason game because we play 100 percent against everyone."
With a regional that includes Indiana, West Virginia and Ball State, the Cats will be facing major tests in each game. But with the schedule they have faced all season, UK should be ready.
Mingione's plan to be smarter about scheduling worked out. He also assembled a team that plays hard and just wants to win. The plan has produced a first-ever regional at Kentucky Proud Park, beginning on Friday.