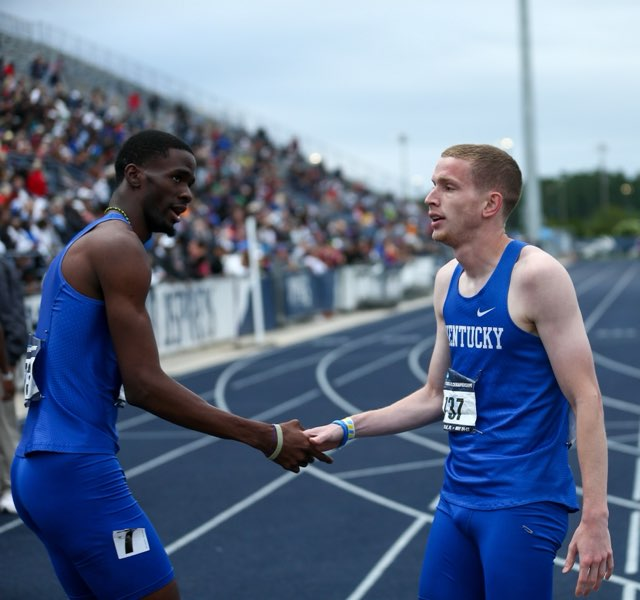 Four More UKTF Men Qualify For Austin on Day Three of NCAA East Prelims
JACKSONVILLE, Fla. – Kentucky track and field qualified four track student athletes from the men's side, today to compete at the NCAA Division I Track & Field Championships in Austin, Texas next month. Brian Faust, Wayne Lawrence Jr., Kennedy Lightner, and Justin Swann all qualified in the men's 4×400 relay while Faust, Lawrence Jr., and Lightner qualified in an additional individual event.
Four men from the field team, Keaton Daniel, Josh Sobota, Robbie Springfield, and Jordan Turner, had already qualified for the championships on Wednesday to give the Wildcats a total of eight fighting for a championship in the Lone Star State.
Faust, Lawrence Jr., Swann, and Lightner crossed the line at 3:05.20 in the 4×400 relay to place second in their heat earning an automatic qualifier for the championship. They placed second overall in the prelim.
Lawrence Jr. earned an automatic qualifier in the 400 meters after placing third in his heat with a time of 46.36. He went on to place sixth overall in the prelim while Faust placed eighth overall with a time of 46.67 to advance.
Lightner earned the final automatic qualifier on the day in the 200 meters placing second in his heat with a time of 19.90 (4.8). He went on to place second overall in the prelim.
The NCAA Division I East Preliminaries will conclude tomorrow for the UKTF women starting at 5 p.m. ET.
Follow Kentucky Track and Field and Cross Country on Facebook, Instagram, Twitter, and at UKathletics.com.
NCAA EAST PRELIMINARIES: Friday, May 26: ALL TIMES IN EASTERN TIME
Men's Discus
First Round
34. Josh Sobota: 172'5"/52.57m
Men's 4×100 Relay
Quarterfinals
18. Langston Jackson, Kennedy Lightner, Brandon Miller, Brian Faust: 40.39
Men's 400m
Quarterfinals
6. Wayne Lawrence Jr.: 46.36Q

8. Brian Faust: 46.67q

Men's 200m
Quarterfinals
2. Kennedy Lightner: 19.90Q (4.8)

21. Brandon Miller: 20.95 (2.2)

Men's 4×400 Relay
Quarterfinals
2. Wayne Lawrence Jr., Brian Faust, Justin Swann, Kennedy Lightner: 3:05.20Q
NCAA EAST PRELIMINARIES: Saturday, May 27: ALL TIMES IN EASTERN TIME
Women's 4×100 Relay
5:00 p.m.
Quarterfinals
Anthaya Charlton, Karimah Davis, Victoria Perrow, Masai Russell
Women's 100H
6:15 p.m.
Quarterfinals
Masai Russell

Yasmin Brooks

Women's 100m
6:35 p.m.
Quarterfinals
Anthaya Charlton
Women's 800m
7:05 p.m.
Quarterfinals
Sydney Steely

Deanna Martin

Women's 400H
7:25 p.m.
Quarterfinals
Masai Russell
Women's 200m
7:50 p.m.
Quarterfinals
Karimah Davis
Women's 4×400 Relay
8:45 p.m.
Quarterfinals
Yasmin Brooks, Karimah Davis, Tamiia Fuller, Dajour Miles, Megan Moss, Masai Russell
NCAA EAST PRELIMINARIES: Wednesday, May 24: ALL TIMES IN EASTERN TIME
Men's Hammer Throw
First Round
15. Logan Coles: 211'8"/64.53m
Men's Shot Put
First Round
7. Josh Sobota: 63'2.25"/19.26m(q)
Men's Long Jump
First Round
6. Jordan Turner: 25'3.25"/7.70m (1.3)q

7. Robbie Springfield: 24'10.50"/7.58m (1.9)q | PR | T-8th on the UK all-time performers list

Men's Pole Vault
First Round
1. Keaton Daniel: 17'8.50"/5.40m

23. Dalton Shepler: 17'0.75"/5.20m | PR | No. 6 on UK all-time performers' list

35. Jacob Sobota: 16'0.75"/4.90m

Men's 100m
First Round
23. Langston Jackson: 10.22 (1.9) | PR | T-4th on the UK all-time performers list
Men's 400m
First Round
6. Brian Faust: 45.97Q

17. Wayne Lawrence Jr.: 46.53Q

Men's 800m
First Round
28. Justin Swann: 1:49.98
Men's 200m
First Round
6. Kennedy Lightner: 20.23 (0.7)Q | PR | 2nd fastest on the UK all-time performers list

22. Brandon Miller: 20.69 (2.5)q
NCAA EAST PRELIMINARIES: Thursday, May 25: ALL TIMES IN EASTERN TIME
Women's Shot Put
First Round
42. Simisola Akinrinsola: 46'0.75"/14.04m
Women's Long Jump
First Round
40. Anthaya Charlton: 18'10"/5.74m (4.2)
Women's 100H
First Round
1. Masai Russell: 12.40Q (4.9)

18. Yasmin Brooks: 13.15Q (2.6)

39. Shadajah Ballard: 13.66 (1.8)

Women's Pole Vault
First Round
13. Siobhan Szerencsits: 13'6.25"/4.12m
Women's 100m
First Round
6. Anthaya Charlton: 11.10Q (2.1)

28. Victoria Perrow: 11.39 (2.6)

Women's 400m
First Round
32. Megan Moss: 53.87
Women's 800m
First Round
10. Deanna Martin: 2:05.49q | SB

17. Sydney Steely: 2:06.37q

25. Jenna Schwinghamer: 2:06.96

36. Phoebe McCowan: 2:08.38

40. Bryanna Lucas: 2:09.21

Women's 400H
First Round
9. Masai Russell: 57.57Q
Women's 200m
First Round
6. Karimah Davis: 22.67Q (2.4)