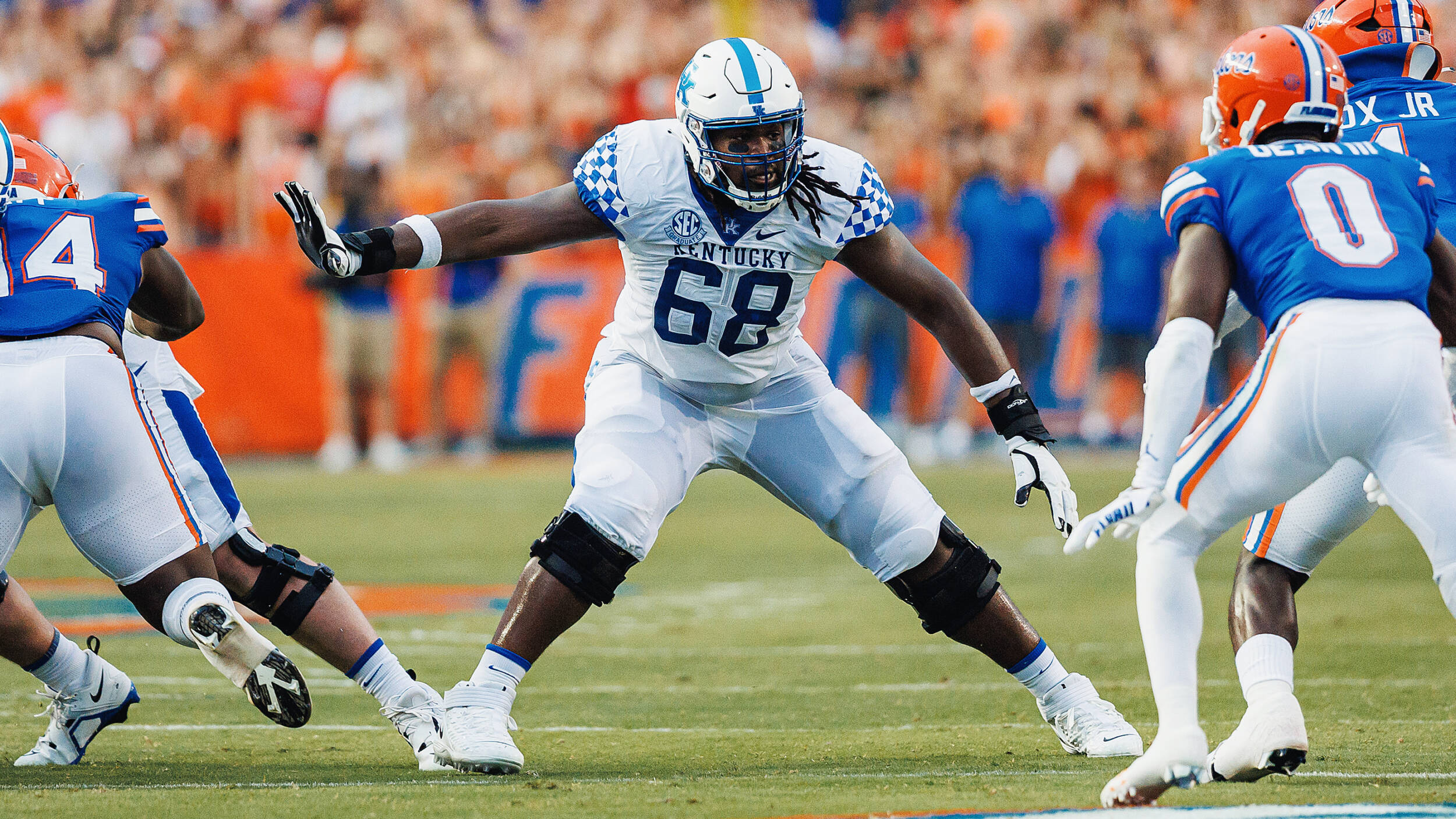 University of Kentucky senior offensive lineman Kenneth Horsey has been named the 2022-23 Pop Warner College Football Player of the Year, it was announced Thursday by the Pop Warner youth football/cheerleading organization.  The award is presented to a player who exhibits leadership on the field, in the classroom and in the community.
Other national award recipients, which recognizes individuals and organizations for their contributions to the community and commitment to athletics, youth, education and health, were:
Humanitarian Award: Buffalo Bills training staff
Trailblazer Award: Diana Flores, Mexico women's national flag football team quarterback
NFL Team of The Year Award: Seattle Seahawks
Horsey, who hails from Sanford, Florida, has a remarkable comeback story that has inspired his community service work for heart health.
In the spring of 2018, before he was to arrive at Kentucky for his freshman season, he was complaining of a pain in his side. His parents rushed him to the emergency room where doctors ultimately found a growth on one of his heart valves. He went through open-heart surgery on April 8, 2018, and was even told by a few doctors that his football career was over. However, Horsey would not be deterred. He came to Kentucky and redshirted the 2018 season with a goal of earning a starting job on Kentucky's offensive line, affectionately known as the Big Blue Wall. Since then, he has lost 50 pounds and because of his hard work and dedication, has earned a starting role on the Big Blue Wall in 33 consecutive games.
Because of his heart condition and how supported he felt through his surgery and recovery, he began volunteering with the Lexington chapter of the American Heart Association in 2020. In 2021, Horsey was awarded the Finn Collier Service Award by the AHA in recognition of his work to support its lifesaving mission – to be a relentless force for a world of longer, healthier lives. He also was named to the Allstate AFCA Good Works Team for his volunteer work with the AHA and was a candidate for the Wuerffel Trophy.
Here are a few of his community service events:
Participated in American Heart Month and National Wear Red Day (2020-2023)
Participated in the American Heart Association Heart Ball (2022-2023)
Participated in the 2021 Central Kentucky Heart Walk Digital Experience (2021)
Coordinated and planned a hands-only CPR training for the UK Football team and staff (2021)
Helped plan a Hands-Only CPR media availability on June 14 that promoted Hands-Only CPR awareness to the media for CPR Awareness Month (2021)
Participated in the 2021 Central Kentucky Heart Walk Digital Experience (2021)
Spoke at Central Kentucky Heart Walk kick-off event (2020)
Spoke at UK Healthcare Heart Walk kick-off event (2020)
Dedicated his 2020 football season to Finn Collier, a seven-year-old who lost his life to heart disease
Volunteered at Brenda Cowan Elementary and Cassidy Elementary (2020)
Horsey, who elected to return to Kentucky for his sixth year of eligibility by taking advantage of the NCAA's ruling to grant an extra year because of to the COVID-19 pandemic, graduated in December of 2021 with a degree in communication. He is currently working on a master's degree in social work.
In 2018, Kentucky tight end C.J. Conrad won the award after his extensive volunteer efforts with the Kentucky Children's Hospital.