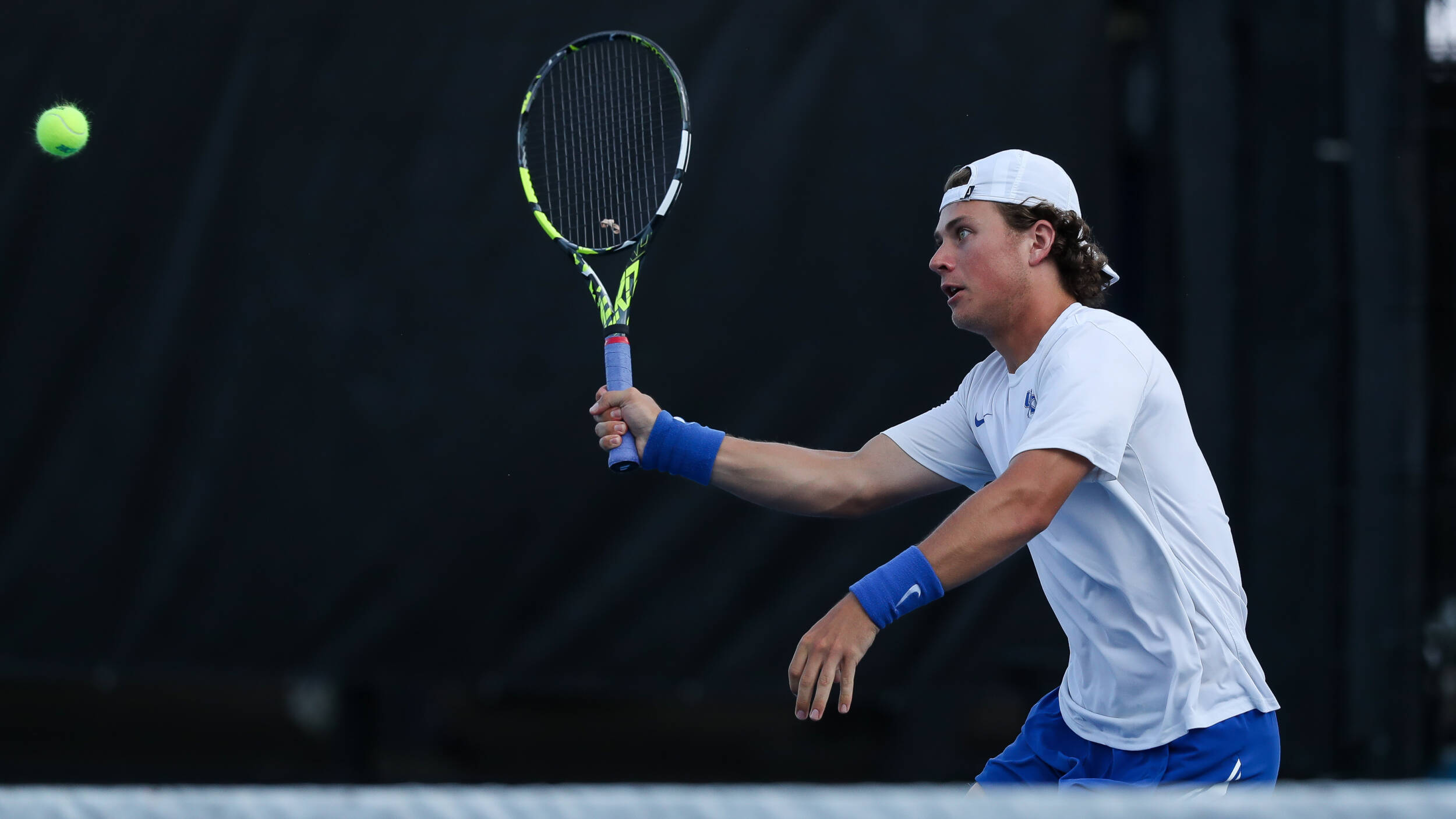 Draxl Falls in Round of 16, Kentucky Wraps Up NCAA Singles Play
ORLANDO, Fla. – The final Wildcat standing, Liam Draxl saw his NCAA Singles run end in the round of 16 on Wednesday as the senior fell to Stanford's Arthur Fery, the tournament's No. 3 overall seed, 6-1, 6-1, at the USTA National Campus.
Draxl's loss officially concludes the NCAA Singles Championship for Kentucky, a tournament which saw a total of three Wildcat participants. Draxl enjoyed the deepest run among the trio, reaching the round of 16 in his third NCAA singles appearance. The native of Ontario, Canada tallied wins against UNC's Brian Cernoch and TCU's Jake Fearnley before coming up short against Fery. Draxl opened the tournament by blasting past Cernoch, 6-0, 6-4 in round one. He then came from behind to oust TCU's top singles player, Fearnley, in three sets.
UK's other representatives in the draw were grad-transfer Alafia Ayeni and junior Joshua Lapadat. Making his NCAA singles debut, Lapadat picked up an opening round victory over Presbyterian's Dusan Milanovic in straight-sets before being edged in a third-set tiebreaker by UVA's Chris Rodesch, 5-7, 6-4, 6-7 (2) in the round of 32. Ayeni, too, was on the wrong end of a three-set affair, dropping his opening round match to Ohio State's James Trotter, 7-6 (5), 2-6, 5-7.
NCAA Singles Tournament Results
Round 1
9-16 Liam Draxl (UK) def. Brian Cernoch (UNC): 6-0, 6-4
Joshua Lapadat (UK) def. Dusan Milanovic (Presbyterian): 7-5, 6-2
James Trotter (OSU) def. Alafia Ayeni (UK): 6-7 (5), 6-2, 7-5
Round 2
9-16 Liam Draxl (UK) def. Jake Fearnley (TCU): 2-6, 6-3, 6-3
9-16 Chris Rodesch (UVA) def. Joshua Lapadat (UK): 7-5, 4-6, 7-6 (2)
Round of 16
3 Arthur Fery (STAN) def. No. 9-16 Liam Draxl (UK): 6-1, 6-1
For the latest on UK Men's Tennis, follow the Wildcats on Twitter and Instagram at @UKMensTennis.