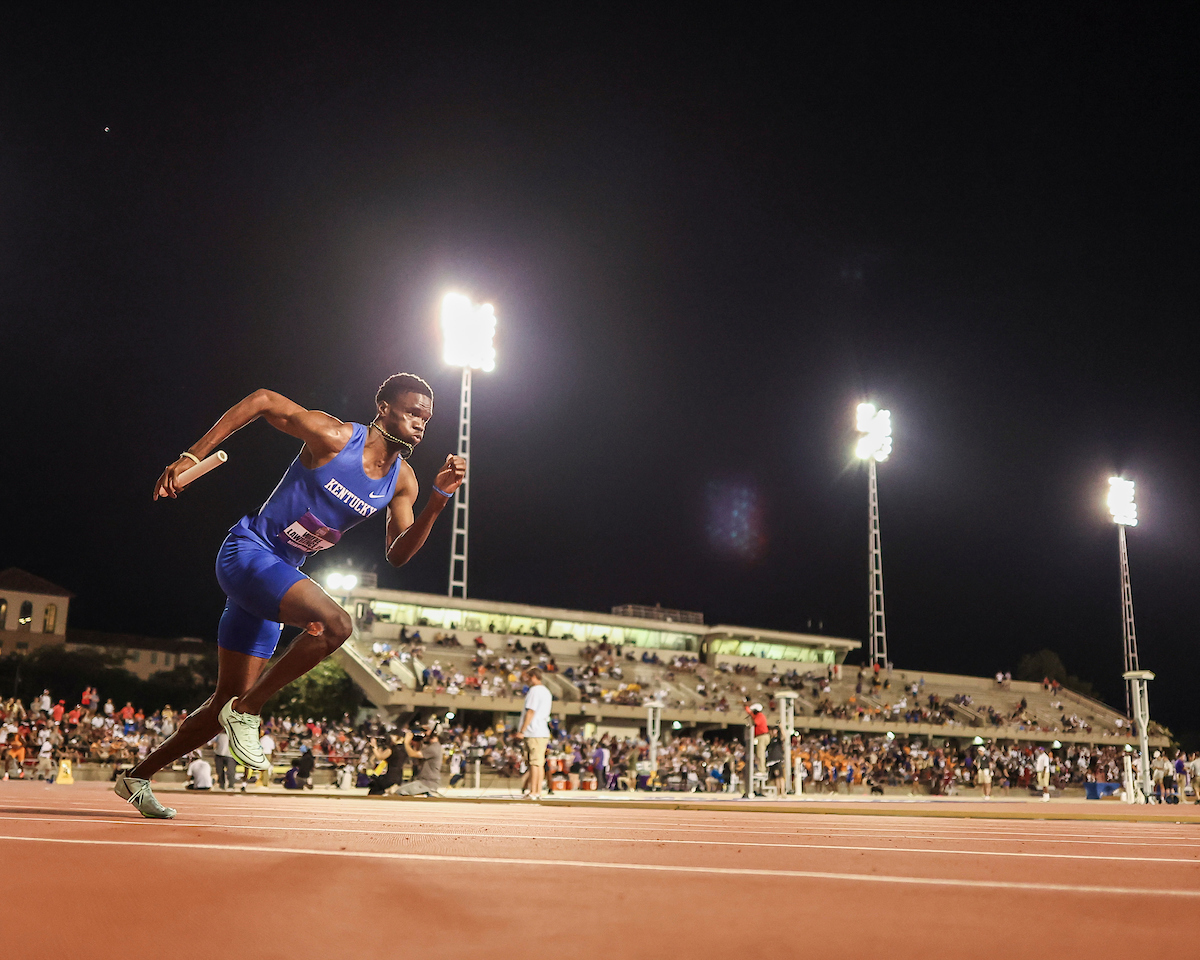 UKTF Ready for Competition at NCAA East Prelims
LEXINGTON, Ky. – Kentucky track and field is set to compete in the NCAA Division I East Preliminary Championships at the University of North Florida at Hodges Stadium in Jacksonville, Florida from Wednesday, May 24 through Saturday, May 27.
Thirty-three Wildcats, 18 from the women's team and 15 from the men's team, will make the trip to Jacksonville and will compete for an NCAA Championships berth. Beck O'Daniel was a late scratch for the men while Kaylie Kenne was a late addition for the women.
The men will compete on Wednesday and Friday while the women compete on Thursday and Saturday.
The East Preliminaries will feature the top 48 in the eastern region in each event with the top 12 in each event qualifying for the NCAA Championships in Austin, Texas. The rules are the same for the Western preliminaries: the top 12 move on to Austin.
Live results can be found at flashresults.ncaa.com and the event will be broadcasted on ESPN+.
UKTF begins Wednesday's competition with the men's hammer throw at 10 a.m. ET and the day ends for the Cats around 8:45 p.m. with the men's 200m. Thursday's schedule is similar for the women's events.
The first event on Friday is the men's discus throw at 1 p.m. with the men's 4x400m closing the day's competition at 8:45 p.m. Saturday's schedule is similar for the women's events.
Below is a list of student-athletes competing in the meet along with the events they qualified for.
Women:
Simi Akinrinsola – Shot Put
Shadajah Ballard – 100H
Yasmin Brooks – 100H, 4×400
Anthaya Charlton – 100m, 4×100, Long Jump
Karimah Davis – 200m, 4×100, 4×400
Tamiia Fuller – 4×400
Kaylie Kenne – 10000m
Bryanna Lucas – 800m
DeAnna Martin – 800m
Phoebe McCowan – 800m
Dajour Miles – 4×400
Megan Moss – 400m, 4×400
Victoria Perrow – 100m, 4×100
Payton Phillips – Pole Vault
Masai Russell – 100H, 400H, 4×100, 4×400
Jenna Schwinghamer – 800m
Sydney Steely – 800m
Siobhan Szerencsits – Pole Vault
Men
Myles Anders – 4×100
Logan Coles – Hammer
Keaton Daniel – Pole Vault
Brian Faust – 400m, 4×100, 4×400
Langston Jackson – 100m, 4×100
Wayne Lawrence Jr. – 400m, 4×400
Kennedy Lightner – 200m, 4×100, 4×400
Brandon Miller – 200m, 4×100, 4×400
Dennis Ohene-Adu – Shot Put
Dalton Shepler – Pole Vault
Jacob Sobota – Pole Vault
Josh Sobota – Shot Put, Discus
Robbie Springfield – Long Jump
Justin Swann – 800m, 4×400
Jordan Turner – Long Jump
Follow Kentucky Track and Field and Cross Country on Facebook, Instagram, Twitter, and at UKathletics.com.
NCAA EAST PRELIMINARIES: Wednesday, May 24: ALL TIMES IN EASTERN TIME
Men's Hammer Throw
10:00 a.m.
First Round
Logan Coles
Men's Shot Put
6:00 p.m.
First Round
Josh Sobota

Dennis Ohene-Adu

Men's Long Jump
6:00 p.m.
First Round
Jordan Turner

Robbie Springfield

Men's Pole Vault
6:30 p.m.
First Round
Keaton Daniel

Dalton Shepler

Jacob Sobota

Men's 100m
7:00 p.m.
First Round
Langston Jackson
Men's 400m
7:25 p.m.
First Round
Brian Faust

Wayne Lawrence Jr.

Men's 800m
7:50 p.m.
First Round
Justin Swann
Men's 200m
8:45 p.m.
First Round
Kennedy Lightner

Brandon Miller
NCAA EAST PRELIMINARIES: Thursday, May 25: ALL TIMES IN EASTERN TIME
Women's Shot Put
6:00 p.m.
First Round
Simisola Akinrinsola
Women's Long Jump
6:00 p.m.
First Round
Anthaya Charlton
Women's 100H
6:00 p.m.
First Round
Masai Russell

Shadajah Ballard

Yasmin Brooks

Women's Pole Vault
6:30 p.m.
First Round
Payton Phillips

Siobhan Szerencsits

Women's 100m
7:00 p.m.
First Round
Anthaya Charlton

Victoria Perrow

Women's 400m
7:25 p.m.
First Round
Megan Moss
Women's 800m
7:50 p.m.
First Round
Phoebe McCowan

Jenna Schwinghamer

Sydney Steely

Deanna Martin

Bryanna Lucas

Women's 400H
8:20 p.m.
First Round
Masai Russell
Women's 200m
8:45 p.m.
First Round
Karimah Davis
Women's 10000m
9:10 p.m.
Semifinal
Kaylie Kenne
NCAA EAST PRELIMINARIES: Friday, May 26: ALL TIMES IN EASTERN TIME
Men's Discus
1:00 p.m.
First Round
Josh Sobota
Men's 4×100 Relay
5:00 p.m.
Quarterfinals
Myles Anders, Brian Faust, Langston Jackson, Kennedy Lightner, Brandon Miller
Men's 100m
6:35 p.m.
Quarterfinals
Langston Jackson
Men's 400m
6:50 p.m.
Quarterfinals
Brian Faust

Wayne Lawrence Jr.

Men's 800m
7:05 p.m.
Quarterfinals
Justin Swann
Men's 200m
7:50 p.m.
Quarterfinals
Kennedy Lightner

Brandon Miller

Men's 4×400 Relay
8:45 p.m.
Quarterfinals
Brian Faust, Wayne Lawrence Jr., Kennedy Lightner, Brandon Miller, Beck O'Daniel, Justin Swann
NCAA EAST PRELIMINARIES: Saturday, May 27: ALL TIMES IN EASTERN TIME
Women's 4×100 Relay
5:00 p.m.
Quarterfinals
Anthaya Charlton, Karimah Davis, Victoria Perrow, Masai Russell
Women's 100H
6:15 p.m.
Quarterfinals
Masai Russell

Shadajah Ballard

Yasmin Brooks

Women's 100m
6:35 p.m.
Quarterfinals
Anthaya Charlton

Victoria Perrow

Women's 400m
6:50 p.m.
Quarterfinals
Megan Moss
Women's 800m
7:05 p.m.
Quarterfinals
Phoebe McCowan

Jenna Schwinghamer

Sydney Steely

Deanna Martin

Bryanna Lucas

Women's 400H
7:25 p.m.
Quarterfinals
Masai Russell
Women's 200m
7:50 p.m.
Quarterfinals
Karimah Davis
Women's 4×400 Relay
8:45 p.m.
Quarterfinals
Yasmin Brooks, Karimah Davis, Tamiia Fuller, Dajour Miles, Megan Moss, Masai Russell