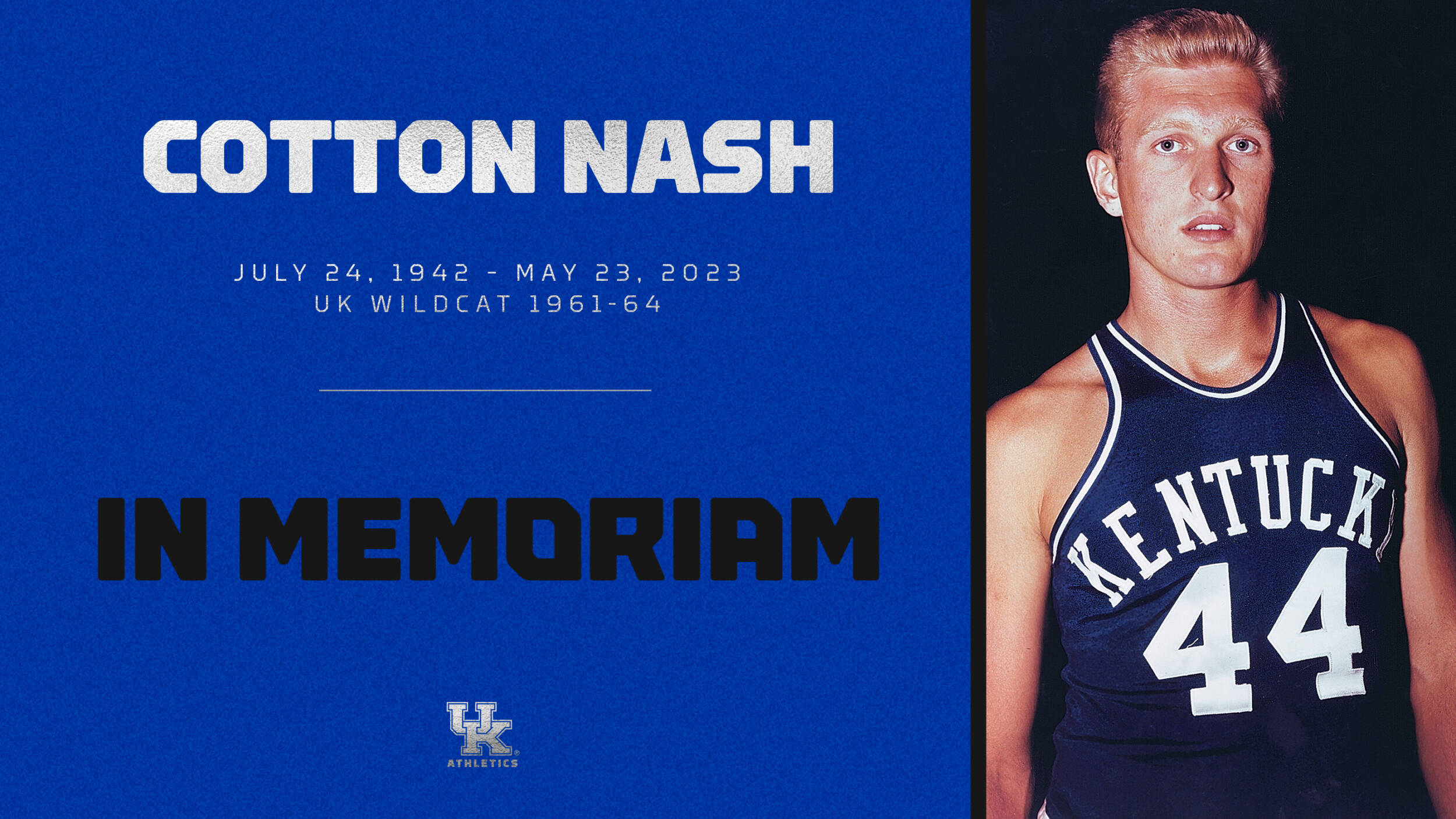 UK Men's Basketball Hall of Famer Cotton Nash Dies
LEXINGTON, Ky. – Charles "Cotton" Nash, a three-time All-American men's basketball player and a University of Kentucky Athletics Hall of Famer, died Tuesday. He was 80.
Nash (1962-64) appeared in 78 games for the Wildcats and averaged 22.7 points and 12.3 rebounds per game. He was a member of two Southeastern Conference championship squads and was tabbed an All-American during all three seasons of his basketball career. Nash earned All-SEC Eastern Division honors as a member of the baseball team, and also participated in track and field as a discus thrower.
"As a three-sport competitor, Cotton Nash was one of the greatest all-around athletes ever to wear the Blue and White," said Mitch Barnhart, UK Director of Athletics. "His accomplishments in basketball and baseball made him a rarity in American sports history. We are thankful for all he did for the University of Kentucky and our sympathies are with (wife) Julie and their family and friends."
Nash would become just one of 13 players to appear in both the National Basketball Association and Major League Baseball following his career at UK. He played for the Los Angeles Lakers and San Francisco Warriors during the 1964-65 NBA season, and he also played nine seasons of professional baseball, including three in the MLB with the Chicago White Sox and Minnesota Twins as a first baseman and outfielder. Nash also played in the American Basketball Association with the Kentucky Colonels in 1967-68.
His No. 44 men's basketball jersey hangs from the rafters inside of Rupp Arena at Central Bank Center. At the conclusion of his career, he was Kentucky's all-time leading scorer and still ranks ninth in UK history with 1,770 career points and fifth with 962 career boards. He paced the team in scoring and rebounding in each of his three varsity seasons. Nash is the only player in program history to average at least 20 points per game as a sophomore, junior and senior.
In addition to earning All-America distinction, Nash was a three-time first-team All-SEC selection. During his senior season, he was the runner-up for the nation's player of the year award. He was inducted into the UK Athletics Hall of Fame and is a member of the Kentucky Sports Hall of Fame. Nash was drafted 14th overall by the Lakers in 1964 and also signed his first pro baseball deal with the Los Angeles Angels.
Nash was born in Jersey City, New Jersey. He earned his famous nickname around the age of nine when an uncle began calling him "Cotton-top" in reference to his bright, blonde hair. His family moved to Indiana, and he was coached by former UK men's basketball two-time national champion Cliff Barker in basketball at Jeffersonville High School. During his time in high school, his father was transferred to Texas for a job and Nash concluded his career at Charles High School in Louisiana. It was there he was dubbed "The Bayou Bomber" for his basketball prowess. Nash also participated in football and set a high school state record in the discus throw in track and field. He did not play baseball because the school did not have a team but did participate in summer ball locally. Nash was inducted into the Louisiana Sports Hall of Fame in 1993.
After being recruited by more than 50 programs, Nash ultimately wanted to compete in the SEC, and he chose to play for Adolph Rupp and the Wildcats while also being accepted into UK's dental school. Harry Lancaster, the UK basketball assistant coach who also was the baseball team's head coach, recruited him to play baseball for the Cats, despite Nash only being able to play for the final 15-20 games of the season because of the baseball/basketball overlap.
Following his professional basketball and baseball careers, Nash began a career in real estate and also briefly coached minor league baseball. He and his wife, Julie, eventually settled in Lexington where he bred and owned standardbreds for around 30 years. Their horse, Magic Shopper, won the 1995 running of the Jugette, harness racing's premier event for fillies. They also had winners in Miss Scarlett and Rock N Roll Heaven, a 3-year-old pacing colt who won the 2010 pacing classic the Little Brown Jug.  Nash also owned Artistic Vision, who was elected into the Harness Racing Hall of Fame.
Julie and Cotton have two sons, Patrick and J. Richey, and a daughter, Audrey Lowrey.
J. Richey signed a contract to play professional baseball and had a three-year minor league career before becoming an actor and writer. He cofounded the Tidemark Theatre Company and has appeared in shows such as George Lopez and Criminal Minds, while also penning several works including the award-winning screenplay Hitting the Cycle.
Patrick Nash has spent time as a defense attorney in high-profile criminal cases in the Central and Eastern Kentucky area and formed the Nash Marshall, PLLC in 2012. Lowrey has served as a nurse and is a former stellar track athlete.
Cotton Nash is survived by his wife Julie, their three children and spouses, as well as nine grandchildren.
Funeral arrangements are pending.