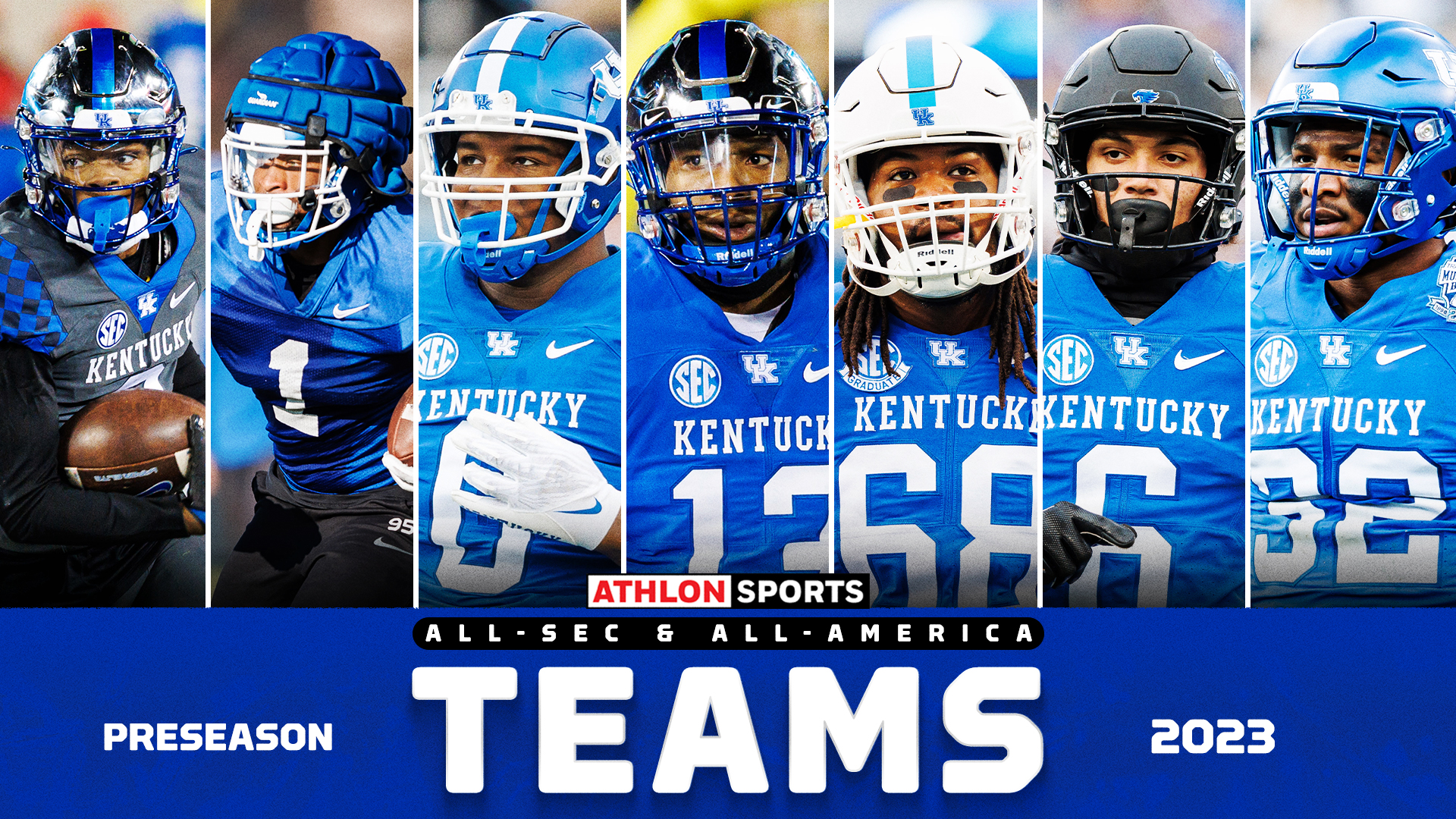 Seven University of Kentucky football players have earned a spot on the 2023 Athlon Sports Preseason All-America and All-Southeastern Conference teams it was announced Monday.
Sophomore return specialist and wide receiver Barion Brown (Nashville, Tennessee) highlights the group with a fourth-team All-America honor as a kick returner. He also was named to the All-SEC second team as a specialist and third-team offense as a wide receiver. In his debut season with the Wildcats, Brown recorded a team-best 50 catches for a team-high 628 yards, averaging 12.6 yards per catch with four scores. He concluded the season as the freshman record holder for most receiving yards in a season (628) and most pass receptions in a season (50).  Brown ranked fourth nationally and second in the SEC in kick return average (27.5) and 24th nationally and third in the SEC combined kick return yardage (440). He ranked fourth in the SEC in kick returns (16).
Senior transfer running back Ray Davis (San Francisco) was named All-SEC second-team offense. After two seasons at Temple and two at Vanderbilt, Davis has compiled 2,497 career rushing yards and 2,936 career all-purpose yards. He ended the 2022 season at Vanderbilt ranked 30th on the NCAA's active career rushing yards list. In 12 games last season, he rushed 232 times for 1,042 yards and five touchdowns, becoming just the 10th Commodore all-time to rush for 1,000 yards in a single season.
Sophomore defensive lineman Deone Walker (Detroit) and senior outside linebacker J.J. Weaver (Louisville, Kentucky) were named All-SEC second-team defense. Walker had a monster freshman season in 2022 with 40 tackles, 4.5 tackles for loss, five quarterback hurries, two pass breakups and a forced fumble in 13 games. He went on to earn unanimous first-team Freshman All-America honors by the Football Writers Association of America, on3sports, 247sports, The Athletic, Pro Football Focus and College Football News. He also earned a spot on the Coaches All-SEC Freshman Team and was a second-team All-SEC choice by the Associated Press, Phil Steele and Pro Football Focus.
Weaver, a team captain and Lott Trophy candidate last season, totaled 47 tackles (seventh on the team), 6.0 tackles for loss (second-most on the team), a team-high 3.0 sacks, three quarterback hurries, a team-high three fumble recoveries, a team-high-tying two forced fumbles and a blocked kick in 2022.
Super senior offensive lineman Kenneth Horsey (Sanford, Florida) earned an All-SEC third-team offense nod as one of the key cogs on the Big Blue Wall. He has seen action in 37 career games with 33 straight starting assignments. He has returned to his natural position of left guard in 2023 after playing left tackle in 2022.
Sophomore wide receiver Dane Key (Lexington, Kentucky) earned All-SEC fourth-team offense after totaling 37 catches for 519 yards (third-highest on the team) and a team-high six scores last season. His six touchdown receptions set a new UK single-season freshman record.  He was named honorable-mention Freshman All-America by College Football News and on3sports last season.
Junior inside linebacker Trevin Wallace (Jesup, Georgia) was named All-SEC fourth-team defense after he charted 54 tackles (fifth-most on the team), 5.5 tackles for loss (third-most on the team), 2.5 sacks, two interceptions (team-high tying) and a quarterback hurry last season.
2023 Kentucky Football season tickets are on sale now, with prospective new season ticket holders able to work together with a personal ticketing consultant to compare and purchase available seat locations by submitting a request at this link or by contacting the UK Sales Office at (800) 928-2287 (Option 1). Fans are also able to access to the Kentucky Football Virtual Venue for 360-degrees views from inside Kroger Field.
Athlon Honors
Barion Brown
Fourth-Team Specialists All-American, Kick Returner
All-SEC Second-Team Specialists, Kick Returner
All-SEC Third-Team Offense, Wide Receiver
Ray Davis
All-SEC Second-Team Offense, RB
Deone Walker
All-SEC Second-Team Defense, DL
J.J. Weaver
All-SEC Second-Team Defense, LB
Kenneth Horsey
All-SEC Third-Team Offense, OL
Dane Key
All-SEC Fourth-Team Offense, WR
Trevin Wallace
All-SEC Fourth-Team Defense, LB