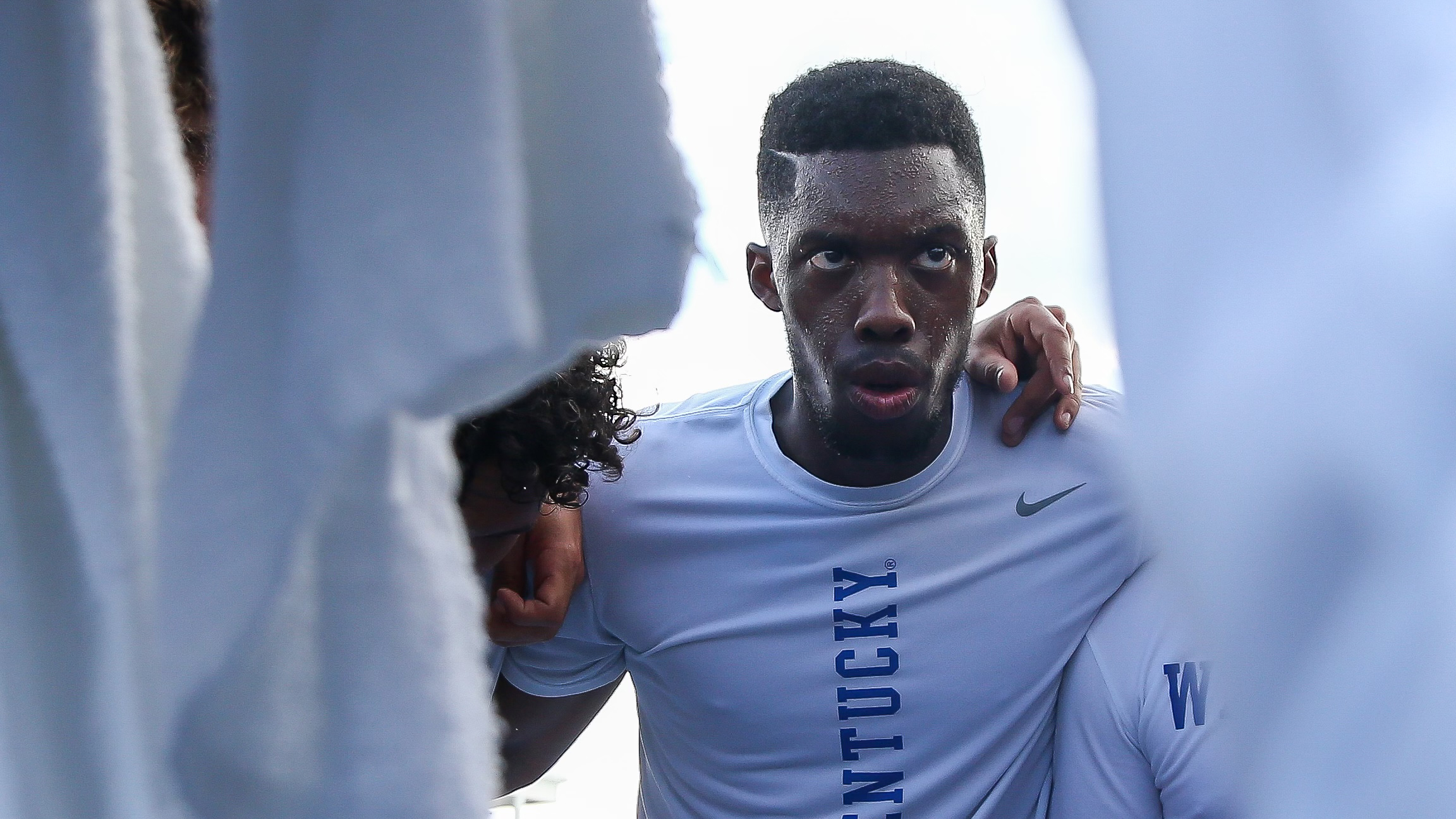 Men's Tennis Concludes Season in NCAA Quarterfinals
ORLANDO, Fla. – Kentucky men's tennis (27-5) saw a historic 2023 campaign come to a close on Saturday afternoon as the Wildcats were topped, 4-2 by Virginia (28-4) in the NCAA quarterfinals  in a match which spanned two days and lasted more than 3.5 hours in all.
This year marked the sixth time in program history in which Kentucky reached the national quarterfinals. It is also the first time in which the Wildcats have been among the final eight teams in consecutive seasons after reaching the national championship match a year ago.
"I'm very proud of the year we had and [I'm] proud of the way we competed today,"  head coach Cedric Kauffmann said. "We had some chances in the last 10 minutes. We came up a little bit short, but it was not for a lack of effort or a lack of courage. The Cats are not going anywhere. We will get back to work and hopefully get back to this position."
The match began on Thursday evening with Kentucky getting out to a 1-0 lead by winning a prolonged doubles point that lasted more than hour. Liam Draxl and Jaden Weekes raced to a 6-3 win at third doubles over Virginia's Ryan Goetz and Alexander Kiefer, but the other two matches were not as expeditious. UK's second pair of Joshua Lapadat and JJ Mercer came back from 0-5 down to even the set at 5-5, but eventually were upended, 5-7, by Chris Rodesch and Jeffrey von der Schulenburg. That left the doubles point up to court one, where Alafia Ayeni and Taha Baadi reached a tiebreaker against Inaki Montes and William Woodall. The Kentucky pair fought off several set points before eventually coming out on top, 11-9, giving first blood to the Wildcats.
Shortly after singles action began, storms in the area halted play and eventually forced proceedings to be called for the night. The two teams resumed the match on Friday morning with the Cavaliers taking four of the six opening sets. Virginia's Alexander Kiefer tied the overall score with a win on court five and was followed by teammates Rodesch (court one) and Goetz (court four), who also collected straight-set wins to put UVA in front, 3-1.
The Wildcats continued to battle, however, and found themselves within a point after Ayeni finished-off Montes in three-sets, 7-6 (2), 1-6, 6-3. The win was Ayeni's team leading 11th victory over a nationally-ranked opponent this season. The remaining two matches were each pushed to three sets as Lapadat bounced back from dropping the opener against von der Schulenburg, while Charlelie Cosnet and Mans Dahlberg also split. Cosnet grabbed an early break in the deciding third but was unable to maintain the advantage. The set eventually reached a tiebreaker, where Dahlberg would clinch the match for Virginia. Lapadat's contest would go unfinished with the Kentucky junior leading 6-5 in the final set at the time of abandonment.
While the team portion of the season is officially over for the Cats, Draxl and Ayeni are each scheduled to compete in the NCAA singles tournament beginning Monday, May 22. Lapadat is currently the first-alternate for the event and is hoping for a spot in the draw as well when it is announced in the coming days.
Doubles:
Court 1 – No. 28 Ayeni/Baadi (UK) def. No. 58 Montes/Woodall (UVA): 7-6 (9)
Court 2 – Rodesch/von der Schulenburg (UVA) def. No. 67 Lapadat/Mercer (UK): 7-5
Court 3 – Draxl/Weekes (UK) def. Goetz/Kiefer (UVA): 6-3
Order of finish: 3, 2, 1
Singles:
Court 1 – No. 9 Chris Rodesch (UVA) def. No. 13 Liam Draxl (UK): 6-4, 6-3
Court 2 – No. 18 Alafia Ayeni (UK) def. No. 26 Inaki Montes: 7-6 (2), 1-6, 6-3
Court 3 – No. 59 Joshua Lapadat (UK) vs. No. 49 Jeffrey von der Schulenburg (UVA): 5-7, 6-4, 6-5
Court 4 – No. 87 Ryan Goetz (UVA) def. Taha Baadi (UK): 6-4, 6-2
Court 5 – Alexander Kiefer (UVA) def. Jaden Weekes (UK): 6-4, 6-3
Court 6 – Mans Dahlberg (UVA) def. Charlelie Cosnet (UK): 3-6, 6-4, 7-6 (3)
Order of finish: 5, 1, 4, 2, 6
For the latest on UK Men's Tennis, follow the Wildcats on Twitter and Instagram at @UKMensTennis.