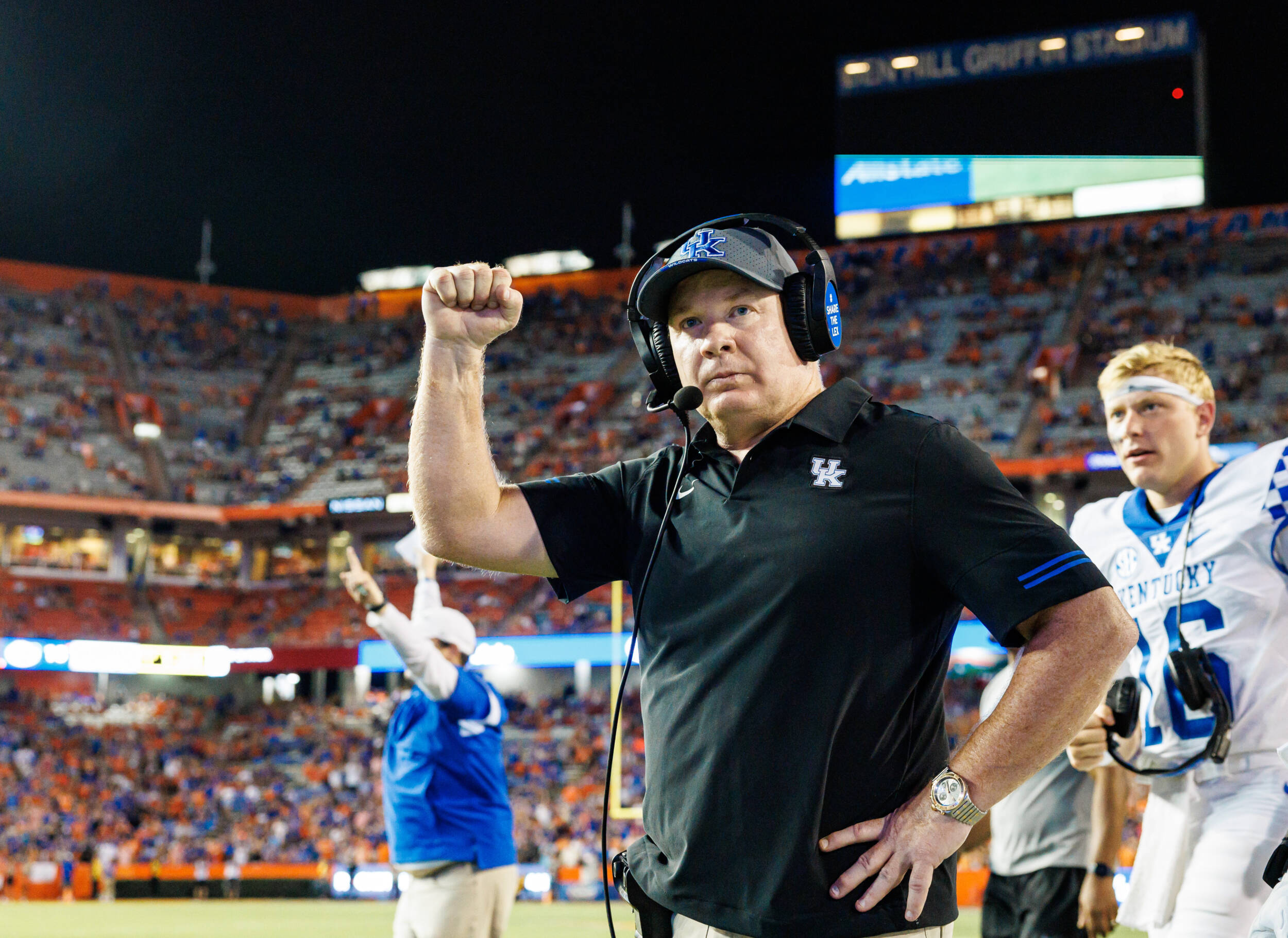 Head coach Mark Stoops announced the addition of seven players from the transfer portal Friday in offensive lineman Ben Christman, formerly at Ohio State, offensive lineman Courtland Ford, formerly at Southern California, defensive back Kevin Larkins Jr., formerly at Livingstone College, offensive lineman Dylan Ray, formerly at West Virginia, inside linebacker Daveren Rayner, formerly at Illinois State, kicker Alex Raynor, formerly at Georgia Southern and running back Demie Sumo-Karngbaye, formerly at NC State.
All seven will join the team later this month and participate in summer workouts. With the addition of seven transfers in January, UK now has 14 newcomers from the transfer portal on its roster.
"We are excited about these new additions to the team," head coach Mark Stoops said." We have added three offensive linemen to boost our Big Blue Wall, a kicker for specials teams depth and a talented inside linebacker, defensive back and running back."
Ben Christman, Offensive Line, 6-6, 315, So-Tr, Akron, Ohio (Ohio State/Revere)
Twitter – @BenChristman_ | Instagram – @ben.christman_
Christman transferred to Kentucky after two seasons at Ohio State … Will have three seasons of eligibility remaining … Redshirted as a true freshman in 2021, then played nine snaps as a redshirt freshman in 2022 … Four-year starter at Revere High School, where he was tabbed a four-star prospect by every major recruiting service … Considered the top-rated offensive lineman from the state of Ohio in the Class of 2021 … During his senior year at Revere, was named to Cleveland.com's All-Decade Team, Ohio MaxPreps' All-State Team, Cleveland.com's and Touchdown Club's All-Star Teams and the All-District First Team … Also named Revere High School's Offensive Line MVP, the Suburban League American Conference co-Offensive Player of the Year and chosen to the All-Suburban League First Team … The all-around athlete also played basketball and track and field for the Minutemen.
Courtland Ford, Offensive Line, 6-6, 305, Jr-Tr, Cedar Hill, Texas (Southern California/Cedar Hill)
Twitter – @FordCourtland | Instagram – @famous.cjf
Ford transferred to Kentucky after three seasons at Southern California … Will have two seasons of eligibility remaining Played in 20 games, beginning as a true freshman in 2020 … Appeared in one game in 2020, a starting assignment vs. Washington State, as the Trojans played just six games that season because of the COVID-19 pandemic … As a redshirt freshman in 2021, he played in nine games with eight starts at left tackle … In 2022, saw action in 10 games with three starts, helping No. 12 USC finish 11-3 overall and advance to the Pac-12 Championship Game, followed by a berth in the Goodyear Cotton Bowl … USC led the Pac-12 in scoring with 41.4 points per game and was second in total offense with 515.8 yards per game in 2022 … Three-star prospect out of Cedar Hill High School, where he earned 2019 PrepStar All-Central Region and was named to the Associated Press 6A Second Team and All-District 7-6A First Team after helped the Longhorns finish 9-3 overall and win the District 7A-6 Championship.
Kevin Larkins Jr., Defensive Back, 6-2, 170, So-Tr, Fort Lauderdale, Florida (Livingstone/Advance Prep Academy/Fort Lauderdale)
Twitter – @KevinLarkinsJr1 | Instagram – @_qxick6
Larkins transferred to Kentucky after one season at Livingstone College in Salisbury, North Carolina … Will have three seasons of eligibility remaining … The talented corner finished the season with a Division II-high eight interceptions, 161 interception return yards, one interception return touchdown and a nation-high 0.9 interceptions per game … Also recorded 40 total tackles (32 solo), two tackles for loss, four pass breakups and a forced fumble for the Blue Bears … Named a BOXTOROW HBCU College Football All-American and the Central Intercollegiate Athletic Association (CIAA) Defensive Rookie of the Year … Also earned a spot on the All-CIAA First Team and the Defensive All-CIAA Rookie Team … Named to the 2022 All-Super Region Two football team by the Division II Conference Commissioner's Association (D2CCA) … Only first-year player to make the All-Super Region Two team … With Larkins leading the way, Livingstone ranked second in the CIAA in passing yards allowed (144.8) and tied for third in passing touchdowns allowed (12) … Became the first CIAA player since 2019 to record three interceptions in a single game when he did it against Shaw … Coached by Sean Gilbert … A versatile athlete who played quarterback and wide receiver in high school … Earned an invite to the PostGradRecruits Bowl in 2021 … Attended Advance Prep Academy prior to Livingstone.
Dylan Ray, Offensive Line, 6-5, 293, So-Tr, Noblesville, Indiana (West Virginia/Noblesville)
Twitter – @dylanray22 | Instagram – @d.ray70
Ray transferred to Kentucky after two seasons at West Virginia … Will have three seasons of eligibility remaining … Redshirted as a true freshman in 2021 … Saw action in one game against Towson as a redshirt freshman in 2022 … Earned a spot on the Big 12 Commissioner's Honor Roll and the Garrett Ford Academic Honor Roll … Multiple-year starter and letterwinner for Noblesville High School, where he led his team to the Class 6A sectional playoffs and was named the 2020 Offensive Line MVP … Coached by Dave Sharpe … Dad, John, played offensive line for West Virginia from 1988-91 and went on to play in the pros.
Daveren Rayner, Inside Linebacker, 6-3, 205, Sr-Tr, Indianapolis, Indiana (Northern Illinois/Lawrence Central)
Twitter – @d9veren | Instagram – @d9veren
Name is pronounced DAV-ren … Rayner transferred to Kentucky after playing three seasons at Northern Illinois … Will have two seasons of eligibility remaining … Played in 22 games and earned 17 starts at NIU … Combined for 127 total tackles, 64 solo tackles, 8.5 tackles for loss and three pass breakups … 2022 was the best season of his career as he led the Huskies with 8.8 tackles per game and ranked second on the team with 71 total tackles and 30 solo tackles in eight games … Had a career-high 14 tackles in his season opener against Eastern Illinois last September, before being named the MAC West Defensive Player of the Week for his 10 tackles and a sack at Kentucky … Played in six games with five starts as a true freshman in 2020 … Finished fifth on the team in tackles with 27 … Multiple-year starter and letterwinner for Lawrence Central High School … Considered the 26th-ranked prospect out of the state of Indiana by 247Sports.com, while he was also named to the Indiana Football Coaches Association All-State Team and the Indianapolis Star Super Team … Recorded 118 tackles, 59 solo, in 2019 with seven pass break-ups, two interceptions, a forced fumble and fumble recovery …  Blocked four kicks in his high school career – two as a senior and two as a junior … Reunites at UK with former NIU teammate Marques Cox.
Alex Raynor, Kicker, 5-11, 190, Sr-Tr, Kennesaw, Georgia (Georgia Southern/Harrison)
Twitter – @acraynor1 | Instagram –@acraynor
Raynor transferred to Kentucky after three seasons at Georgia Southern … Will have two seasons of eligibility remaining … Played and started in 36 games … Totaled 45 of 59 field goals (.763) and 110 of 113 PATs (.973) … Finished as the Sun Belt's leading scorer in 2022 with 103 points scored in 13 games … Hit 18 of 20 on field goals with a long of 46 yards as a junior and was 49 of 50 on PATs …  Named honorable mention All-Sun Belt and was a fourth-team selection by Phil Steele … Started all 10 games played in 2021 as a sophomore … Made 9 of 14 field goals with a long of 44 yards … Had 13 kickoffs … Was 21 of 22 on PATs … Starting place-kicker in all 13 games in 2020 as a redshirt freshman … A third-team All-Sun Belt Conference selection by Pro Football Focus … Was 18-for-25 on field goals with a long of 47 yards … His 25 attempts are the second most in school history for a single season … Made 40 of 41 PATs … Also kicked off 10 times … Four-time Sun Belt Conference Academic Honor Roll member and two-time Dean's List honoree … Played at Harrison High for Coach Matt Dickmann … A first-team all-state kicker by the Georgia Sports Writers Association … Also was a punter with a long of 64 yards … Named 6-AAAAAA All Region Second Team … Also played soccer for two seasons.
Demie Sumo-Karngbaye, Running Back, 6-0, 210, Jr-Tr, Willingboro, N.J. (NC State/Willingboro)
Twitter – @kingmetrius_ | Instagram – @6harko
Name is pronounced DEHM-ee SUE-moh KARNG-bay … Sumo-Karngbaye transferred to Kentucky after two seasons at NC State … Will have two seasons of eligibility remaining … Was the team's second-leading rusher in 2022 despite playing in only eight games due to injury … Totaled 55 carries for 305 yards and three touchdowns, while also catching 12 passes for 148 yards and a score … During his freshman season in 2021, played in six games, appearing mostly on special teams … Rated as a three-star prospect and the No. 23 player in the state of New Jersey by Rivals.com … Was the No. 48 running back in his class and the No. 19 overall player from the state of New Jersey by 247Sports.com … Coached by Stephen Everette … Team was limited to just three games during the fall season due to COVID-19 … As a junior, rushed for 648 yards on 65 carries for an average of 10.0 per rush … Also scored 11 rushing touchdowns … Tallied 21 receptions for 430 yards and eight TDs and totaled 1,321 all-purpose yards … Defensively, recorded 53 tackles and 5.5 TFLs, as well as a pair of interceptions … Helped lead his team to a 12-1 record and the NJISAA South Group One Regional Championship … Reunites with former Wolfpack teammate Devin Leary.
Mid-Year Transfer Portal Enrollees
Tanner Bowles                         OL          6-5       300     Sr-Tr          Glasgow, Ky. (Alabama/Glasgow)
Marques Cox                            OL          6-5       305     Sr-Tr          Peoria, Ill. (Northern Illinois/Peoria)
Ray Davis                                   RB          5-9       215     Sr-Tr          San Francisco, Calif. (Vanderbilt/Temple/Blair Academy)
Jantzen Dunn                           DB          6-0       185     So-Tr         Bowling Green, Ky. (Ohio State/South Warren)
Jonquis "JQ" Hardaway         DB          6-3       190     So-Tr         Columbus, Ga. (Cincinnati/Central-Phenix City, Ala.)
Devin Leary                               QB          6-1       215     Sr-Tr          Sicklerville, N.J. (NC State/Timber Creek)
Keeshawn Silver                       DL          6-4       322     So-Tr         Rocky Mount, N.C. (North Carolina/Rocky Mount)
Summer Transfer Portal Enrollees
Ben Christman                          OL          6-6       315     So-Tr         Akron, Ohio (Ohio State/Revere)
Courtland Ford                         OL          6-6       305     Jr-Tr           Cedar Hill, Texas (Southern California/Cedar Hill)
Alex Raynor                               K             5-11     190     Sr-Tr          Kennesaw, Georgia (Georgia Southern/Harrison)
Demie Sumo-Karngbaye        RB          6-0       210     Jr-Tr           Willingboro, N.J. (NC State/Willingboro)
Kevin Larkins Jr.                       DB          6-2       170     So-Tr         Fort Lauderdale, Florida (Livingstone/Advance Prep Academy/Fort Lauderdale)
Dylan Ray                                  OL          6-5       293     So-Tr         Noblesville, Indiana (West Virginia/Noblesville)
Daveren Rayner                       ILB         6-3       205     Sr-Tr          Indianapolis, Indiana (Northern Illinois/Lawrence Central)