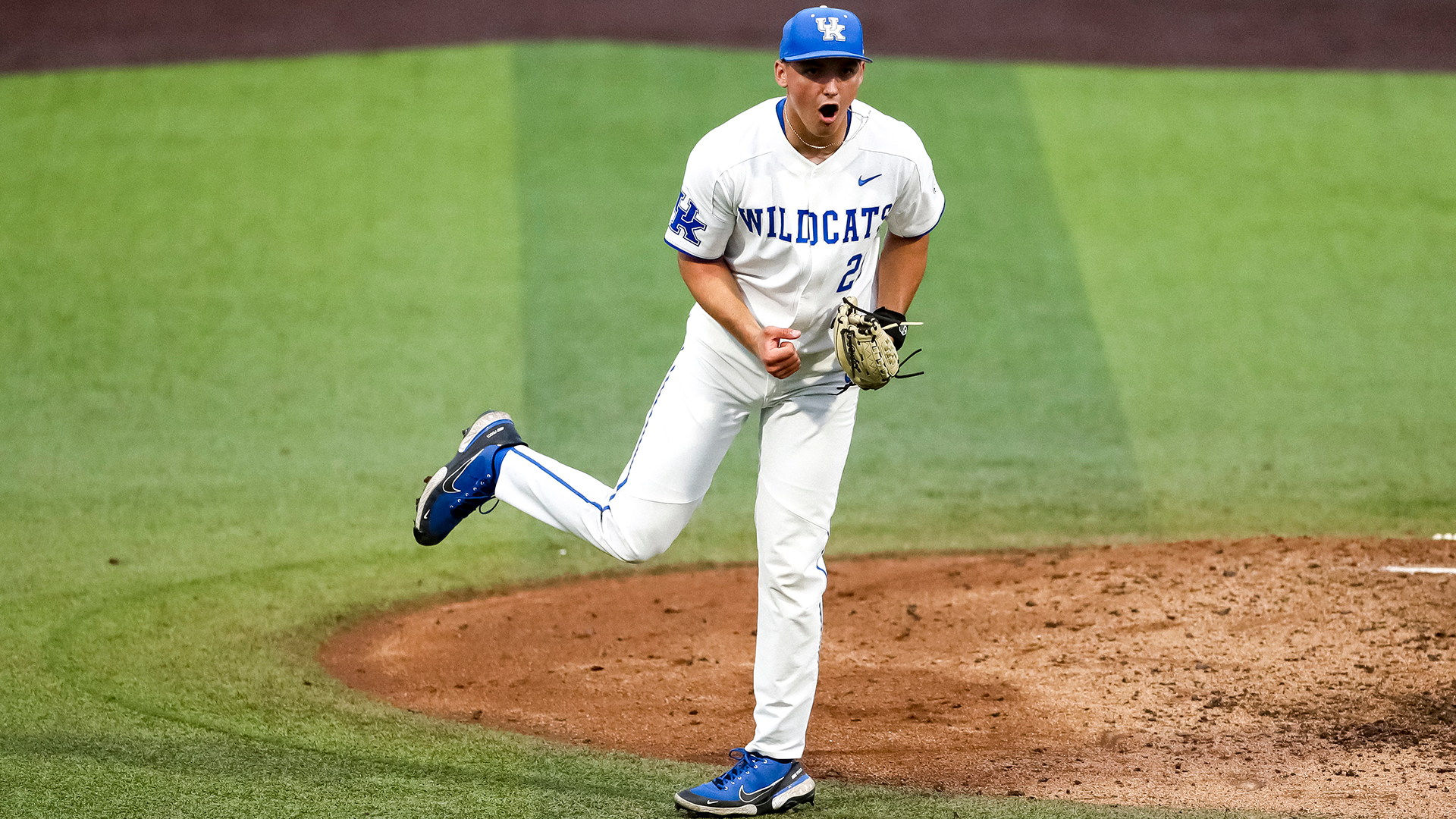 Facing one of the nation's best offenses, the Kentucky pitching staff had its work cut out on Friday night. But it was a pair of native Kentuckians who slammed the door on No. 3 Florida in the end.
After started Zack Lee went five innings and held the Gators to three runs, UK head coach Nick Mingione turned to Morehead native Mason Moore in the sixth. And his outing did not get off to a great start.
The first batter Moore faced, UF left fielder Wyatt Langford, hit his 15th home run of the season, this one to left field, cutting the UK lead to 6-4. However, from that point on, the Gators would not score again.
Moore knew that, after giving up the homer, he just needed to settle in and do what he does best.
"I just kind of let it go," Moore said. "He's one of the best hitters in the country. I knew I had to stay on the attack and do what I had to do."
Mingione loved how Moore responded to the adversity.
"He gave up the home run, then immediately responded," Mingione said. "Did an awesome job."
The sophomore got the next three batters out to end the inning. In the seventh, he struck out three batters around a pair of singles. And in the eighth, he struck out Langford, then induced a pair of ground balls to retire the Gators in order.
Moore counted on his defense to make the plays behind him.
"My mindset was to just go out there and throw strikes," Moore said. "We have a great defense behind me."
Mingione also noted how good UK was defensively in Friday's game.
"I thought our defense was phenomenal," Mingione said. "Total team effort."
In the ninth inning, Mingione turned to veteran right-hander Darren Williams, who finished the game. Williams, a Maysville native, struck out three batters on just 15 pitches as the Cats won 6-4, moving ever closer to being an NCAA Tournament regional host.
Mingione thought it was appropriate for Williams to be on the mound to close this game.
"How could 'Dub' not embrace that," Mingione said. "And if there was ever a guy who deserved that moment, it was Darren Williams."
For Williams, who is in his seventh year of college baseball after being injured last season, it was truly a special moment.
"That's why you work hard, all last summer, coming back from rehab. Moments like that, that's what you dream of."
Speaking of that potential regional tournament, Williams is hopeful that the Cats get the chance to host at Kentucky Proud Park.
"We want to host a regional in Lexington," Williams said. "We want to break down that wall. We want to host the first regional at KPP."
As the Cats claimed one of their biggest wins of the season, it was a pair of Kentuckians who pitched UK through the final four innings against a potent Florida offense.