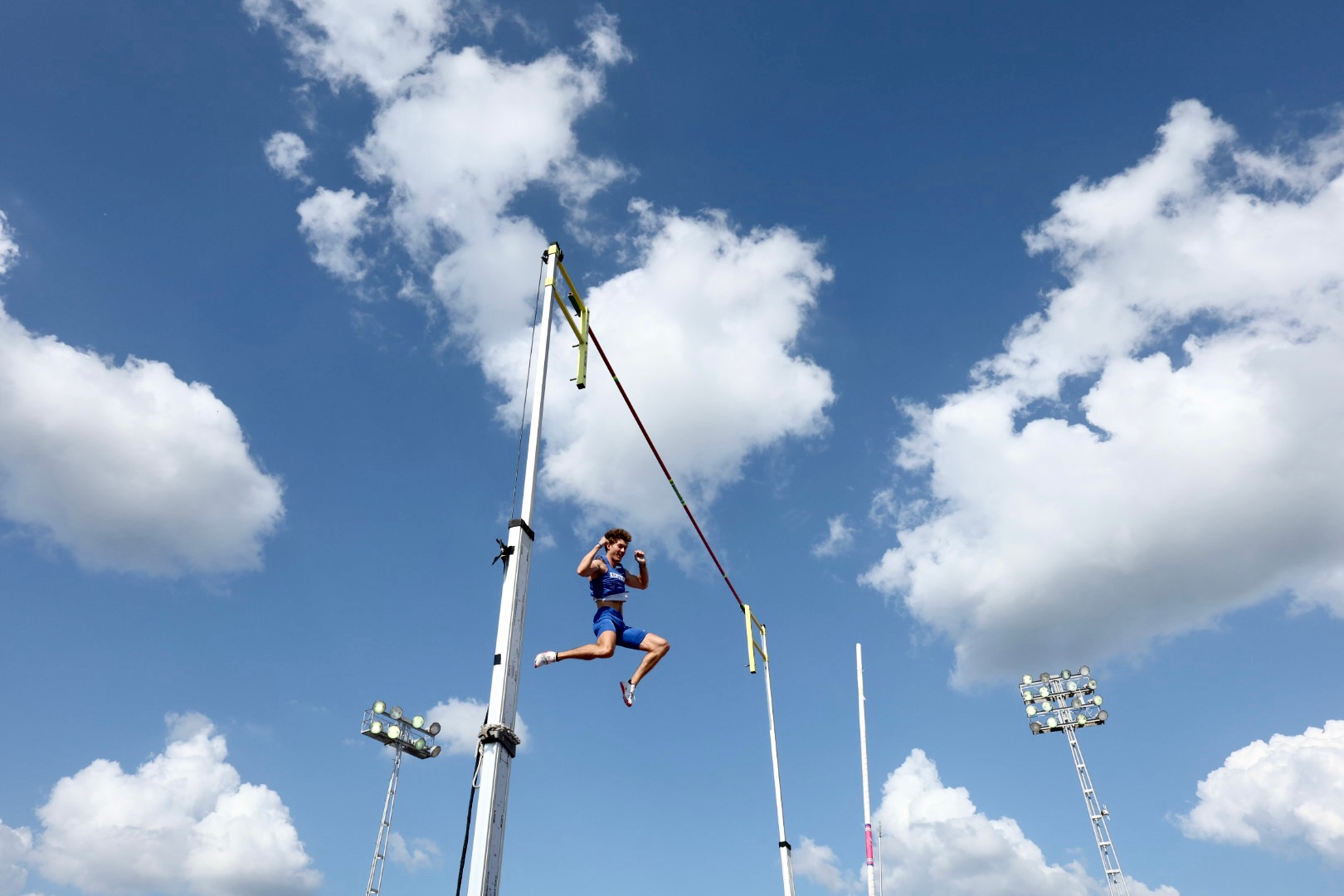 UKTF Conclude SEC Outdoor Championships
BATON ROUGE, La. – Kentucky track & field wrapped up competition at the Southeastern Conference Outdoor Championships at Louisiana State University at the Bernie Moore Track Stadium in Baton Rouge, Louisiana. The men's side finished 10th overall with 35 points while the women finished tied for eighth overall with 50 points. The program collected three more medals on Saturday for a total of six medals across the three days of competition.
Keaton Daniel won his third straight SEC Outdoor gold medal in the pole vault today. Despite only needing to jump three times, Daniel cleared 18'6.50"/5.65 meters on his first attempt for the win. Daniel went on to attempt a new personal best of 19'00.75"/5.81m but couldn't quite pull it off despite his best efforts. It's the first time a pole vault gold medal has been won consecutively since the late 90s.
The women's 4×100 relay team placed second for a silver medal. The team comprised of Victoria Perrow, Anthaya Charlton, Masai Russell, Karimah Davis finished with a time of 42.93, a millisecond behind winners LSU, for eight points.
The men's 4×100 relay scored three points with a sixth place finish. The team made of Langston Jackson, Kennedy Lightner, Brandon Miller, and Brian Faust put in a time of 39.36.
Russell added to her medal collection with a third place finish in the women's 100-meter hurdles. She collected the bronze with a time of 12.47 (0.4) for six points. She also collected silver in the 400-meter hurdles with a personal best time of 55.21. The finish secured eight points for the team and improves the number four mark on UK all-time performers list.
Anthaya Charlton scored three points with a sixth place finish in the women's 100 meter dash finishing with a time of 11.23 (0.9).
Jenna Schwinghamer secured the women five points with a fourth place finish in the women's 800 meters. She crossed the line at 2:05.01.
Karimah Davis finished fifth in the women's 200 meters. Her time of 22.84 earned the team an additional four points on the evening.
Both the men's and women's 4×400 relay teams placed fourth to close out the championships. The teams earned five points each. The men's team consisting of Wayne Lawrence Jr., Brian Faust, Brandon Miller, and Justin Swann finished with a time of 3:02.31 while the women's team consisting of Karimah Davis, Megan Moss, Tamiia Fuller, and Dajour Miles finished with a time of 3:30.03.
UKTF will continue the season with the NCAA East Preliminary Championships which start on Wednesday, May 24 and last through Saturday, May 27.
Follow Kentucky Track and Field on Facebook, Instagram, Twitter, and UKathletics.com.
SEC Outdoor Championships: Saturday, May 13
Men's Discus
2:00 p.m.
Prelim/Final
9. Dennis Ohene-Adu: 175"/53.35m | PR

15. Josh Sobota: 169'9"/51.76m

Men's Pole Vault
3:00 p.m.
Final
1. Keaton Daniel: 18'6.50"/5.65m | SB

9. Dalton Shepler: 17'0.75"/5.20m | PR

Men's 4×100 Meter Relay
5:05 p.m.
Final
6. Langston Jackson, Kennedy Lightner, Brandon Miller, Brian Faust: 39.67 | 3 points
Women's 4×100 Meter Relay
5:15 p.m.
Final
2. Victoria Perrow, Anthaya Charlton, Masai Russell, Karimah Davis: 42.93 | 8 points
Women's 1500 Meters
5:35 p.m.
Final
12. Phoebe McCowan: 4:32.14
Women's 100 Meter Hurdles
5:55 p.m.
Final
3. Masai Russell: 12.47 (0.4) | 6 points
Women's 100 Meter Dash
6:35 p.m.
Final
6. Anthaya Charlton: 11.23 (0.9) | 3 points
Women's 800 Meter
6:55 p.m.
Final
4. Jenna Schwinghamer: 2:05.01 | 5 points

9. Sydney Steely: 2:06.97

Women's 400 Meter Hurdles
7:15 p.m.
Final
2. Masai Russell: 55.21 | PR | 8 points | Improves No. 4 mark on UK all-time performers list
Women's 200 Meter
7:35 p.m.
Final
5. Karimah Davis: 22.84 (0.0) | 4 points
Men's 5000 Meters
7:45 p.m.
Final
12. Jackson Watts: 14:34.87 | PR

20. Dylan Allen: 14:53.22 | PR

Men's 4×400 Meter Relay
8:30 p.m.
Final
4. Wayne Lawrence Jr., Brian Faust, Brandon Miller, Justin Swann: 3:02.31
Women's 4×400 Meter Relay
8:40 p.m.
Final
4. Karimah Davis, Megan Moss, Tamiia Fuller, Dajour Miles: 3:30.03
SEC Outdoor Championships: Thursday, May 11: ALL TIMES IN CENTRAL TIME
Men's Hammer Throw
Prelim/Final
7. Logan Coles: 214'03"/ 65.31m | PR | 2 points | Improves to No. 4 on UK all-time performers list

12. Michael Browning: 193'03"/58.92m | SB

16. Dennis Ohene-Adu: 181'04"/55.29m | SB

Men's 800 Meter
Prelim
12. Justin Swann: 1:49.68

17. Alex Justus: 1:50.44

Women's 800 Meter
Prelim
6. Sydney Steely: 2:05.00q | SB

7. Jenna Schwinghamer: 2:05.05q

10. Phoebe McCowan: 2:05.94

12. DeAnna Martin: 2:06.49 | SB

18. Bryanna Lucas: 2:09.52

Men's 200 Meter
Prelim
4. Kennedy Lightner: 20.32Q (2.4)

11. Brandon Miller: 20.63 (1.2)

23. Jordan Anthony: 21.33 (1.8)

Women's 200 Meter
Prelim
5. Karimah Davis: 22.92Q (0.4)

29. Dajour Miles: 23.66 (0.4) | SB

39. Colleen Branch: 24.40 (1.9)

41. Tamiia Fuller: 24.58 (0.1)

Men's 400 Meter Hurdles
Prelim
14. Beck O'Daniel: 51.61
Women's 400 Meter Hurdles
Prelim
2. Masai Russell: 56.32Q
Men's 10,000 Meters
Final
11. Aaron Withrow: 30:37.21
SEC Outdoor Championships: Friday, May 12: ALL TIMES IN CENTRAL TIME
Women's Pole Vault
4:00 p.m.
Final
12. Siobhan Szerencsits: 12'11.50"/3.95m

13. Payton Phillips: 12'05.50"/3.80m

Men's Shot Put
4:15 p.m.
Prelim/Final
3. Josh Sobota: 67'0"/20.42m | School Record | PR | 6 points

12. Dennis Ohene-Adu: 57'2"/17.42m

Women's 100 Meter Hurdles
5:15 p.m.
Prelim
2. Masai Russell: 12.47Q (2.2)

15. Shadajah Ballard: 13.43 (2.2)

Men's 1500 Meters
5:40 p.m.
Prelim
25. Dylan Allen: 3:53.28

28. Alex Justus: 3:55.69

Women's 1500 Meters
6:00 p.m.
Prelim
5. Phoebe McCowan: 4:23.02Q

16. Ally Kruger: 4:26.98

21. Juliann Williams: 4:30.35

33. Jenna Schwinghamer: 4:41.05

Men's 400 Meters
6:20 p.m.
Prelim
10. Wayne Lawrence Jr.: 45.72

12. Brian Faust: 45.88 | PR | Improves No. 4 UK all-time performance record

31. Brandon Nyandoro: 48.13

Women's Long Jump
6:30 p.m.
Prelim/Final
2. Anthaya Charlton: 22'1.50"/6.74m (0.1) | 8 points | PR | Improves the UK freshman record | No. 2 on the UK all-time performers list

16. Meg Wilson: 18'5.25"/5.62m (1.7)

Women's 400 Meters
6:45 p.m.
Prelim
18. Megan Moss: 53.33
Men's Long Jump
7:00 p.m.
Prelim/Final
5. Jordan Turner: 25'6.75"/7.79m | 4 points

10. Robbie Springfield III: 24'9.25"/7.55m

Men's 100 Meter Dash
7:10 p.m.
Prelim
T-11. Jordan Anthony: 10.28 (1.2)

T-11. Langston Jackson: 10.28 (1.6) | PR | No. 9 on the UK all-time performers list

26. Kennedy Lightner: 10.56 (1.4)

Women's 100 Meter Dash
7:35 p.m.
Prelim
2. Anthaya Charlton: 11.11Q (0.4) | PR | Improves UK freshman record | Improves No. 5 UK all-time performance mark

T-14. Karimah Davis: 11.47

17. Victoria Perrow: 11.50

24. Shadajah Ballard: 11.62 (1.8) | PR

27. Colleen Branch: 11.74

Men's 3000 Meter Steeplechase
8:00 p.m.
Final
5. Jackson Watts: 9:04.97 | 4 points

7. Alex Alston: 9:09.95 | PR | 2 points

16. McLean Griffin: 9:36.75

Women's 3000 Meter Steeplechase
8:20 p.m.
Final
6. Sydney Steely: 10:32.88 | 3 points