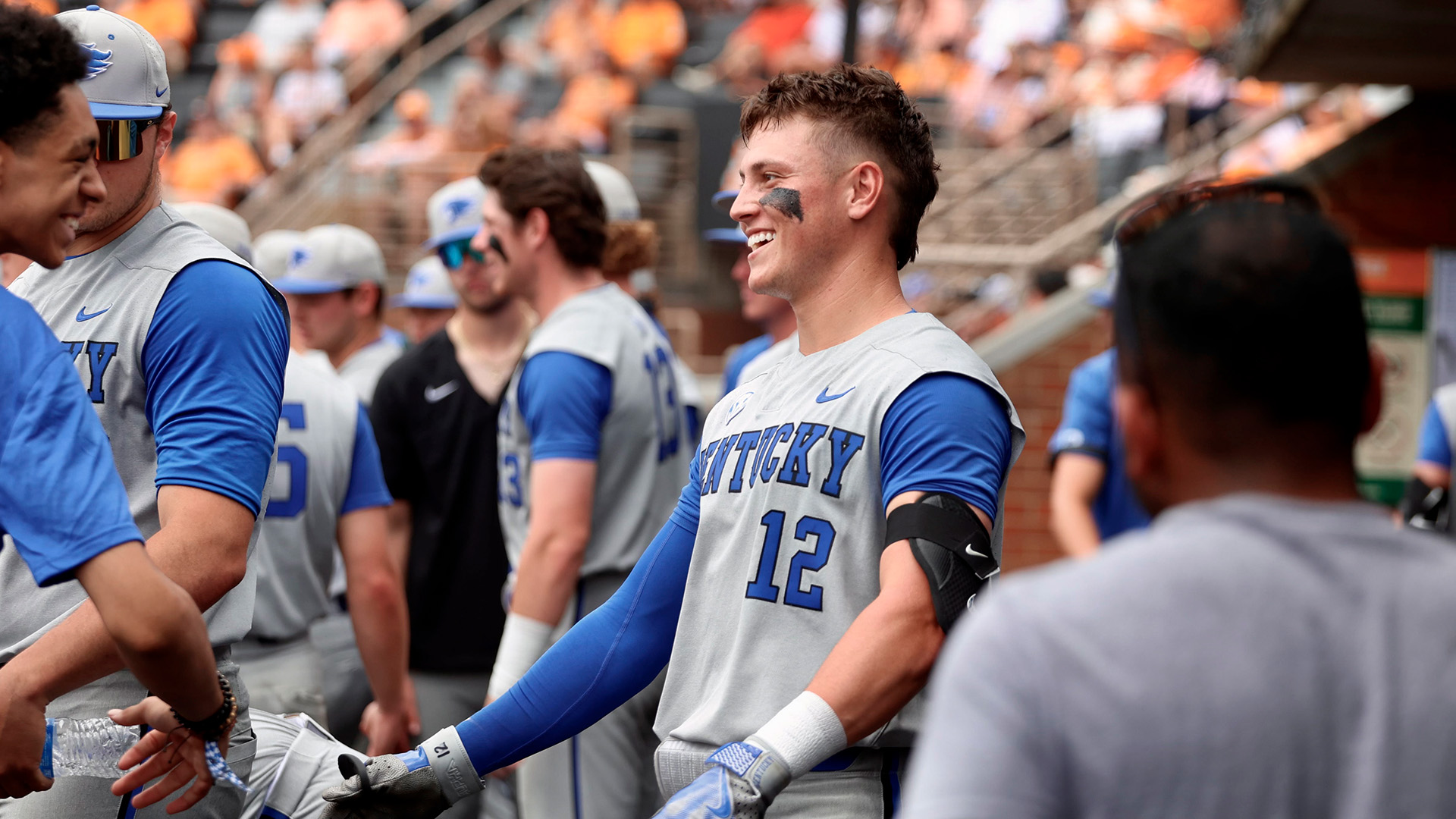 KNOXVILLE, Tenn. – No. 15 Kentucky smashed nearly 2,000 feet of home runs, outlasted an hour and 55-minute rain delay and became the first team to shut out Tennessee since 2021 in a 10-0 Mother's Day victory at Lindsey Nelson Stadium.
It is UK's 11th true road victory of the season – most in the conference – and guarantees the Wildcats will finish at least .500 in Southeastern Conference play.
Kentucky now is 35-15 overall and 15-12 in the SEC.
Kentucky jumped to a 4-0 lead on the strength of home runs by Hunter Gilliam and Grant Smith before lightning delayed the contest nearly two hours and forced starter Zack Lee, who had thrown two shutout innings, from the contest. Darren Williams did the yeoman's work after the delay, tossing four shutout innings and wriggling out of trouble numerous times with help from a superior defensive effort.
The Cats hit a season-high five home runs, including back-to-back bombs from Devin Burkes and James McCoy in the eighth to put the game away. Burkes and Smith each had two homers in the series and McCoy now has homered in four of the last seven.
NOTES
UK Coach Nick Mingione is in his seventh season at the helm and now owns a 211-144 career record.

UK is 39-38 in the month of May under Coach Mingione.
Mingione now is 8-10 vs. Tennessee.

UK has scored in 348 of 355 games in Mingione's tenure.
UK is 10-9 this season vs. ranked opponents.
UK has 11 road wins this season, most in the SEC.
UK is the first team to shut out Tennessee since the 2021 season.
For the first time in school history (for which stats are available, 1969) the Cats have four players with at least 15 stolen bases.
Outfielder Jackson Gray went 1-for-3 with two runs, a walk, a HBP and a steal.

He has reached base safely in 47 of his last 72 plate appearances.
He has reached safely in 19 consecutive games.
He was hit by a pitch for the 21st time, tied for second most in a single season in school history.
He has hits in 18 of his last 19 games.

First Baseman Hunter Gilliam went 1-for-4 with three RBI and a SAC fly.

He hit his 11th home run of the season.
He had his 18th multi-RBI game of the season.
He has seven SAC flies this season.

Catcher Devin Burkes went3-for-5 with a run, four RBI, a double and a home run.

It was his sixth homer of the season and second of the series.

Infielder Jase Felker went 2-for-3 with two runs, a walk, a SAC and a steal.

He stole two bases and now has 19 this season.
He leads the SEC with 11 sacrifices.

Infielder Grant Smith went 1-for-4 with a solo home run.

He lined his fifth home run to the gap in RCF.

It was his second in as many days.

Outfielder Ryan Waldschmidt went 1-for-3 with a home run, a walk and a SAC.

He hit his fourth home run of the season.

Pitcher Darren Williams earned the win.

He pitched 4.0 innings of shutout baseball.
ON DECK
Kentucky will host Florida in the final series of the regular season beginning Thursday night at 6:30 p.m. ET.  The radio call will be on the UK Sports Network (630 AM WLAP, locally) and it will be streamed on SEC Network+.