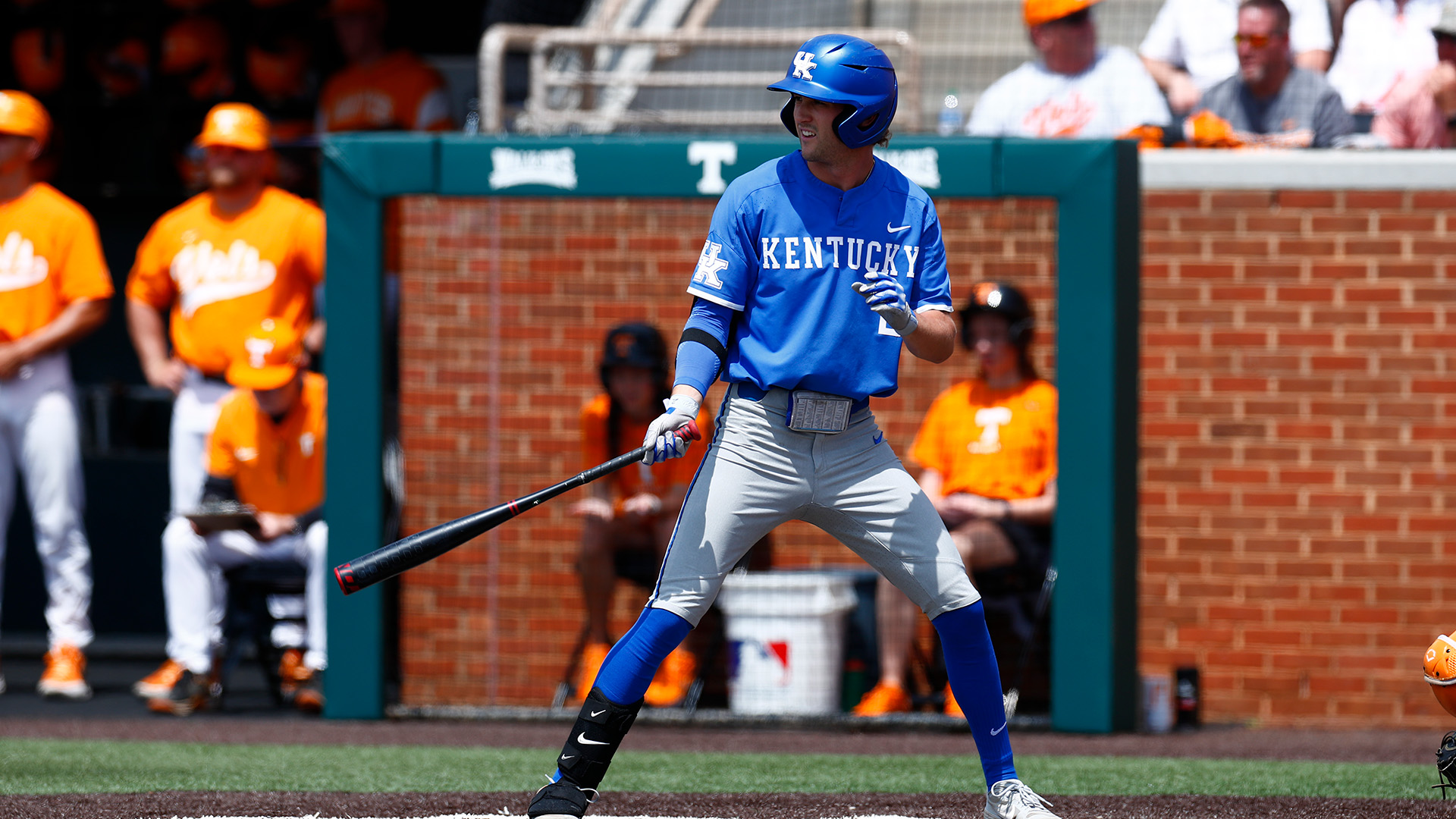 KNOXVILLE, Tenn. – No. 15 Kentucky found itself in an early hole it couldn't completely dig out of, falling 10-7 to No. 11 Tennessee on Saturday at Lindsey Nelson Stadium.
Kentucky now is 34-15 overall and 14-12 Southeastern Conference.
Tennessee used small ball to jump all over starter Tyler Bosma, scoring four runs in the second on a flare behind second base and bouncer through the left side. In the fourth inning, a pair of soft singles and a fielder's choice set up Jared Dickey to smash a grand slam to right field, all of the damage coming with two outs.
The Wildcats refused to go away though, scoring six unanswered run to draw within one. But Tennessee generated just enough breathing room to hang on with a two-run double in the seventh.
NOTES
UK Coach Nick Mingione is in his seventh season at the helm and now owns a 210-144 career record.

UK is 38-38 in the month of May under Coach Mingione.
Mingione now is 7-10 vs. Tennessee.

UK has scored in 347 of 354 games in Mingione's tenure.
UK is 9-9 this season vs. ranked opponents.
UK is 10-11 when the opponent scores first.
Outfielder Jackson Gray went 2-for-5 with a run and a steal.

He has reached base safely in 44 of his last 67 plate appearances.
He has reached safely in 18 consecutive games.
He had his 18th multi-hit of the season.

Catcher Devin Burkes went 2-for-3 with two runs and a solo home run.

He hit his 5th home run of the season.
He had his 14th multi-hit game of the season.

Infielder Emilien Pitre went 2-for-5 with a run, three RBI and two doubles.
Infielder Jase Felker went 2-for-5 with a run and an RBI.

He stole two bases and now has 18 this season.

Infielder Grant Smith went 1-for-4 with a solo home run.

He lined his fourth home run of the season into the left field seats.

Outfielder James McCoy went 1-for-3 with an RBI double and a walk.

He has three doubles in the series.
ON DECK
Kentucky will try to avoid the sweep on Sunday at 1 p.m. ET.  The radio call will be on the UK Sports Network (630 AM WLAP, locally) and it will be streamed on SEC Network+.