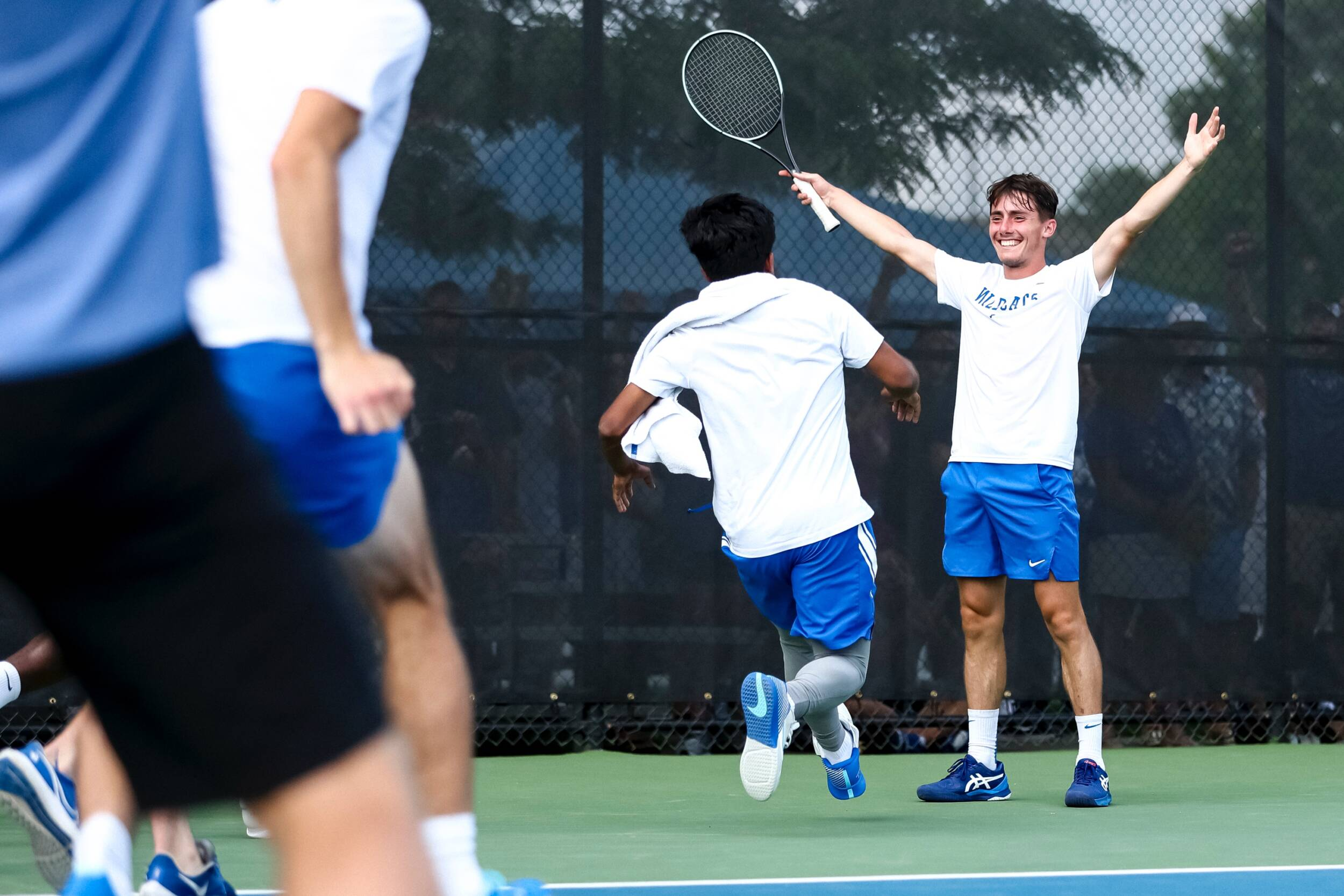 Cosnet Clinches 4-3 Victory Over Stanford, Sends 'Cats to NCAA Quarterfinals
LEXINGTON, Ky. – Powered by four singles victories, including a decisive clinch from freshman Charlelie Cosnet, fourth-seeded Kentucky knocked off Stanford, 4-3, in the Lexington Super Regional. With the win, Kentucky advances to the national quarterfinals for the sixth-time in program history.
In addition to Cosnet's win at No. 6 singles, the Wildcats added victories from Alafia Ayeni, Josh Lapadat and Taha Baadi to overcome an early doubles point deficit. Today's victory was the second straight win in the NCAA Tournament by a final score of 4-3, moving Kentucky to 11-1 on the season in matches decided by one point. In addition, Kentucky has now won seven matches in 2023 after losing the doubles point.
A total of 903 fans packed inside of Hilary J. Boone Tennis Complex for the match, setting a new record for the highest recorded attendance in program history. The previous high of 686 came in the 2011 NCAA Tournament against Louisville, a 4-3 Wildcat win in the Round of 32.
Stanford opened the match by claiming the doubles point with wins on courts two and three. Sending out a revamped doubles lineup, the Cats were unable to make headway early in play, as early breaks allowed the Cardinal to take the first point of the day. Liam Draxl and Jaden Weekes saw their first doubles loss in NCAA tournament play, falling 6-2 to the Stanford pair of Nishesh Basavareddy and Neel Rajesh. The champions of the Columbia regional claimed the doubles point for the third time in the NCAA tournament, as the first-time pair of Baadi and Christophe Clement lost 6-2 to Aryan Chaudhary and Filip Kolasinski. Despite leading 5-3, No. 67 JJ Mercer and Josh Lapadat were unable to seal victory in their first appearance at No. 1 doubles before play was abandoned.
Needing four singles wins, Kentucky was able to take three of the six first sets. No. 18 Ayeni evened the match up with an impressive 6-1, 6-1 win over Pac-12 Freshman of the Year, and ITA No. 56, Banerjee at No. 2 singles.
Two more Wildcats would earn straight set victories as Baadi rolled to a 6-3, 6-4 decision over Rajesh at No. 4, while, at No. 3, Lapadat upset No. 15 Basavareddy by a final score of 6-4, 6-2. With the triumph, Lapadat is now 3-0 in the NCAA Tournament and improved his team leading singles record to 22-4.
Now leading 3-1, the Wildcats needed to flip one of the final three courts, all registering first set Cardinal advantages. Playing against the Pac-12 Singles Player of the Year, No. 13 Draxl broke at 5-3 to extend the second set, but ultimately fell in a back-and-forth tiebreak to No. 3 Arthur Fery, 6-4, 7-6 (6). Stanford leveled the match at three with another second-set tiebreak triumph, as Kolasinski defeated Weekes, 6-4, 7-6(5).
With the Super Regional, and a ticket to Orlando, down to court six, Cosnet had the postseason hopes of the Wildcats on his racquet.  Despite dropping the first set, the freshman from Le Mans, France won three of the final four games of the opening frame. He used that momentum to propel himself to a easy second set victory. After holds by both players in their first two service games, Cosnet broke Chaudhary at 3-2. He consolidated the break, and, after a Cardinal hold, held once more to place the Cats on the precipice of advancement. With Chaudhary needing to hold to stay in the Match, Cosnet, powered by the swarm of Big Blue Nation that flooded the area around court six, claimed an early advantage in the game and never looked back, sealing a come-from-behind, clinching 4-6, 6-1, 6-3 win.
With the win, Kentucky advanced to the final site of the NCAA Championship, to be held at the USTA National Campus in Orlando, Florida from May 18-20. The Wildcats await the winner of the Charlottesville Super Regional in a Quarterfinal to be played on Thursday, May 18. The Quarterfinal will be streamed live on Playsight, with commentary provided on the Cracked Racquets YouTube Channel. The Semifinals and Final will be televised live on Tennis Channel.
Doubles
No. 67 Joshua Lapadat/JJ Mercer (UK) vs. Banerjee/Fery (STAN) 5-3 (unfinished)
Chaudhary/Kolasinski (STAN) def. Taha Baadi/Christophe Clement 6-2
Basavareddy/Rajesh (STAN) def. Liam Draxl/Jaden Weekes (UK) 6-2
Singles
No. 3 Arthur Fery (STAN) def. No. 13 Liam Draxl (UK) 6-4, 7-6 (6)
No. 18 Alafia Ayeni (UK) def. No. 56 Samir Banerjee (STAN) 6-1, 6-1
No. 59 Joshua Lapadat (UK) def.  No. 15 Nishesh Basvareddy 6-4, 6-2
Taha Baadi (UK) def. Neel Rajesh (STAN) 6-3, 6-4
Filip Kolasinski (STAN) def. Jaden Weekes (UK) 6-4, 7-6 (5)
Charlelie Cosnet (UK) def. Aryan Chaudhary (STAN) 4-6, 6-1, 6-3
Order of Finish:
Doubles—2, 3
Singles—2, 4, 3, 1, 5, 6
For the latest on UK Men's Tennis, follow the Wildcats on Twitter and Instagram at @UKMensTennis.