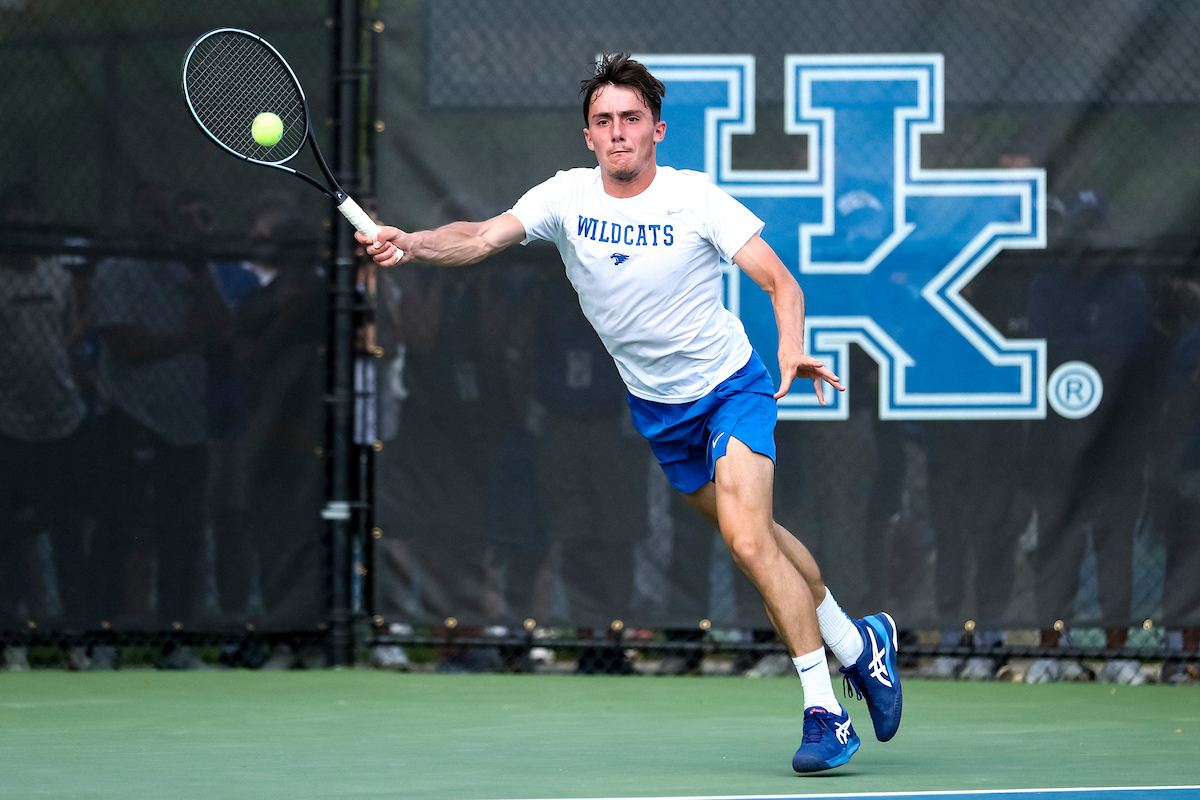 Cats Rally Yet Again, Top Stanford on Saturday
During last year's run to the NCAA Men's Tennis Championship match, Kentucky made a habit of losing the doubles point before rallying in singles to win. In fact, the Cats lost the doubles point four times in last year's NCAA Tournament on the way to a national runner-up finish.
Trying to get back to the nationals on Saturday, the Cats followed that formula once again. UK lost the doubles point to Stanford before coming from behind to beat the Cardinal 4-3 at the Boone Tennis Center. With the win, Kentucky returns to the nationals, this time in Orlando.
The match was tied 3-3 with only the number six singles contest still ongoing. There, Kentucky freshman Charlelie Cosnet was in a tight match with Stanford's Aryan Chaudhary. All of the attention turned to the court six match, something that Cosnet seemed to relish.
"It was awesome. Everyone was there for me, so that was helpful," Cosnet said. "To have my brothers around me was just awesome."
For head coach Cedric Kauffmann, it was yet another rally to advance in postseason play. It's something that the UK head coach knows his team can handle.
"We've been in this situation a lot this season," Kauffmann said. "I think we're one of the best teams in the last 30 minutes of matches."
Kentucky is now 11-1 this season in matches that end with a 4-3 score. What is it that allows the Cats to rally and/or excel in tight matches?
"They love each other. It's a family," Kauffmann said. "We're always together and we just don't want it to end. We wanted to get to Orlando and maybe get one more match than last year."
Alafia Ayeni, who won his singles match in less than an hour on Saturday, knows that the experience of having been there before benefits the Cats.
"There was a lot of pressure. The guys, historically, have done so well under pressure," Ayeni said. "We've been in tight spots before. But I have always trusted the guys to bring us through and today was no different."
Both Kauffman and Ayeni knew that the record crowd at the Boone Tennis Center helped the Cats on Saturday as well.
"I just want to thank the fans. They were loud and passionate," Kauffmann said. "This is why we love Kentucky."
Ayeni said the players were fueled by the fans.
"A big part of it today that helped us out was the fans," Ayeni said. "That was amazing. I want to thank everyone who came out."
Kentucky advances to the NCAA nationals, where they hope to take one step beyond what they accomplished last season. Kauffmann is pleased to be back and able to compete for a title.
"It feels good. I'm just happy for the boys and happy for our program," Kauffmann said. "Maybe we can get one more match than last year."
If the Cats find themselves behind in Orlando, they certainly know their way out of a deficit.