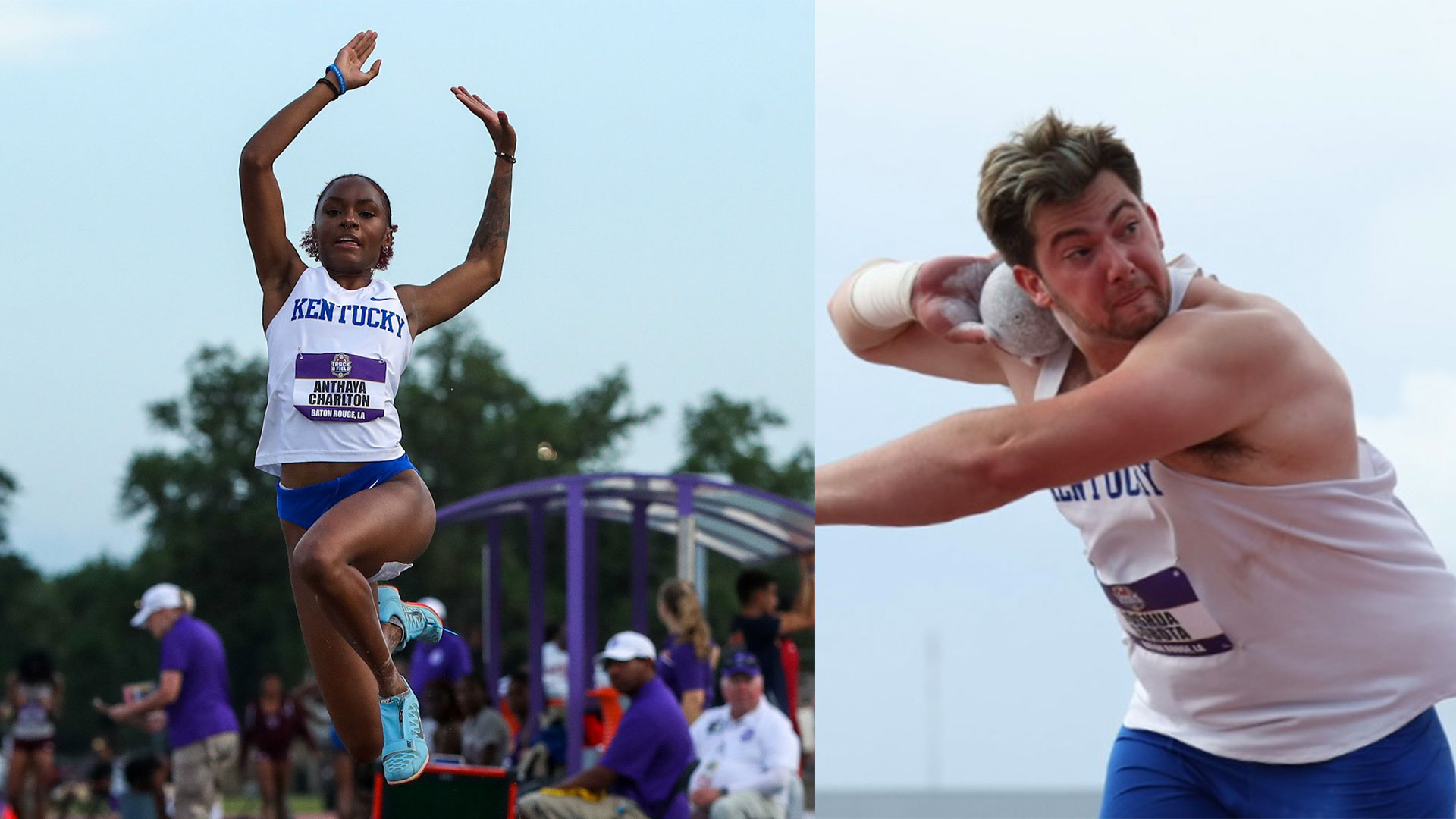 UKTF Takes Two Medals On Day Two Of SEC Outdoor Championships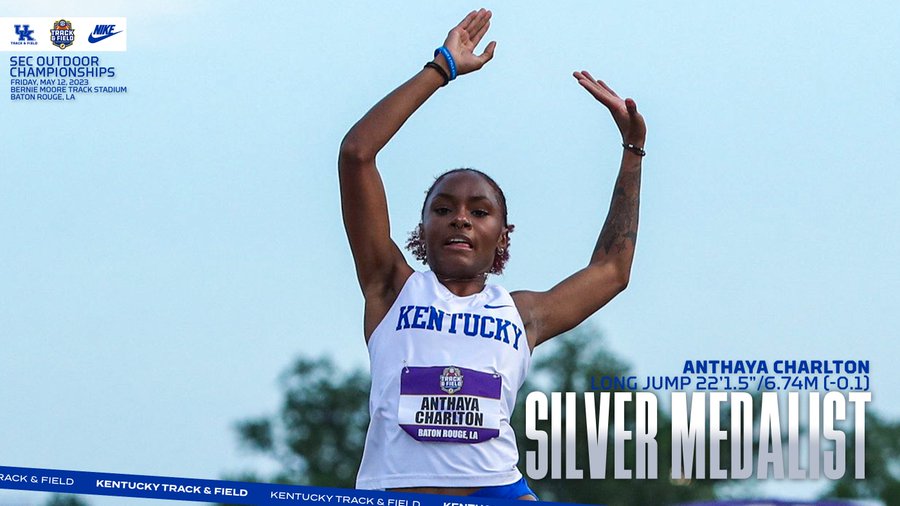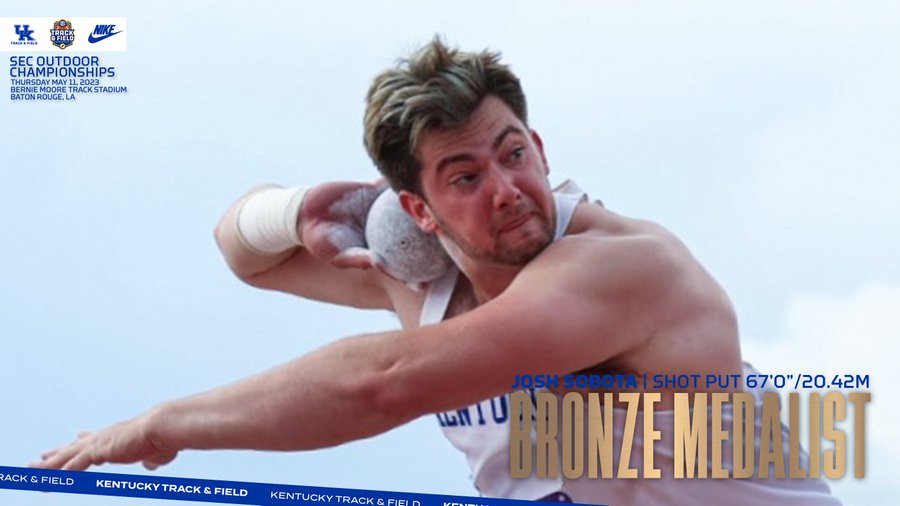 BATON ROUGE, La. – Kentucky track & field completed day two of the Southeastern Conference Outdoor Championships at Louisiana State University at the Bernie Moore Track Stadium in Baton Rouge, Louisiana. The day featured the first two medals won by the Wildcats as well as three more qualifiers from today's track events.
Friday's Finals
Josh Sobota won bronze in the shot put with a school record throw of 67'0"/20.42 meters to earn the team six points. Sobota broke the record held for 19 years by Jeff Chakouian of 66'3.00"/20.19 set in Baton Rouge in 2004. The bronze is the third medal of Sobota's career.
Jordan Turner placed fifth in the men's long jump for four points. Turner earned the spot with a jump of 25'6.75"/7.79 meters on his third attempt in flight two. He passed on his final three attempts.
Both Jackson Watts and Alex Alston scored points in the men's 3,000 meter steeplechase. Watts placed fifth with a time of 9:04.97 for four points while Alston was seventh with a personal best time of 9:09.95 for two points.
Sydney Steely earned three points for the women in the same event placing sixth with a time of 10:32.88.
Track Prelims
The Wildcats earned three qualifiers in today's events. The three qualifiers add to the five qualifiers they collected from Thursday's competitions for a total of eight student-athletes advancing to tomorrow's finals.
Anthaya Charlton had a monstrous day on the track and in the field. In both the women's 100 meter dash prelims and long jump, Charlton improved the UK freshman records she set earlier this season and moved up in the UK all-time performers list.
Charlton won silver in the long jump with a record jump of 22'1.50"/6.74 meters (0.1) on her final jump of the evening. It's the first outdoor medal of her career and second overall after she took bronze in the long jump at the SEC Indoor Championships in February.
In addition to her medal, Charlton set the fifth quickest time in UK history in the 100 meter dash prelims. Her time of 11.11 (0.4) not only was a personal best but it was good enough for second overall in the prelims and an automatic birth to tomorrow's final.
Masai Russell won her heat in the women's 100-meter hurdles to earn the automatic qualification. Her time of 12.47 (2.2) saw her place second overall in the prelims.
Phoebe McCowan took fifth place overall in the women's 1500 meter prelims. Her time of 4:23.02 and a top-three finish in her heat earned her an automatic qualifier for tomorrow.
At the end of day two, the men's team sits tied for 8th place with 17 points while the women sit tied for 10th with 11 points.
The final day of the SEC outdoor championships will continue tomorrow afternoon at 3 p.m. ET/2 p.m. CT from Bernie Moore Track Stadium.
Follow Kentucky Track and Field on Facebook, Instagram, Twitter, and UKathletics.com.
SEC Outdoor Championships: Friday, May 12: ALL TIMES IN CENTRAL TIME
Women's Pole Vault
4:00 p.m.
Final
12. Siobhan Szerencsits: 12'11.50"/3.95m

13. Payton Phillips: 12'05.50"/3.80m

Men's Shot Put
4:15 p.m.
Prelim/Final
3. Josh Sobota: 67'0"/20.42m | School Record | PR | 6 points

12. Dennis Ohene-Adu: 57'2"/17.42m

Women's 100 Meter Hurdles
5:15 p.m.
Prelim
2. Masai Russell: 12.47Q (2.2)

15. Shadajah Ballard: 13.43 (2.2)

Men's 1500 Meters
5:40 p.m.
Prelim
25. Dylan Allen: 3:53.28

28. Alex Justus: 3:55.69

Women's 1500 Meters
6:00 p.m.
Prelim
5. Phoebe McCowan: 4:23.02Q

16. Ally Kruger: 4:26.98

21. Juliann Williams: 4:30.35

33. Jenna Schwinghamer: 4:41.05

Men's 400 Meters
6:20 p.m.
Prelim
10. Wayne Lawrence Jr.: 45.72

12. Brian Faust: 45.88 | PR | Improves No. 4 UK all-time performance record

31. Brandon Nyandoro: 48.13

Women's Long Jump
6:30 p.m.
Prelim/Final
2. Anthaya Charlton: 22'1.50"/6.74m (0.1) | 8 points | PR | Improves the UK freshman record | No. 2 on the UK all-time performers list

16. Meg Wilson: 18'5.25"/5.62m (1.7)

Women's 400 Meters
6:45 p.m.
Prelim
18. Megan Moss: 53.33
Men's Long Jump
7:00 p.m.
Prelim/Final
5. Jordan Turner: 25'6.75"/7.79m | 4 points

10. Robbie Springfield III: 24'9.25"/7.55m

Men's 100 Meter Dash
7:10 p.m.
Prelim
T-11. Jordan Anthony: 10.28 (1.2)

T-11. Langston Jackson: 10.28 (1.6) | PR | No. 9 on the UK all-time performers list

26. Kennedy Lightner: 10.56 (1.4)

Women's 100 Meter Dash
7:35 p.m.
Prelim
2. Anthaya Charlton: 11.11Q (0.4) | PR | Improves UK freshman record | Improves No. 5 UK all-time performance mark

T-14. Karimah Davis: 11.47

17. Victoria Perrow: 11.50

24. Shadajah Ballard: 11.62 (1.8) | PR

27. Colleen Branch: 11.74

Men's 3000 Meter Steeplechase
8:00 p.m.
Final
5. Jackson Watts: 9:04.97 | 4 points

7. Alex Alston: 9:09.95 | PR | 2 points

16. McLean Griffin: 9:36.75

Women's 3000 Meter Steeplechase
8:20 p.m.
Final
6. Sydney Steely: 10:32.88 | 3 points
SEC Outdoor Championships: Saturday, May 13: ALL TIMES IN CENTRAL TIME
Men's Discus
2:00 p.m.
Prelim/Final
Josh Sobota

Dennis Ohene-Adu

Men's Pole Vault
3:00 p.m.
Final
Keaton Daniel

Josh Sobota

Dalton Shepler

Men's 4×100 Meter Relay
5:05 p.m.
Final
Jordan Anthony, Langston Jackson, Kennedy Lightner, Brandon Miller
Women's 4×100 Meter Relay
5:15 p.m.
Final
Victoria Perrow, Anthaya Charlton, Karimah Davis, Masai Russell
Women's 1500 Meters
5:35 p.m.
Final
Phoebe McCowan
Women's 100 Meter Hurdles
5:55 p.m.
Final
Masai Russell
Women's 100 Meter Dash
6:35 p.m.
Final
Anthaya Charlton
Women's 800 Meter
6:55 p.m.
Final
Jenna Schwinghamer

Sydney Steely

Women's 400 Meter Hurdles
7:15 p.m.
Final
Masai Russell
Men's 200 Meter
7:25 p.m.
Final
Kennedy Lightner
Women's 200 Meter
7:35 p.m.
Final
Karimah Davis
Men's 5000 Meters
7:45 p.m.
Final
Jackson Watts
Women's 5000 Meters
8:05 p.m.
Final
Kaylie Kenne
Men's 4×400 Meter Relay
8:30 p.m.
Final
Brian Faust, Langston Jackson, Wayne Lawrence Jr., Kennedy Lightner
Women's 4×400 Meter Relay
8:40 p.m.
Final
Karimah Davis, Megan Moss, Dajour Miles, Christal Mosley
SEC Outdoor Championships: Thursday, May 11: ALL TIMES IN CENTRAL TIME
Men's Hammer Throw
Prelim/Final
7. Logan Coles: 214'03"/ 65.31m | PR | 2 points | Improves to No. 4 on UK all-time performers list

12. Michael Browning: 193'03"/58.92m | SB

16. Dennis Ohene-Adu: 181'04"/55.29m | SB

Men's 800 Meter
Prelim
12. Justin Swann: 1:49.68

17. Alex Justus: 1:50.44

Women's 800 Meter
Prelim
6. Sydney Steely: 2:05.00q | SB

7. Jenna Schwinghamer: 2:05.05q

10. Phoebe McCowan: 2:05.94

12. DeAnna Martin: 2:06.49 | SB

18. Bryanna Lucas: 2:09.52

Men's 200 Meter
Prelim
4. Kennedy Lightner: 20.32Q (2.4)

11. Brandon Miller: 20.63 (1.2)

23. Jordan Anthony: 21.33 (1.8)

Women's 200 Meter
Prelim
5. Karimah Davis: 22.92Q (0.4)

29. Dajour Miles: 23.66 (0.4) | SB

39. Colleen Branch: 24.40 (1.9)

41. Tamiia Fuller: 24.58 (0.1)

Men's 400 Meter Hurdles
Prelim
14. Beck O'Daniel: 51.61
Women's 400 Meter Hurdles
Prelim
2. Masai Russell: 56.32Q
Men's 10,000 Meters
Final
11. Aaron Withrow: 30:37.21