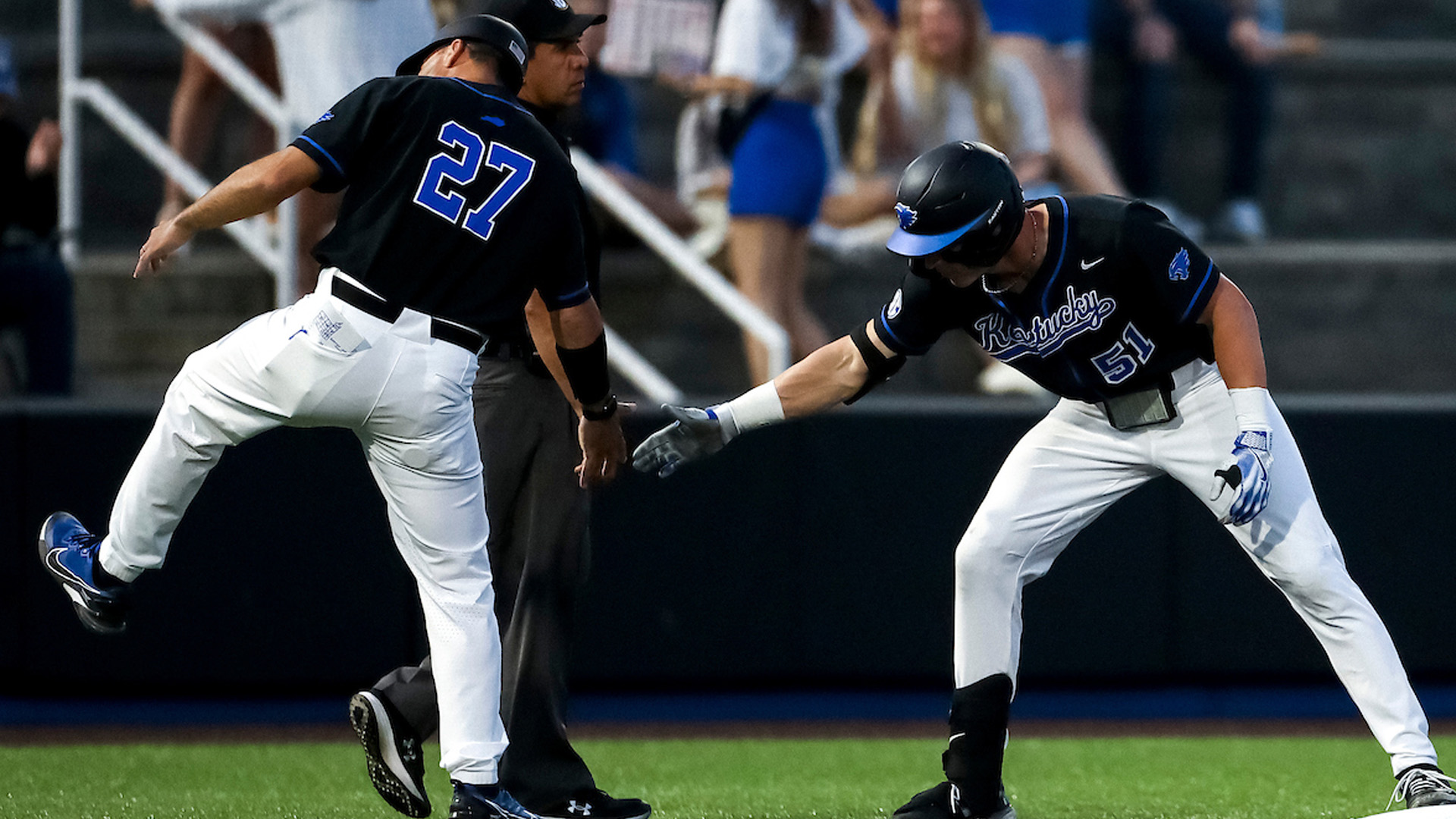 LEXINGTON, Ky. – Coming off its first sweep of a top five team in 11 years and a business0like midweek victory No. 15 Kentucky travels to No. 11 Tennessee for its final Southeastern Conference road trip of the season this weekend.
Kentucky (33-13, 14-10 SEC) has set itself up to potentially earn one of the coveted 16 NCAA regional host destinations. UK currently is No. 1 in the Ratings Percentage Index (RPI) and have the No. 1 strength of schedule.
Meanwhile, the Volunteers have been sensational at Lindsey Nelson Stadium in recent seasons and are looking to get back into the hosting discussion themselves.
Redshirt Freshman Travis Smith earned SEC Co-Freshman of the Week for his first conference appearance last week and will start again Friday night. Senior Zack Lee earned national recognition after striking out a career-high 12 last Sunday and will continue to take the ball in game three.
WEEKEND DETAILS
Friday, May 12 at #11 Tennessee
6:30 p.m. ET; Knoxville, Tenn. (Lindsey Nelson Stadium)
TV: SECN+; Radio: UK Sports Network, 630 AM WLAP (locally)
#15 UK (33-13, 14-10); #11 Tennessee (33-16, 12-12)
UK – RHP Travis Smith (4-1, 3.62); UT – RHP Andrew Lindsey (0-2, 3.11)
Saturday, May 13 at #11 Tennessee
Noon ET; Knoxville, Tenn. (Lindsey Nelson Stadium)
TV: SEC Network; Radio: UK Sports Network, 630 AM WLAP (locally)
#15 UK (33-13, 14-10); #11 Tennessee (33-16, 12-12)
UK – LHP Tyler Bosma (4-3, 5.04); UT – RHP Chase Dollander (5-4, 4.24)
Sunday, May 14 at #11 Tennessee – MOTHER'S DAY
1 p.m. ET; Knoxville, Tenn. (Lindsey Nelson Stadium)
TV: SECN+; Radio: UK Sports Network, 630 AM WLAP (locally)
#15 UK (33-13, 14-10); #11 Tennessee (33-16, 12-12)
UK – RHP Zack Lee (4-2, 3.54); UT – RHP Drew Beam (6-2, 3.13)