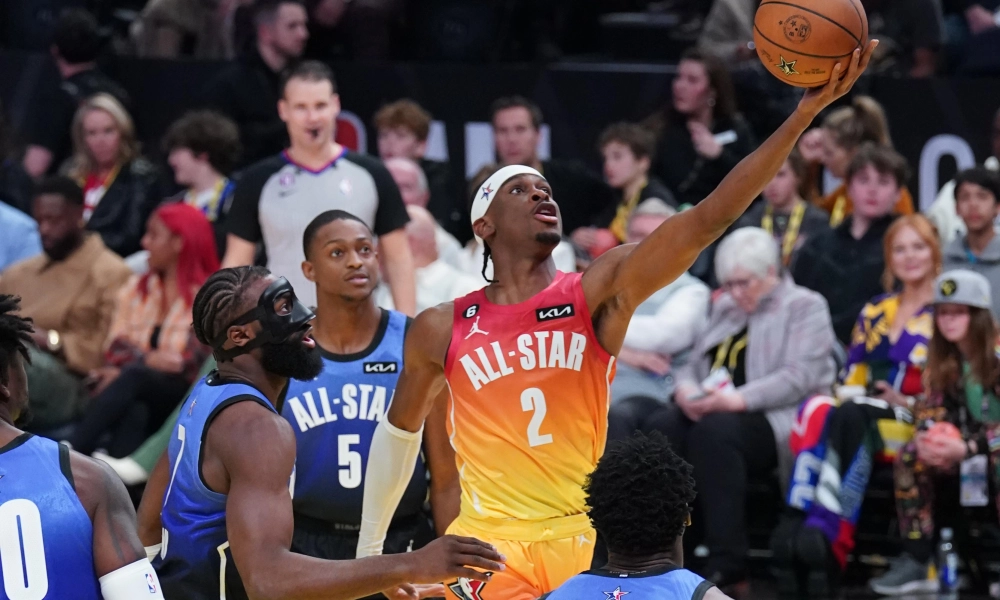 Three Wildcats Headline All-NBA Teams
NEW YORK – After leading the nation with total players on NBA opening-day rosters, players appearing in the 2023 NBA Playoffs and the most NBA All-Stars of any collegiate program in the country for the 2022-23 season, it should be of no surprise that three former Kentucky men's basketball players headlined the All-NBA Teams released on Wednesday. Shai Gilgeous-Alexander was a first-team honoree, while De'Aaron Fox and Julius Randle were third-team picks.
Since 2015, Kentucky has had eight players earn 14 All-NBA honors. The number of individual players and the number of selections lead all other programs during that time frame. Gilgeous-Alexander and Fox earned the first honors of their careers, while Randle was selected for the second time in his career. All three players were also NBA All-Stars this season.
Gilgeous-Alexander finished the regular season as the league's fourth leading scorer, averaging a career-high 31.4 points per game. Gilgeous-Alexander also contributed 5.5 assists and 4.8 rebounds per game for the youthful Oklahoma City Thunder. He tallied 44 games with 30 or more points this season and led the league in that category. He led the Thunder to the play-in tournament and won a game over the Pelicans. Minnesota outlasted the Thunder to earn the No. 8 overall seed, despite Gilgeous-Alexander averaging 27.0 points, 6.0 rebounds and 3.0 assists in two postseason games.
Gilgeous-Alexander averaged 14.4 points per game and 5.1 assists for the Wildcats during the 2017-18 season as he helped the Wildcats to a Southeastern Conference Tournament crown and was MVP. Additionally, he was an All-SEC Second Team and All-SEC Freshman Team honoree. In postseason action, Gilgeous-Alexander averaged 20.7 points, 6.3 assists, 5.7 rebounds and 2.0 steals per game in the SEC and NCAA Tournaments combined. He was then drafted 11th overall by the Hornets before his draft rights were traded to the Clippers.
Fox started all 73 regular-season games in which he appeared for the Sacramento Kings who advanced to the playoffs for the first time since 2006. He averaged 25.0 points, 6.1 assists, 4.2 rebounds and 1.1 steals per game in his sixth NBA season. Fox was tabbed to the 2023 NBA All-Star Game roster, the first selection of his career and was voted as the league's inaugural winner of the Clutch Player of the Year honor. The Houston native led all NBA players in clutch scoring with 180 points and shot 54.8% in clutch moments during the regular season. The Kings were 21-13 in the clutch with Fox leading the charge. He finished at the rim with a 78.0% field-goal clip, the highest mark of any guard in the league.
Fox was a part of the Wildcats for a march to the Elite Eight and a 2017 SEC Tournament title. He was an All-SEC First Team selection and was the SEC Tournament MVP. Fox scored a UK freshman-record 39 points in a Sweet 16 matchup against UCLA and was one of just three players in program history to record a triple-double. Fox averaged 16.7 points and 4.6 assists per game for the Wildcats before being selected fifth overall by the Kings in 2017.
Randle has the New York Knicks in the Eastern Conference Semifinals for the first time since 2013. During the regular-season he averaged a career-high 25.1 points per game, while also contributing 10.0 rebounds and 4.1 assists per game. He produced 40 double-doubles in 77 total games. Randle had four 40-plus point efforts, including producing the first 40-point, 15-rebound game for the Knicks since Patrick Ewing in 1996. Despite fighting an ankle injury for much of the playoffs, Randle is logging 15.9 points and 8.4 rebounds per game.
One of just three players under John Calipari to average a double-double, Randle was the leader of the UK squad that made its memorable NCAA Tournament run to the championship game in 2014. He averaged 15.0 points and 10.4 rebounds per game, while setting UK single-season freshman records in rebounds (417), double-doubles (24) and made free throws (204). He was a Final Four All-Tournament Team honoree, a Midwest Region All-Tournament Team selection, a third-team All-American, an All-SEC First Team pick and the SEC Freshman of the Year. Randle was drafted seventh overall by the Lakers following his one season in Kentucky in 2014.
A total of 27 players were on NBA opening-day rosters (including two-way and inactive players) that played and finished their college basketball careers at Kentucky was more than any other college program in the country. Duke, with 24, was the only other school with more than 20 players in the NBA. Kentucky also led the league with 17 players on NBA playoff rosters.
UK has enjoyed unprecedented success at putting players in the NBA under Calipari. In the Calipari era, 45 players have been selected in the NBA Draft, more than any other school. Included in the recent run are 34 first-round picks, three No. 1 overall selections (Anthony Davis, Karl-Anthony Towns and John Wall) and 22 lottery selections.
Calipari's players are not only reaching the next level, but they are also succeeding when they do. Since 2010, 10 Calipari-coached players have garnered 32 All-Star selections. Nine of his players have been tabbed All-NBA (Devin Booker, DeMarcus Cousins, Fox, Gilgeous-Alexander, Randle, Derrick Rose, Wall, Davis, and Towns), and 15 players from Calipari's first 13 teams at Kentucky have made the NBA All-Rookie teams.
Among all active collegiate coaches, Calipari has more total players (10) and more total All-Star selections (32) than any other coach. Only Dean Smith (12) had more former players earn an All-Star nod. Kentucky had four selections in 2023 which was more than any other program.
For the latest on the Kentucky men's basketball team, follow @KentuckyMBB on Twitter, Facebook, Instagram and TikTok, and on the web at UKathletics.com.