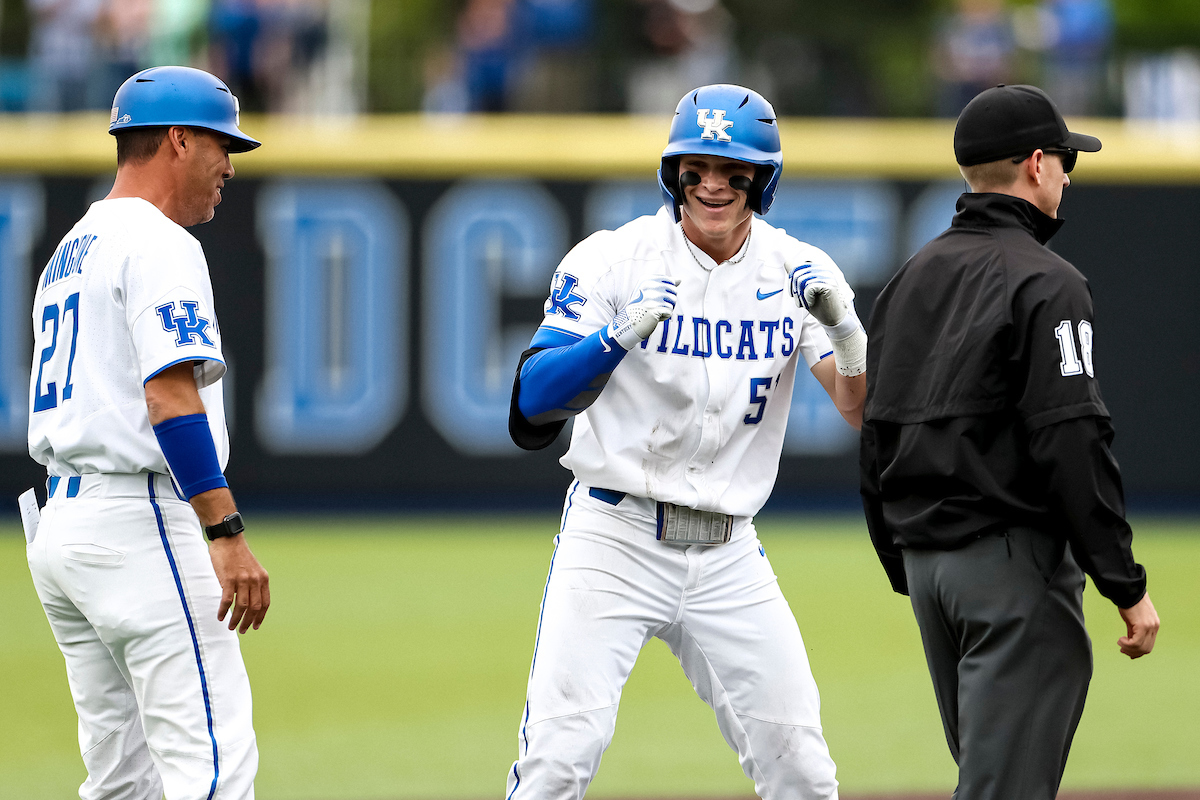 The 17th-ranked Kentucky baseball team has used a simple formula that has led to great success this season. As easy as it is to say, the Cats have literally taken things one game at a time.
UK head coach Nick Mingione has mentioned that fact on multiple occasions throughout the season. The 2023 Cats have been very good at compartmentalizing what they need to do each day.
That is especially beneficial in baseball because of the length of the season. There will inevitably be ups and downs for every team in a schedule of 50-plus games. But handling things on a daily basis can keep those ebbs and flows from becoming too dramatic.
Mingione's team swept No. 3 South Carolina last week, perhaps regaining the mojo that the Cats had earlier in the season. And that accomplishment came at the end of a couple of tough weeks for the team.
"I give our team a lot of credit because last week was finals week," Mingione said. "The week before, in college, is when a lot of your papers are due and you're studying and trying to get prepared."
But it was something else that happened during the week that may have sparked the Cats.
"Last week, we had some scrimmages. And just the way we scrimmaged, it was amazing," Mingione said. "It almost brought them back to how this all started in the fall. They were chirping and making little comments and they were just being themselves. It was like they were freed up."
After topping Tennessee Tech on Tuesday night, the Cats are now 34-13 on the season and 14-10 in the Southeastern Conference. The 14 wins almost certainly will earn the Cats a bid to the NCAA Tournament for the first time since 2017. Mingione talked to his team on Monday to let them know where they stand, regarding the postseason.
"We had that conversation on Monday because there's a lot of talk about RPI. We just had an open conversation with the team and we covered, hey, this is where we're at. We all got on the same page with that. I explained to them that, based on where we are right now, we'll be in the postseason."
Having said that, there are still plenty of goals that the Cats could accomplish over the season's final six games.
"They have knocked that (postseason) door down, but there's still bigger things to play for," Mingione said. "There's no one that has run away with the SEC, there's no one that's a lock for being a host or a national seed. We just told them, there's a lot to play for."
Kentucky is currently number one in the nation in RPI. The Cats are hoping to solidify their resume over the next two weekends, when they visit Tennessee, then host Florida. Both of those teams are nationally ranked.
"The way I see it, there's about 15 teams that are still fighting for that top eight national seed, and we're one of them," Mingione said. "We're looking forward to the challenge of the extremely difficult two SEC series we have against two really good teams."
It starts this weekend at Lindsey Nelson Stadium in Knoxville when the Cats visit the 23rd-rannked Vols. Tennessee started slowly this season but has played well lately.
Then, the following Thursday, Friday and Saturday, Kentucky will welcome seventh-ranked Florida to Kentucky Proud Park.
The Cats have a number of goals still ahead of them, which could including hosting an NCAA regional, being a national seed and more. But the best way for this Kentucky team to get there will be handling their business one day at a time, just like they have done all season.