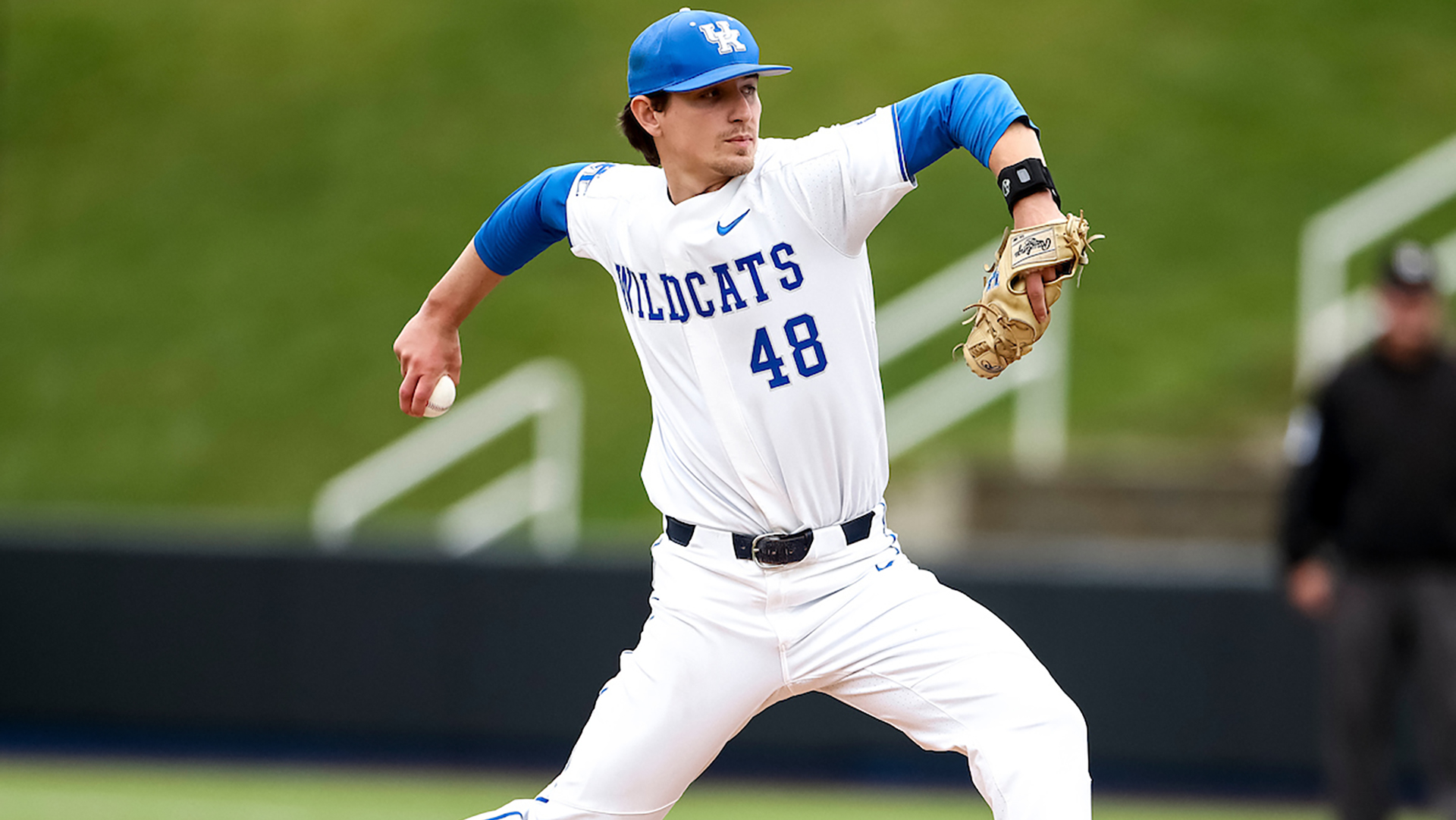 Kentucky pitcher Zack Lee picked a fine time to get hot. And his outstanding work on the mound has his Wildcats in prime position for the postseason.
Lee had the best outing of his career. In Sunday's 9-2 win over South Carolina He pitched 6.2 innings, giving up seven hits and two earned runs against the Gamecocks. He did not walk a batter and struck out a career-high 12 while throwing 105 pitches, the most in his UK career.
Lee knew what he had going for him in Sunday's contest.
"It was really fun," Lee said. "It was good to go out there and fill up the zone. I had my best defense behind me. The slider felt really good. Probably the best it's been ever. It was getting it to the spot and executing pitches."
He picked up his fourth win of the season, tied for the team lead in that category. UK head coach Nick Mingione was thrilled for his senior pitcher.
"What an outing. Even dating back to last week, you think about the outing he threw last week, gave us a chance to win," Mingione said.  "Great sliders, fastball command was phenomenal. Gave us the start we needed. He's fully capable of doing that every time he toes the rubber for us. When you get those kind of starts on a Sunday, you give your team a chance to do some good things."
Against Vanderbilt one week ago, Lee was stellar as well. He pitched five innings, allowing just four hits and one earned run while walking two and striking out three. He knows what's been working for him on the mound.
"Lately, I'm getting the ball to sink in to righties," Lee said. "Being able to move it in and out has made my slider even better."
The Cats completed the three-game sweep of the third-ranked Gamecocks and now find themselves in a very positive position regarding postseason play. Kentucky is now 33-13 on the season and 14-10 in Southeastern Conference play. In the last five NCAA Tournaments, any team that has won 14 games has made the field. Mingione wants this team to reap the benefits of its hard work.
"We know the numbers and we know what the history says," Mingione said. "We've been so close. Two out of three years, we've been one or two wins away and personally, I'm just tired of being close. For our players, they deserve the opportunity to play in the postseason. This team is a team that just wants to win for Kentucky. It's a special group."
Kentucky has its sights set on even bigger goals. If the Cats can get to 16 or 17 wins in conference play, then hosting an NCAA regional becomes a possibility. But the Cats know they need to handle their business one game at a time, a formula that has produced great success all season, including during the three-game sweep of a very good South Carolina squad this weekend.