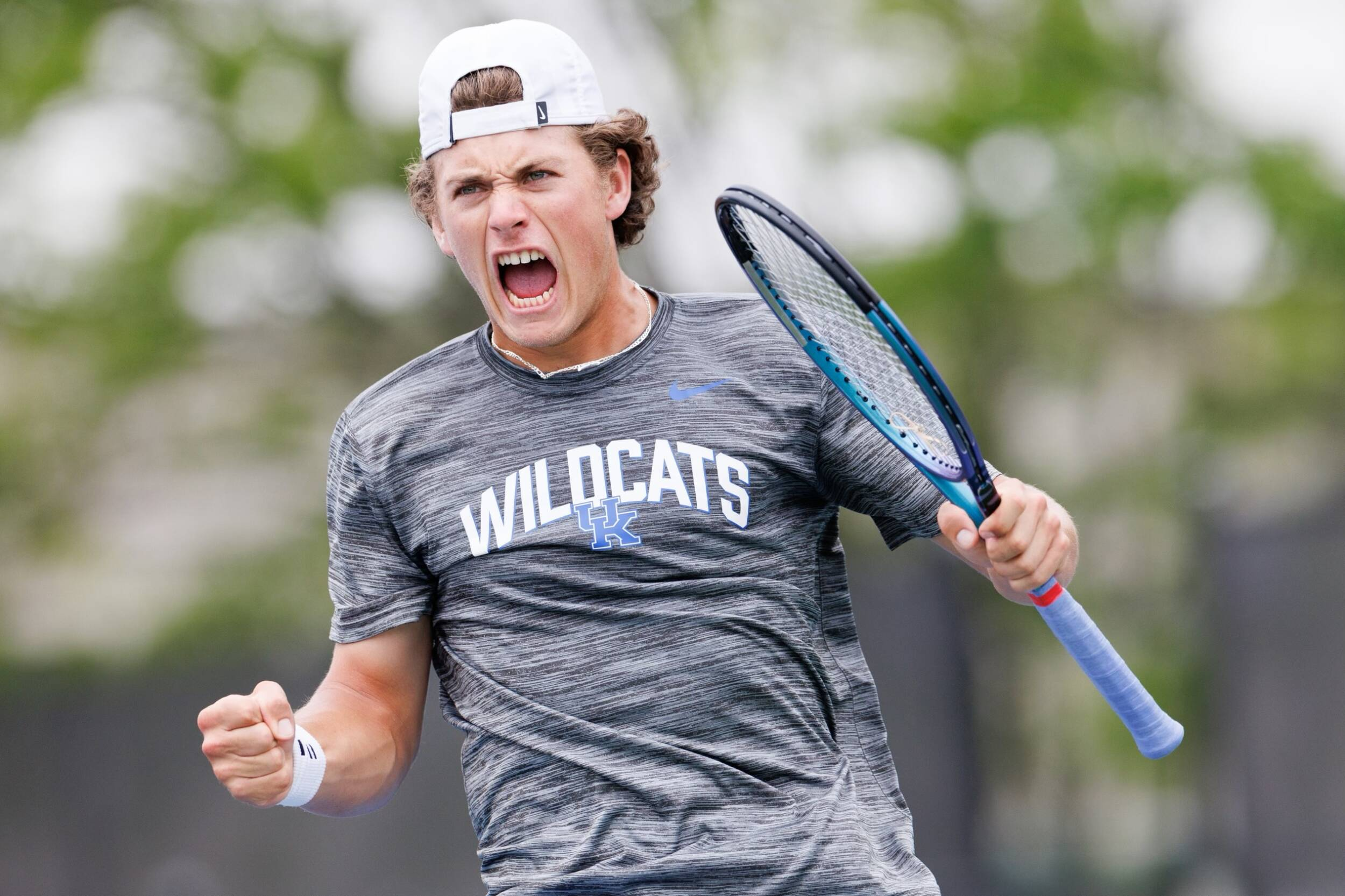 Wildcat Déjà Vu: Kentucky Comes From Behind to Oust Mascot Mates
LEXINGTON, Ky. – The cardiac Cats were pushed to the brink, but dug deep to take down Northwestern by a score of, 4-3, on Saturday at the Hilary J. Boone Tennis Complex.
The win marks the second consecutive year in which Kentucky has defeated Northwestern in the second round of the NCAA Tournament after UK upended the Wildcats of Chicago, 4-2, last season on their way to a national runner-up finish.
Kentucky took the doubles point and, despite losing all six first-sets in singles, rallied for the three additional victories to secure its tenth, 4-3 win this season. The Wildcats are now 10-1 overall in matches ending with a score of 4-3 and advance to the round of 16 for the 13th time in program history.
"After winning the doubles, I thought we were going to come out really well [in singles], but credit to Northwestern," head coach Cedric Kauffmann said. "I thought for 30 minutes we were in big trouble, but those guys have grit. The longer the match goes, we know we are one of the best teams in the country in the last 10 minutes."
Doubles went the way of Kentucky with wins on courts two and three. After NU picked up a 6-1 victory on the top court, Liam Draxl and Jaden Weekes toppled Northwestern's third pair of Trice Pickens and Natan Spear, 6-2. For the second-straight day, it was Joshua Lapadat and JJ Mercer who clinched for Kentucky, breaking their opponents at 5-5, allowing Mercer to serve out the 7-5 victory.
Northwestern came out with a purpose in the singles session, taking the first set across all six courts to put Kentucky in a hole. The visitors put two singles points on the board with wins on courts two and five to take their first lead of the afternoon. UK was able to force third sets in the four remaining matches. Despite winning the second-set, 6-0, Kentucky's Charlelie Cosnet was defeated by Gleb Blekher in the deciding set after three consecutive deuce points finished in Blekher's favor.
Trailing 3-1, Kentucky needed wins on all three remaining courts, and got its first from Lapadat. The junior tallied his fifth-straight singles win, racing to a 6-1 third set over Simen Bratholm to give Kentucky its second point of the day. At first singles, with Northwestern's Forman serving at 4-4 in the third set, Draxl came from 0-40 down to earn the break. He then served out the match in the following game to tie the team score at three.
The match would be decided on court four where Kentucky's Taha Baadi was doing battle with Trice Pickens. Baadi jumped out to a 3-0 third-set lead, but Pickens broke back and leveled the score at 3-3. After three consecutive holds, Baadi broke the Pickens serve at 5-4 up, winning the match, and the dual, for Kentucky.
UK will now face Stanford in the round of 16 next Saturday at the Boone Tennis Center. Fans are encouraged to purchase their tickets in advance for the Super Regional showdown.
Doubles:
Court 1 – No. 54 Bratholm/Forman (NW) def.  Ayeni/Leblanc (UK): 6-1
Court 2 – No. 67 Lapadat/Mercer (UK) def. Blekher/Yatsuk (NW): 7-5
Court 3 – Draxl/Weekes (UK) def. Pickens/Spear (NW): 6-2
Order of finish: 1, 3, 2
Singles:
Court 1 – No. 13 Liam Draxl (UK) vs. No. 29 Steven Forman (NW): 3-6, 6-3, 6-4
Court 2 – No. 66 Ivan Yatsuk (NW) def. No. 18 Alafia Ayeni (UK): 2-6, 1-6
Court 3 – No. 59 Joshua Lapadat (UK) def. Simen Bratholm (NW): 3-6, 6-4, 6-1
Court 4 – Taha Baadi (UK) def. Trice Pickens (NW): 6-7 (4), 6-4, 6-4
Court 5 – Presley Thieneman (NW) def. Jaden Weekes (UK): 6-1, 6-4
Court 6 – Gleb Blekher (NW) def. Charlelie Cosnet (UK): 7-5, 0-6, 6-3
Order of finish: 2, 5, 6, 3, 1, 4
For the latest on UK Men's Tennis, follow the Wildcats on Twitter and Instagram at @UKMensTennis.