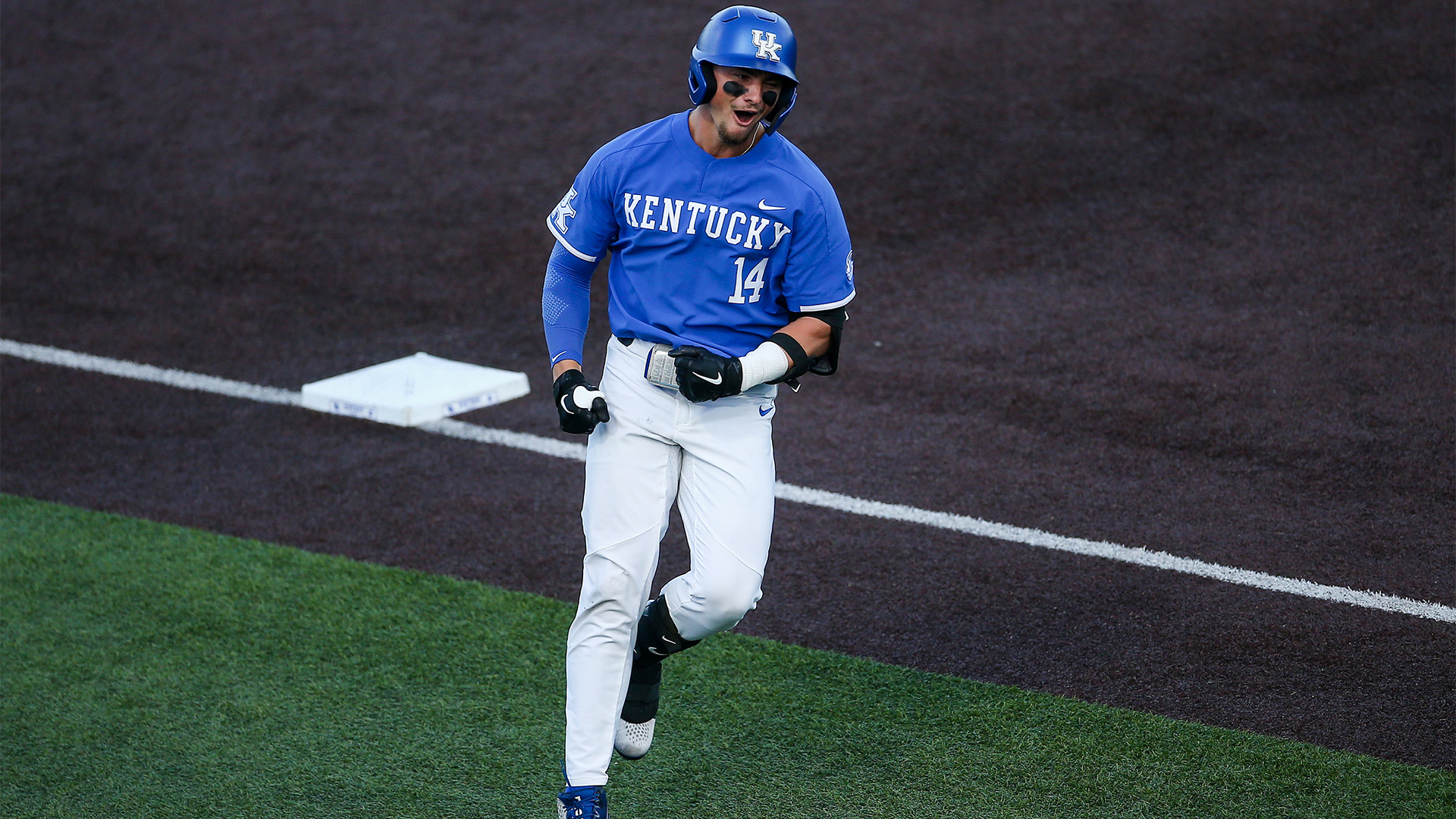 LEXINGTON, Ky. – Travis Smith dazzled in his first taste of Southeastern Conference action and No. 21 Kentucky scored an important 7-3 series-opening victory over No. 3 South Carolina on Friday night at Kentucky Proud Park.
Smith, a redshirt freshman from Walton, Kentucky, allowed only a solo home run to the Gamecocks, who entered the weekend with 98 bombs, third in Division I. He struck out five in six innings and now has struck out 13 and allowed only a pair of solo home runs in 11.0 innings over his past two starts, both against ranked Power Five opponents.
Kentucky (31-13, 12-10) picked up its first win over a Top 5 opponent since knocking off top-ranked Tennessee almost exactly one year ago.
Hunter Gilliam blasted a two-run home run into the right field home run and James McCoy hustled his way to an inside-the-park roundtripper when his fly ball to centerfield got lost in the sun. Mason Moore extinguished a Carolina threat in the seventh and pitched the final 2.2 innings for his fourth save.
NOTES
UK Coach Nick Mingione is in his seventh season at the helm and now owns a 207-142 career record.

UK is 35-36 in the month of May under Coach Mingione.
Mingione now is 8-10 vs. South Carolina.

UK is 7-7 this season vs. ranked opponents.
UK has scored in 342 of 349 games in Mingione's tenure.
With Emilien Pitre's 15th stolen base of the season UK has three players with 15 or more steals this season for the first time since 1996.
Outfielder Jackson Gray went 2-for-4 with two runs and a SAC.

He has reached base safely in 29 of 41 plate appearances.

Both of his hits were infield singles.
Outfielder James McCoy went 2-for-4 with an inside-the-park home run.

He hit an inside-the-park home run on a ball to centerfield that was lost in the sun. It is UK's first inside-the-parker since Riley Mahan at LSU in 2015.
He made a diving catch in right field as well.

Infielder Jase Felker went 2-for-2 with two runs and two walks.

He has reached base in seven of his eight plate appearances the past two games.

First Baseman Hunter Gilliam went 1-for-2 with a run, HBP and two-run home run.

It was his team-leading ninth home run.
He has a team-best 58 RBI.

Pitcher Travis Smith made his first career SEC start on the mound.

He picked up the win with 6.0 innings, four hits, one run, three walks and five strikeouts.
In his last two starts, both versus Power Five foes: 11.0 IP, 8 H, 2 R (two solo HR allowed), 5 BB, 13 K.
Pitcher Mason Moore earned his fourth save of the season.
ON DECK
Kentucky will go for a series victory over South Carolina at 2 p.m. ET on Saturday.  The radio call will be on the UK Sports Network (630 AM WLAP, locally) and it will be streamed on the SEC Network+.