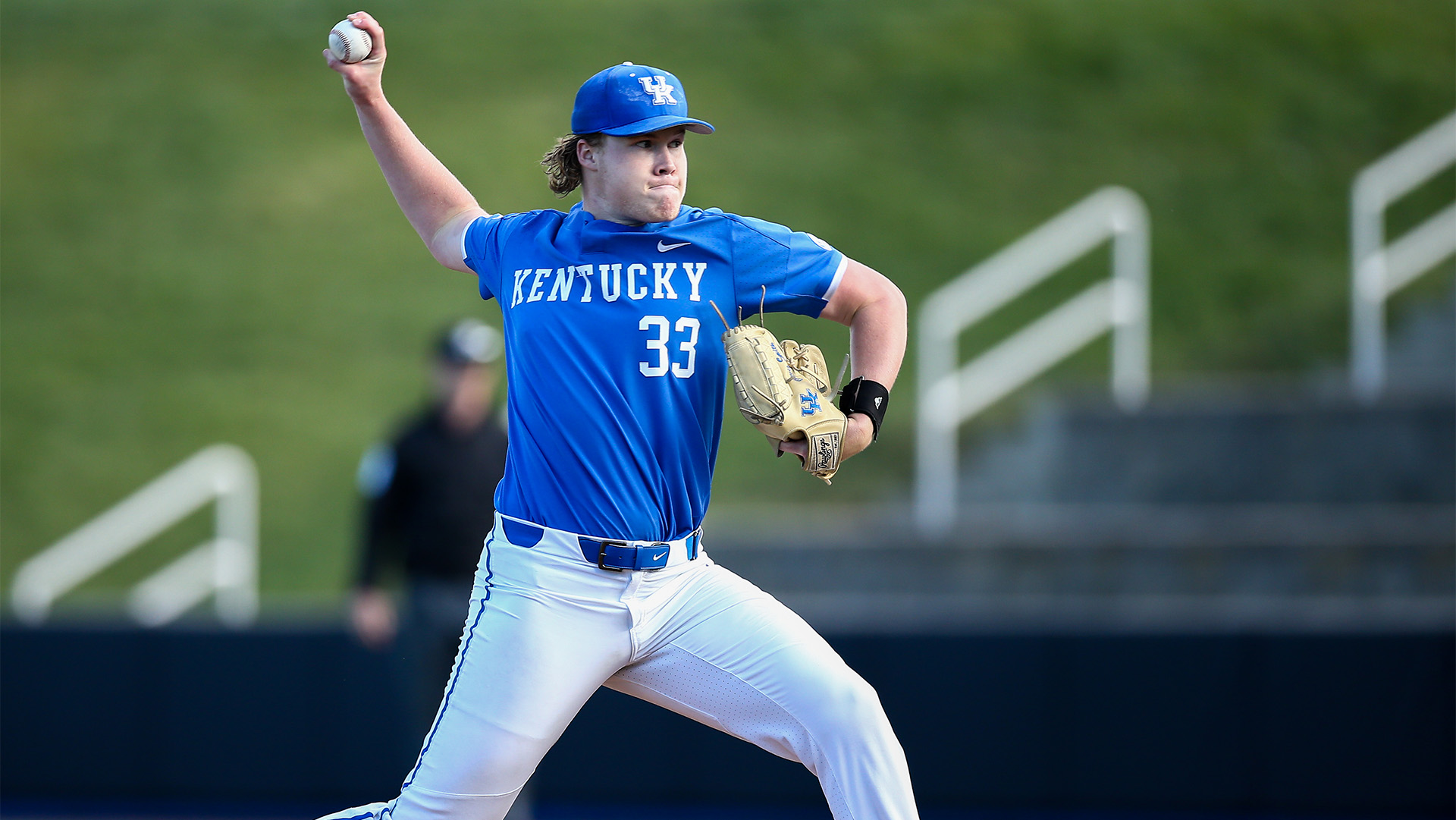 The Kentucky baseball team was in need of a win on Friday night. After being swept by Vanderbilt last weekend, the Cats found themselves just over .500 in Southeastern Conference play with No. 3 South Carolina visiting Kentucky Proud Park this weekend.
The challenge for UK would be to hold the South Carolina offense in check. The Gamecocks entered the weekend leading the SEC in home runs and ranked among the league leaders in several other statistical categories.
The Cats and head coach Nick Mingione sent redshirt freshman Travis Smith to the hill in what would be his first career SEC start. In fact, it would be the first time that Smith ever faced an SEC opponent.
Smith took full advantage of the opportunity, pitching six innings and allowing just one run as the Cats beat the Gamecocks 7-3. Smith allowed just four hits and three walks while striking out five.
Mingione was ecstatic about the way Smith responded on Friday.
"So happy for him," Mingione said. "Our guys love that guy and they rallied behind him. After the game, they were so happy for him."
In Smith's last outing, he had pitched five innings against nationally-ranked Louisville, giving up just one run while striking out eight. That outing gave the UK staff the confidence that Smith could hold his own against South Carolina.
"You could see how he just kept getting better and better," Mingione said. "From when the season started to two weeks ago. I would tell you that nobody is surprised that he threw that well. And we needed it. He got us off to a good start."
When speaking to the media, Smith is soft-spoken and seems like nothing bothers him. But Mingione sees a different side to the Walton-Verona native.
"He's uber-competitive," Mingione said. "The best thing about Travis is how competitive he is. His body language (Friday) was phenomenal. He did everything you need to do in a ballgame. He fielded his position, worked out of jams. He's super competitive."
For his part, Smith tried not to overthink what he was trying to do. He kept his plan simple, and it seemed to work.
"I wasn't trying to strike anybody out," Smith said. "I was just letting them hit it. Just keep on attacking them."
He admitted that there were some nerves at the beginning of Friday's contest.
"Maybe a little bit," Smith said. "But I feel like after the first inning, I was ready to go."
Smith knew that, in his outing against Louisville, he had pitched well. He hoped to build on that Friday.
"I had a lot of confidence coming out of that Louisville game," Smith said. "(The play was) just going back out there and doing it again."
Smith did seek out advice from some of the more experienced starters on the UK staff, ones that had pitched in SEC games before.
"I talked to Darren (Williams) a little bit," Smith said. "Pretty much any of the starters. They just said to go out and do the thing I've done all year."
That thing was effective on Friday night in Smith's first SEC start. And it gave the Cats the boost they needed.