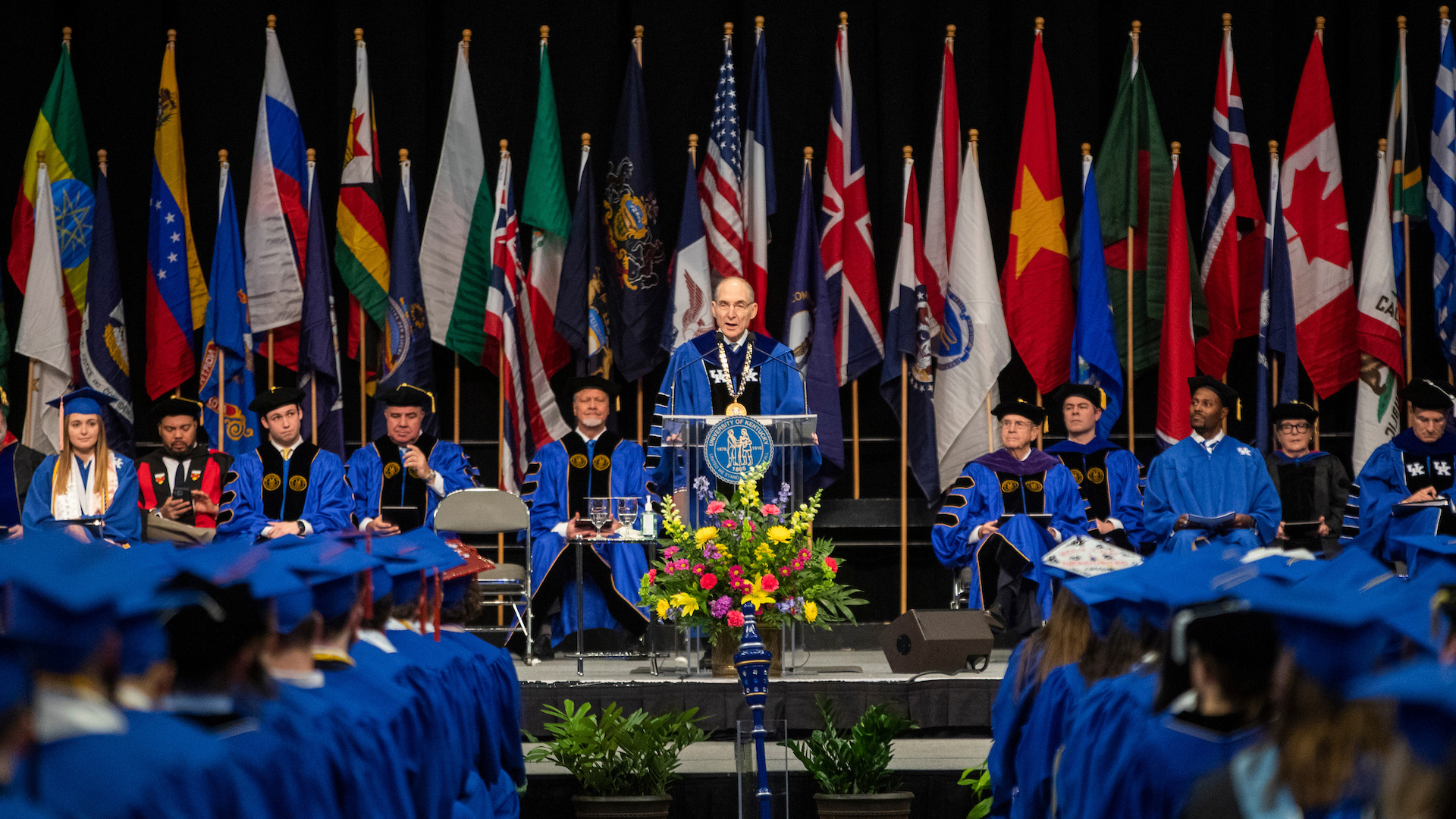 LEXINGTON, Ky. – A total of 126 current and former University of Kentucky student-athletes – the largest graduating class in school history – are on track to complete academic requirements this week or in the summer term.
The graduates will take part in the University's Spring Commencement ceremonies Friday and Saturday in Rupp Arena at Central Bank Center (see information here). Adding the 41 student-athletes who graduated in December, UK Athletics is expected to have 167 graduates during the 2022-23 school year.
Included in the graduates are 19 Wildcats who are completing their master's degrees – Darren Williams and Tyler Bosma from baseball, Robyn Benton from women's basketball, Matt Ruffolo, William Nalty and Quintin Wilson from football, Dhaivat Pandya from men's golf, Richard Clark and Mason Hamilton from rifle, Mary Moffitt, Bailee Locke and Lesley Kiesling from women's soccer, Clay Holstad and Nick Gutmann from men's soccer, Emily Baeth and Kyndal Knight from women's swimming and diving, Keanan Dols from men's swimming and diving, Jacob Sobota from men's track and field and Kelly Franxman from volleyball.
UK's graduating class also has excelled in the arenas of competition. While at Kentucky, the graduates have been part of three NCAA Championships, nine conference championships and six conference tournament championships. A total of 20 graduates have earned All-America honors while at Kentucky and 43 have gained all-conference recognition.
The leadership of this class sparked UK Athletics to a school-record No. 9 final ranking (among 358 Division I schools) in the 2022 NACDA Directors' Cup all-sports standings.
"Graduation is a pinnacle of the collegiate experience and we are excited about the record number of graduates," said Mitch Barnhart, UK Director of Athletics. "It takes tremendous dedication to balance the demands of academics and athletics. We are proud of our Wildcats for succeeding in the in the classrooms and the arenas of competition, giving them the foundation for moving forward in the next phase of their lives."
Wildcat fans will continue to see many of these graduates on their respective fields of play in 2023-24 as numerous student-athletes have remaining eligibility and will return to represent UK while attending graduate school or completing additional undergraduate certifications.
Below is the list of expected graduates:
Baseball
Jase Felker
Ryder Giles
Alexander Degen
Zachary Lee
Hunter Gilliam, I
Seth Chavez
Chase Stanke
Darren Williams – master's degree
Isaiah Byars
Logan Martin
Kendal Ewell
Tyler Bosma – master's degree
Men's Basketball
CJ Fredrick
Jacob Toppin
Oscar Tshiebwe
Sahvir Wheeler
Brennan Canada
Women's Basketball
Adebola Adeyeye
Blair Green
Robyn Benton – master's degree
Football
Kavosiey Smoke
Jalen Geiger
Luke Fulton
John Varga, Jr
Londyn Craft
Justice Dingle, II
Demontae Crumes
Sam Anaele
William Nalty – master's degree
Quintin Wilson – master's degree
DeAndre Square
Matt Ruffolo – master's degree
*Paul Puckett, Jr
Men's Golf
Tanner Parks
Dhaivat Pandya – master's degree
Women's Golf
Marissa Wenzler
Maria Villanueva
Ivy Shepherd
Gymnastics
Arianna Patterson
Raina Albores
Kassidy Howell
Shealyn Luksik
Kaitlin Deguzman
Ashlyn Laclair
Rifle
Jaden Thompson
Mitchell Nelson
William Shaner
Richard Clark – master's degree
Mason Hamilton – master's degree
Men's Soccer
Isaac Walker
Theodore Asensio
Nick Gutmann – master's degree
Justin Scharf
Clay Holstad – master's degree
Women's Soccer
Gabrielle Hammers
Rachel Hughes
Valdis Bjoerg Sigurbjoernsdottir
Grace Jacobs
Maggy Henschler
Marzia Josephson
Mary Moffitt – master's degree
Bailee Locke – master's degree
Jasmine Collins
Lesley Kiesling – master's degree
Caroline Trout
Madison Rennie
Softball
Kennedy Sullivan
Rylea Smith
Princess Valencia
Sloan Gayan
STUNT
Kylie McDonnell
Hannah Hohn
Caitlin Barenbaum
Kailey Stafford
Elizabeth Larkin
Rachel Woods
Men's Swimming and Diving
Adam Rosipal
Henry Miller
Timothy Ellett
John Michael Gordon
Mason Wilby
Jakob Clark
Maxwell Hawton
Keanan Dols – master's degree
Women's Swimming and Diving
Tonni McNeese
Jodi Ogle
Morgan Southall
Mary McKinley
Gillian Davey
Isabella Gati
Emily Baeth – master's degree
Kyndal Knight – master's degree
Men's Tennis
Alexandre Leblanc
Jonathan Sorbo
John Mercer
Heman Nama
Olukayode Ayeni
Ying-Ze (Arthur) Chen
Women's Tennis
Carlota Molina Megias
Maialen Morante Oyague
Maria Florencia Urrutia
Men's Track and Field/Cross Country
Ed Causey, III
John O'Daniel
Langston Jackson
Aaron Withrow
McLean Griffin
Michael Browning
Ethan Kern
Dylan Allen
Robert Springfield, III
Joshua Sobota
Jacob Sobota – master's degree
Kennedy Lightner
Joseph Palmer, Sr.
Women's Track and Field/Cross Country
Shadajah Ballard
Karimah Davis
De Anna Martin
Mallory Liggett
Bryanna Lucas
Annika Williams
Masai Russell
Kaylie Kenne
Dajour Miles
Volleyball
Isabella Bell
Kelly Franxman – master's degree
Erin Lamb
* denotes former student-athlete
UK's graduation success continues the trend of strong academic news:
Earlier this year, UK Athletics announced that the 2022 fall semester was the 21st straight for the department with a 3.0 cumulative grade-point average. Wildcat scholarship student-athletes combined to achieve a GPA of 3.243 in the fall of 2022.
In November, UK student-athletes tied the school record in the NCAA's Graduation Success Rate with a mark of 92 percent. UK has broken or tied the GSR school record every year since the NCAA began measuring that statistic in 2005. UK's 92 percent is three points above the Division I national average of 89 percent.
Earlier this week, UK Athletics announced that all of its sports teams surpassed the NCAA cut score in its Academic Progress Rate with 20 teams exceeding or tying the national average.