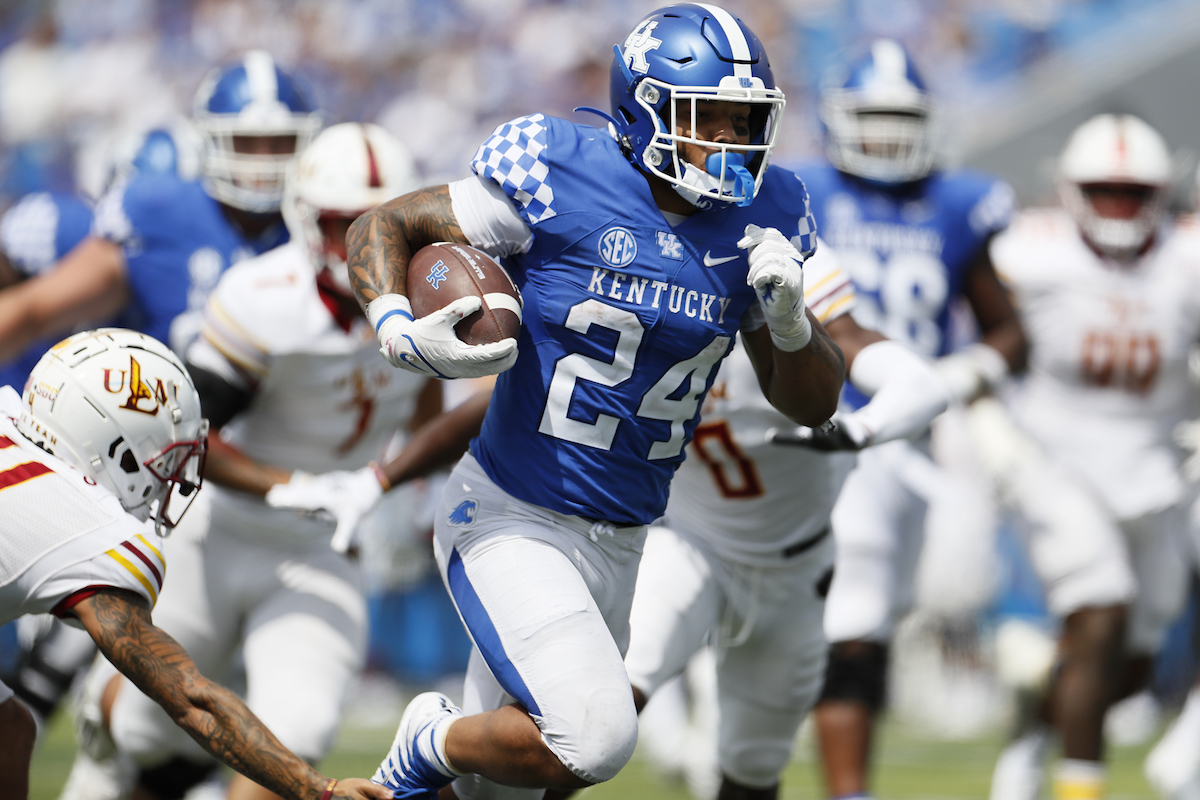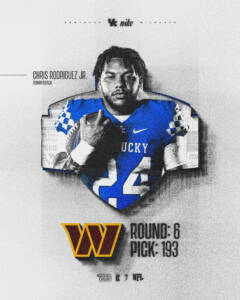 Kentucky senior running back Chris Rodriguez Jr. was chosen by the Washington Commanders in the sixth round of the 2023 National Football League Draft (193rd overall pick) on Saturday in Kansas City, Missouri.
Rodriguez, a 5-foot-11, 204-pound native of McDonough, Georgia, finished his stellar collegiate career ranked third on UK's all-time rushing list with 3,644 yards and became just the fourth player in program history to eclipse the 3,000-yard rushing mark. He also had 32 career rushing touchdowns, the second-most in school history, and his 35 career total touchdowns were the third-most in school history. He also averaged 6.2 career yards per carry, which ranks third in program history, and charted a school-best 20 100-yard games.
His 1,379 yards rushing in 2021 currently rank fifth on the UK's single-season list. That season, he became the 10th player in school history to rush for 1,000 yards in a season and it marked just the 14th time in school history a Wildcat accomplished that feat. His nine 100-yard games as a junior also set a single-season record.
The two-time team captain graduated in May of 2022 with a degree in community and leadership development.
Kentucky/NFL Draft Notes:
2023 is the fifth straight year UK has had at least one player taken in the first three rounds.
Rodriguez is the 23rd player drafted who played for head coach Mark Stoops at Kentucky.
Rodriguez is the second Kentucky running back since 2019 to be drafted. Benny Snell Jr. was drafted in the fourth round by the Pittsburgh Steelers in 2019.
Rodriguez rejoins former Wildcat teammate Jamin Davis in Washington. They played together at UK in the 2019 and '20 seasons.
Rodriguez is the 11th Wildcat drafted by the Washington franchise, including Charley Walker (1944), Harry Ulinski (1950), Walt Yowarsky (1951), Dom Fucci (1951), Steve Meilinger (1954), Howard Schnellenberger (1956), J.T. Frankenberger (1957), Charlie Darrington (1989), Jeremy Jarmon (2009) and Jamin Davis (2021).